Some views are so gorgeous we say they're "breathtaking." Others, well, they actually take your breath away. As in, you're gasping for air. Because you're so damn high.
These views from the 14 highest-altitude hotels in the world, they're a little bit of both.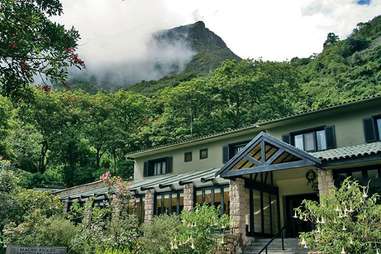 Machu Picchu, Peru
You didn't hike five days up the Inca Trail (or, you know, take the bus) to see the famous 15th-century ruins for two minutes and then just take off. The Sanctuary Lodge, perched directly across from Machu Picchu, not only affords unique views of the ruins but also the rugged Huayna Picchu and lush Urubamba River valley.
Mesa Verde National Park, CO
With 4,700 archeological sites and hundreds of Pueblo cliff dwellings dating back to 600AD, Mesa Verde National Park is the largest archaeological preserve in the country. And this is the only lodge on park grounds, offering stunning views of four states -- Arizona, Colorado, New Mexico, and Utah -- that save you from having to visit this tourist trap.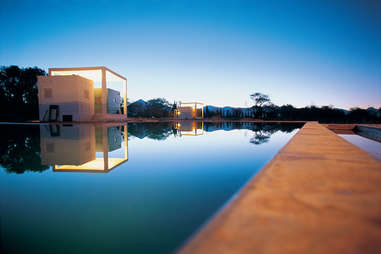 San Pedro de Atacama, Chile
From its location in the heart of the world's highest desert, Explora en Atacama looks out onto volcanic peaks -- including the 19,000ft Licancabur volcano -- and a whole lot sand. Thanks to a lack of light pollution, the nightly starscape here is so clear that they built an observatory on the property.
Kals am Großglockner, Austria
Located at the top of Cimaross peak -- which's surrounded by 60 (!!) 10,000ft-plus mountains including Austria's highest peak, Grossglockner -- this hotel fuses tradition with floor-to-ceiling glass and modern minimalism.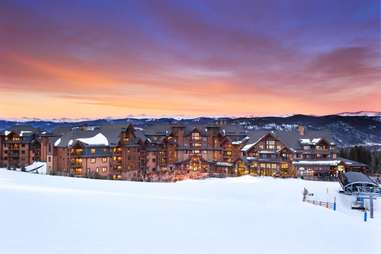 Telluride, CO
Dwarfed by the Rockies, this ski-in, ski-out luxury hotel is located a gondola ride up from Telluride, a former mining village that still looks like an old Wild West town.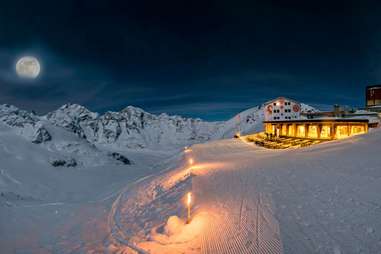 Pontresina, Switzerland
Way up in the Swiss mountains near St. Moritz sits the highest Jacuzzi in the Alps, and probably all of Europe. The full moon is so bright here that the hotel organizes monthly night skiing without any artificial lights.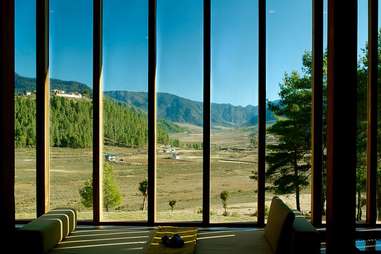 Gangtey, Bhutan
In addition to being a constitutional monarchy and the last Himalayan Buddhist Kingdom, Bhutan is also the only country in the world that measures happiness (Gross National Happiness). And you'll see after arriving at this stunning luxury resort -- a terrifying six-hour drive from the country's only airport -- why the country ranks high in it. Undisturbed views of Gangtey Goemba, a beautiful 16th-century monastery, and the untouched Phobjikha Valley are only rivaled by the beauty of your elegant, woodsy digs.
Zermatt, Switzerland
Hike five hours, or take Europe's highest open-air railway, to this hotel, which is surrounded by a ton of 13,000 footers (including the Matterhorn) and doubles as an observatory.
Breckenridge, CO
Nestled above one of the world's most famous -- and hard partying -- ski resorts, this lodge edges out the rest of the hotels in the area by only a few hundred feet. From its forested cliff perch, guests can spy the slopes, Boreas Pass, and the Ten Mile Range.
Schnalstal, Italy
Only accessible by gondola during the winter, this hotel's precariously perched on a glacier, surrounded by dozens of 10,000ft-plus high hills. A favorite training ground for ski racing teams, you can see all the way to Lake Garda (and occasionally even as far as the Dolomites) when the weather is clear.
Cotopaxi, Ecuador
40 miles south of Quito, this working cattle ranch in the Ecuadorian highlands beckons with hiking and horseback riding, roaring fires and home-cooked local fare. Oh, and views of four striking -- and active -- volcanoes, most notably Rumiñahui and Cotopaxi.
Namche, Nepal
As you might guess from this joint's name, picture-perfect views of Everest are the norm here. The hotel is clean and simple, but strikingly adorned with stone carvings of Tibetan Buddhist inscriptions. Even better, you can enjoy all of the altitude without exerting much effort to get there; the hotel's airstrip at Shyangboche is only 45 minutes from the hotel.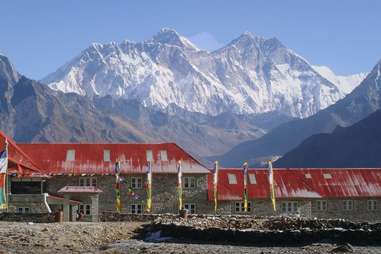 Kathmandu, Nepal
Each of the 14 cozy rooms at this lodge, perched deep in the Nepalese Himalayas, feature sweeping views of the world's five highest mountains, including Everest and K2. Which almost makes up for the fact that it takes six days to get there.
Ojos de Perdiz, Bolivia
Located in the middle of Bolivia's so-red-it-looks-like-Mars Siloli Desert, this hotel is built out of volcanic rock. From it, you can check out Laguna Colorada (a red, flamingo-filled salt lake), Sol de Mañana (a volcanic field full of geysers), and Laguna Verde, a bright green lake and one of the country's main attractions.