Think it's hard getting a hotel room over the holidays? Try ever. These 11 hotels are notoriously un-bookable and, unless you nab a reservation months in advance (even low season can still be tough), expect a disappointing "no room at the inn, son" response -- even if they're not actually Southern and trying to subtly talk down to you.
11. Crosby Street Hotel -- New York, NY
The Crosby Hotel's an 86-room contemporary crash pad opened by a couple Brits, boasting awesome floor-to-ceiling windows and artsy common areas from designer Kit Kemp. Crosby has a strong celebrity following, from A-listers across the pond like Daniel Craig and Jude Law, to gazillionaire New Yorkers, who like to settle in for a comfortable stay-cation. Just to be seen, you know?
10. W South Beach -- Miami, FL
Opened 2009, W South Beach didn't really start buzzing until Lebron James signed with the Heat in 2010 and made it his hotel stomping grounds. Since then, the beachfront party pad has opened scenester restaurants like The Dutch and Mr. Chow, cranked out a rotating art collection showcasing the works of Damien Hirst, and pandered to the Miami glitterati. Despite the fact there're 334 rooms, sell-outs are common from November to April, and Art Basel and Winter Music Conference enthusiasts book stays a year in advance.
9. Four Seasons Big Island Hualalai -- Hawaii, HI
Oh, you haven't stayed at Four Seasons Hualalai? Not surprising. Deemed one of Hawaii's top resorts, this place sits on prime beach real estate and boasts not one, not two, but six pools, including a lagoon-like pond where guests can swim with tropical fish and a spotted eagle ray. Not only that, but the service is beyond compare and touts over-the-top unexpected touches; forget your Ray-Bans in the room? Don't worry, while you're out squinting by pool five, housekeeping's placing a fancy microfiber soft cloth next to them on the dresser. Yea, it's like that.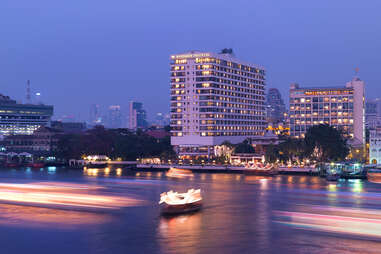 8. Mandarin Oriental Bangkok -- Bangkok, Thailand
Prepare to be one of those guys that never leaves the hotel -- if you can actually get a room. This place has major street cred as not only an historic property (opened in 1876), but the preferred home-away-from-home for top writers like Joseph Conrad, Somerset Maugham, and Graham Greene. It was the first hotel in Bangkok (originally a seaman's boarding house), and has always catered to high-brow guests. You know, the usual… royalty, presidents, and the King of Thailand (who you'd think would've had his own place in town to crash??). Mandarin Oriental Bangkok has a "timeless" appeal no other hotel in Bangers duplicates, so you might feel like you've gone back to the 1920s… until you run into, like, David Beckham, who's a frequent guest.
7. Raffles Singapore -- Singapore
The guy who pretty much founded Singapore, Stamford Raffles, opened this hotel in 1887, and it's been busy ever since. One of the country's most iconic properties, Raffles Singapore evokes an old-world, colonial feel, without seeming dated. People come for the history, the ten restaurants and bars, and the bragging rights. They stay for the Long Bar, birthplace of the famous Singapore Sling cocktail, and the Bar & Billiard Room, which was established in 1896 and rocks two billiard tables crafted at the turn of the century.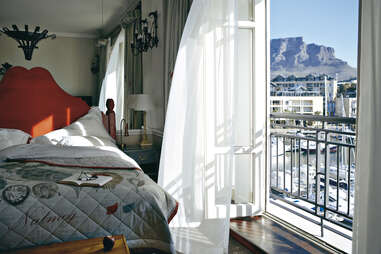 6. Cape Grace -- Cape Town, South Africa
With sick views of both Table Bay and Table Mountain, Cape Grace sits on the harbor and feels like home -- assuming your home is a yacht en route to a safari. And has an X-Box 360, like all of their Suites and Penthouses. The staff is so on point -- count on them when you need someone to fix you a champagne bath at 4a -- they have daily board meetings to discuss guest preferences. And the outdoor pool is a total scene-stealer.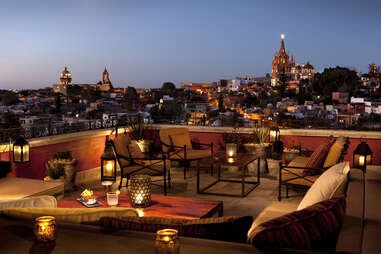 5. Rosewood San Miguel de Allende -- San Miguel de Allende, Mexico
Located in a city that was recently voted the best in Mexico (by people who vote on stuff like that), the 67-room Roswood situated high in the Central Mexican mountains is super colonial, with an insanely detailed design and unbeatable signature restaurant, 1826.
4. Le Meurice -- Paris, France
First of all, to get a room at Le Meurice for a few nights, you have to dish out an entire month's pay (rooms start at about $1,000/nt). The 160-room hotel sits directly in front of the Louvre (location!), has Alain Ducasse overseeing all the restaurants (great food!), and is recognizable from its cameo in Woody Allen's Midnight in Paris (Woody Allen!). Almost every single European monarch has stayed here, from King Alfonso XIII of Spain to the Prince of Wales (ballers!), and Salvador Dali spent one month out of each year for thirty years in the Royal Suite (art history!). While we're at it, Jay-Z and Kanye recorded at this very spot (swagger!).
3. Encuentro Guadalupe -- Guadalupe Valley, Mexico
Hotel Encuentro has been killing it since it opened last year, thanks to its edgy eco-lofts built into the hillside. The resort sits on its own vineyard, and each unit has floor-to-ceiling windows, private decks with "chimney" fireplaces, and -- thanks to zilch light pollution -- some of the best stargazing you'll probably experience in your life.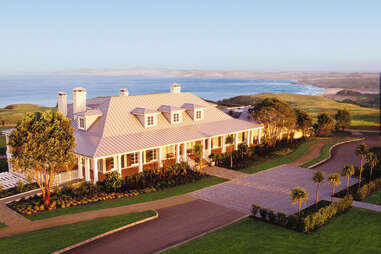 2. The Lodge at Kauri Cliffs -- Matauri Bay, New Zealand
With only 22 suites at The Lodge at Kauri Cliffs, getting a room is no easy feat -- especially since the price of admission seems to be owning your own chopper, which is how most of the guests arrive. Travelers enjoy bucolic countryside landscapes, award winning golf, possum hunting, and beach BBQs. RANDOM FUN FACT: From Tony Danza to Tom Cruise, more fake celebrity death hoaxes on the Internet happen at Kauri Cliffs. For whatever that's worth.
1. Amangiri -- Canyon Point, UT
The uber-exclusive -- rooms are so in-demand even celebrities are regularly turned away -- 34-suite Amangiri is tucked away behind Lake Powell on 600 acres of land. If you're not rock climbing or enjoying your suite's floor-to-ceiling views of picturesque landscapes, you're fist-bumping other ballers at the signature pool built around a massive rock outcrop.