Once upon a time, the aristocratic upper classes of Italy enjoyed a rarefied existence of opulence on the western side of Lake Como. Luxurious hotels, restaurants, and shopping in magnificent villas along the water made this a James Bond-esque destination. But while all that opulence does still exist today, there are (and always have been) two sides to Lake Como. The farmers and sheep herders, who lived a more simple existence, left their footsteps along the lake's eastern shore. And it's here, from Lecco up to Colico, where you can find one of Italy's best, down-to-earth hiking routes.
Sentiero del Viandante, or The Wayfarer's Path in English, is a 27-mile trail linking the villages on the east side of Lake Como, through verdant forest, terraced hillsides, pastures, and old church courtyards, climbing from the lake shore up to hilltop views of the entire lake valley and back down again. Follow a path where you can see the generations of work put into each cobbled stone and rocks in the hand-built walls. Around every corner, you'll be hit by stunning panoramas, one more beautiful than the next, with the lake stretching out in front of you. On hot summer days, hikers can head to the lakeshore for a dip to cool down.
Originally a mule track that connected the villages from Abbadia Lariana, Mandello del Lario, Varenna, Bellano, Dervio, and Colico, the trail is suitable for even the not so practiced walkers and families. The part that's up to you is how much distance you want to cover during your trip. For those looking for a longer trek, Sentiero del Viandante is usually divided into three or four stages. But as the villages are all connected by train, it's possible to jump around and do any section you please for as long as you like, exiting at one of the many towns along the way. Here's a breakdown of the options and what to know to hike the Sentiero del Viandante.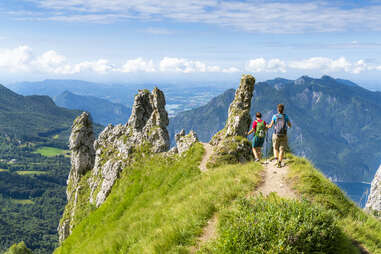 Don't overpack, and plan out where to sleep
This is an easy trail, with a few moderately difficult sections. As you'll be walking on various surfaces, including cobbled mule paths, it's advisable to wear proper walking shoes and socks. Trekking poles are useful, especially if it rains, as the ancient cobbles have been smoothed over the years and may become slippery.
There is no specialized equipment required, and you will never really be far from a town or a road, so pack light. Remember that this entire trail faces north and can be quite shady, so while temperatures are lovely for summer, it can get chilly in autumn or early spring. Winter will see sections permanently frozen over, so many people avoid that season. And although you're high above the lake, those blasted mosquitos get everywhere in summer so remember repellent.
Quite a few people camp (responsibly, leaving no trace) along the third and forth legs of the trek, but it is technically not allowed. For the risk-averse, there are plenty of hotel accommodations along the way.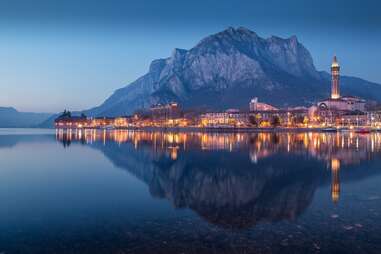 Start your journey with a night in Lecco
There are five official legs of the Sentiero del Viandante route: from Lecco to Abbadia, Abbadia to Lierna, Lierna to Varenna, Varenna to Dervio, and Dervio to Colico.
Lecco is your starting point, the less glamorous city on the eastern point of Lake Como. It's reachable from Como by train, bus, or ferry. Lecco is a quieter and more liveable place than its chic cousin on the western side (the two cities maintain an ancient rivalry), and it's worth spending a night here before you embark on your walk. Stay at La Casa sul Lago Lecco or at Luxury Suites Rocopom if you want to pamper yourself, and get a meal at Soqquadro restaurant.
To start the Sentiero del Viandante, begin from Lecco train station, going north along the lake to Caviate hotel along Via dell'Abbadia, where the trail begins.
Warm up with humble views all the way to Abbadia
The first stage of Sentiero del Viandante is a ten mile stretch from Lecco to Abbadia Lariana. After leaving Lecco, moderate walking with lovely lake views will take you to Pradello, where you can find a small pebble beach if you wish to swim, but otherwise not much else. The trail will take you on cobbled pathways, cutting across numerous small towns and villages, with a labyrinth of stone staircases and alleyways to explore, should you wish. This is probably the least interesting part of the walk, and no judgement if you feel like skipping it and taking the train from Lecco to Abbadia Lariana.
Upon reaching Abbadia, the trail gets slightly more challenging, but far more rewarding for the beauty of the landscape. Abbadia is a reasonably large town where you can stop for refreshment before setting off on the next stage. There is a lakeshore campsite here called Camping Spiaggia, which has its own beach. If you avoid the summer crowds, it's a beautiful, peaceful spot to pass the night.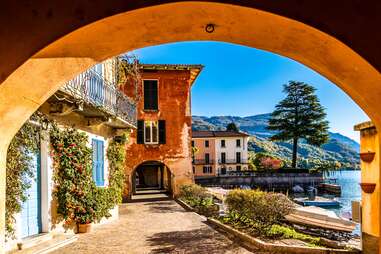 Pass medieval towns and art frescos on the way to Lierna
The second leg is about 5.5 miles to the town of Lierna. From Abbadia, the well-marked path follows an ancient cobbled mule track that rises gently but steadily onward towards Mandello del Lario. Along the way, you'll pass signs for the Cascata Cenghen waterfall, which is worth a slight detour, as well as the Church of San Giorgio, which has art frescoes. Continue on to Maggiana hamlet, where you can stop at the Torre del Barbarossa, for a glimpse of medieval life. Then on to the hamlet of Rongio until you reach Ristorante al Verde, a good spot for lunch or a beer before continuing on to finish this section in Lierna.
Get to the gorgeous town of Varenna
The third section of the trail from Lierna to Varenna stretches for 6.2 miles and initially splits into a high road and a low road. The higher one gives a better view, while the lower path is close to the villages and the lakeshore. This leg is about four hours of hiking through forest and river beds, and it can get steep in places. It'll all be worth it, though, once you get to Varenna. Opposite Bellagio on the east side of the lake, Varenna is every bit as beautiful, but avoids the hordes of tourists. This town is definitely worth spending the night in, whether at Villa Cipressi or apartment rentals, and treating yourself to a dinner at Osteria Quatro Pass for traditional, quality Italian food.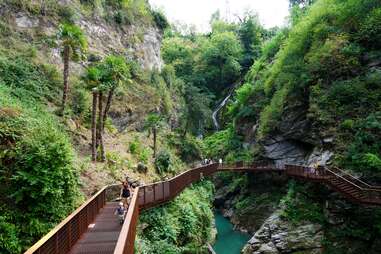 Take in the best views (and a waterfall) on the way to Dervio
The fourth leg is 7.5 miles to Dervio. Upon leaving Varenna, the trail follows a mule track to Perledo. This part of the hike offers some of the best lake views so far. After a climb, the mule trail descends gradually to Bellano. Here you can stop for lunch and visit the Orrido di Bellano, a cavernous waterfall with an elevated wooden walkway leading to it. This sight holds certain significance for pagan cults that still exist in northern Italy, and it is a truly impressive sight.
Next, the trail descends, bringing you closer to the lake and through the town of Oro. An hour's walk along this route (with more stunning views along the way) will bring you to the restaurant Crotto del Cech, where you can stop for something cool to drink or a snack, before hitting the last stretch to Dervio.
Finish your hike in Colico, then ferry back
The last part of the trail will take you to Colico at the very northern tip of Lake Como. It's an easy if slightly long part of the walk, taking about four hours, bringing you past the 15th-century church of San Giorgio and the small hamlet of Mandonico, comprising a cluster of characteristic stone houses. The trail then climbs steeply, opening up to incredible views of the lake and leading you to the Church of San Rocco, where a fountain can replenish your bottles. Onward, more forest trails lead you into the townlands of Colico, the final destination for many.
Hardier trekkers may wish to continue north towards the Swiss border. The trail keeps going in different iterations through the valley of Valtellina, up as far as Sondrio, through the forest and wine country. But many turn back to Como at this point. The easiest way to reach Como from Colico is by ferry. The lovely ride takes about an hour and a half and will give you the chance to relax while observing the trail you just walked from the water.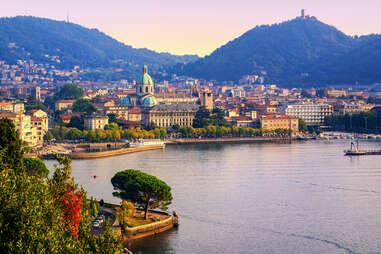 Replenish by spending a last celebratory night in Como
There's no better way to bask in the fruits of your labor than spending some time in the pampered town of Como. While there's no shortage of accommodation here, rooms can be pricey, especially during high season. Vista Palazzo Lago Di Como is a personal favorite and Ostello Bello Lake Como might suit travelers on a budget. For local Italian food, try Trattoria La Costa or Il Diavolo l'Acqua Santa. But if you're able to splash, I Tigli in Theoria is a Michelin starred restaurant that is worth the price. And don't forget to experience aperitivo, which you can do at the hotspots Hemmingway and Terrazza 241 at the Hilton.