Photo courtesy of Tyler Andrews
Photo courtesy of Tyler Andrews
Ultra-trail runner and nomad Tyler Andrews knows a thing or two about mountains. He's unarguably one of the fastest mountaineers in the world. Over the last four years, Andrews has racked up 42 official FKTs (field speak for "fastest known times''), and he's done it summiting some of the tallest peaks on Earth. He's hoofed it up high-altitude routes in a unique niche that blends marathon-style distance with the planet's most inhospitable terrain. And he's got some favorites in mind that he thinks you can hike, too.
The Peruvian Inca Trail speed record? Andrews beat it. Arizona's Flagstaff Loop? Beat it twice. In February and March of this year, he crushed his idols' records back-to-back on bucket-list mountains Aconcagua and Mount Kilimanjaro. He shattered the previous Everest Base Camp Trail record by an astounding 6.5 hours.
While words like "elite" typically prefix any mention of Andrews's name, his biggest successes might be his extreme-elevation endurance runs. Andrews doesn't keep track of every peak-hopping stat, but he's competitively run 30-40 mountains and has completed 15-20 ascents topping out above 20,000 feet—mainly unsupported.
Andrews founded the Chaski Endurance Collective, an online coaching platform designed to build up the global running community, in 2019. He's also a dedicated fundraiser for social improvement projects in South America. Chaski—a Quechua word for the revered ancient Incans who ran coded messages throughout the Andes—has an all-star roster of certified coaches who empower athletes in training camps poised on pinnacles around the globe.
Andrews is a frequent visitor to the top of the world, where he's had unrivaled views usually reserved for birds. He has traversed glacial crevasses on Cotopaxi, Ecuador's stratovolcano. He overcame logistical nightmares with the support of his friends in Tanzania. He's battled subzero temps and breathlessness before dawn on Everest and waded through flooded alpine plains in Argentina. Andrews's incredible treks have taken him to 28 countries across six continents. Here are some of his favorite places around the world to hike up mountains, as well as some of his tips for doing so successfully.
But first: keep up with oxygen
One of the first steps for new high-altitude climbers is to minimize the pesky effects of elevation. In remote mountain regions like the Andes, Alps, and Himalayas, altitude sickness can be serious and starts for sensitive people at 8,500 feet. So what's Andrews's top tip for acclimating? "Well, the first thing you need to do is choose your parents well!" he jokes. "The way people respond to altitude is an individual thing."
Andrews naturally responds well in these environments, so don't follow his footsteps exactly without proper prep. He says the best bet for beating oxygen deprivation, especially for first-time climbers, is to go slow. Don't make huge jumps in altitude and take it really easy your first day or two. Sleep long and hard, avoiding strenuous activity, and plan for downtime. Make sure to stay hydrated—meaning, no alcohol (no matter how tempting those vacation cocktails are).
Nepal: Everest Base Camp Round Trip
The area around the Khumbu Valley leading up to Mount Everest is maybe the most spectacular place Andrews says he's ever been. The scale of the snow-capped mountains, the insanely steep valleys, and the constantly flowing rivers coming off of the glaciers will take your breath away (if the high altitude doesn't first).
These are long, multi-day treks. Give yourself two weeks to make the most of your time. Fly in and out of Kathmandu and take the (mildly terrifying) short flight to Lukla or the (much longer) bus or hike option into the valley. The small villages often have lodges and restaurants, making trekking or trail-running in this area logistically much simpler. The trails are well maintained and the people who live in the valley are extremely friendly. The best times of year to visit are March through May or September through November.
Peru: Salkantay Inca Full Trail
Much like the Everest Base Camp in Nepal, the Salkantay Inca Trail in Peru offers an incredibly rewarding adventure amidst nature's best. The terrain here is a riveting mix of high-altitude passes and lush forests, culminating at the iconic Machu Picchu. While the Salkantay Pass itself is an absolute gem, the entire trail is steeped in natural beauty and historical traces of the Incan empire.
Carve out a week for this journey, which kicks off from Soraypampa, about a three-hour drive from Cusco. The locals are welcoming, and the path is dotted with lodges to rest and refuel, making the logistics of a serene trek or challenging run here pretty convenient. The ideal time to hit this trail is between May and September.
Japan: Mount Fuji, Sea to Summit to Sea
As Japan's highest peak and an iconic landmark visible from downtown Tokyo, Mount Fuji beckons adventurers from across the globe. Its perfect, symmetrical cone is surrounded by five lakes, and its summit gifts hikers with panoramic views that are both inspiring and humbling. The mountain's historical and cultural significance adds depth to the experience; you'll find shrines and other traditional sites along the trails. Reaching the summit as dawn breaks, witnessing the sun ascend over a sea of clouds, is a magical moment that imprints itself in the hearts of those who make the journey.
The Yoshida Trail is a popular route, and it's a good idea to take it slow, allowing your body to acclimatize to the altitude as you ascend. The most favored time to hike is during the official climbing season, which is short but sweet, spanning from early July to early September—but keep in mind, it's super crowded during those months.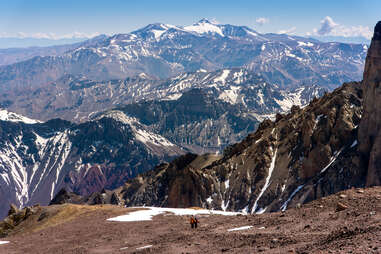 Argentina: Aconcagua, Park Entrance to Summit and Back
Towering at 22,841 feet, Aconcagua is the tallest mountain outside of Asia and a gem in the Andes mountain range. For hikers, the base camp treks are a popular choice. The journey to Plaza de Mulas or Plaza Francia offers a taste of the mighty Andes without the technical demands of summiting. Along the trek, you'll witness vast landscapes and colossal peaks, with Aconcagua commanding the skyline. The area is rich with geological wonders and offers a sense of scale that's rarely experienced elsewhere.
Hikers should be well-prepared for altitude and variable weather conditions, as the mountain's moods can shift swiftly. Aconcagua is not just a hike; it's an expedition into a land of giants, where every step takes you closer to the roof of the Americas. The journey can take anywhere from 12 to 20 days. The climbing season is from November to March, which offers the most amicable conditions for the daunting ascent.
Tanzania: Kilimanjaro, Park Entrance to Summit and Back
The iconic silhouette of Mount Kilimanjaro rises majestically from the plains of Tanzania. As Africa's highest peak, Kilimanjaro lures adventurers from around the globe to conquer its 19,341 feet. The trek to the summit takes you through an array of ecosystems, from lush rainforests to alpine deserts and, finally, to the icy embrace of the glacier-capped summit. Whether it's witnessing the sunrise from Uhuru Peak or the sense of accomplishment in reaching the summit, Kilimanjaro is a once-in-a-lifetime type of hike.
Kilimanjaro has several routes that cater to different fitness levels, but all hikers should allow themselves a good six to nine days for the trek to acclimatize. The most popular time to climb is during the dry seasons from June through October or January through March. As you make your way up, expect a journey that not only challenges your body but also captivates your spirit with its astounding beauty and the warmth of the local Chagga people who inhabit the lower slopes.