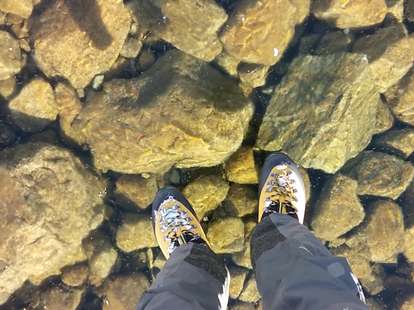 If you think about it, Jesus would be the most badass backpacking buddy ever: he could feed the multitudes (i.e. you) endlessly with just one bag of trail mix, and when it came time to party, he could turn water into wine. And that's not even counting walking on water.
Well, one pair of hikers in Slovakia got many literal steps closer to following in JC's footsteps when they strolled across a frozen lake this week. But this wasn't just any old frozen lake. On their trip through the scenic High Tatras Mountains, Tomas Nunuk and his friend came across a frozen lake with crystal-clear water. And thankfully for the Internet, the pair had a camera to record their surreal walk on water.
Watch the super cool video below to see the pair in action... and don't try this at home.
Chloe Pantazi is an editorial assistant on Thrillist's travel team. Yes, that's a British accent. No, she doesn't watch Doctor Who. Follow her on Twitter at @ChloePantazi.