The Best Way to Hike to Machu Picchu Is Not the Inca Trail
More than 1 million people visit Machu Picchu every year. The 15th-century Inca citadel, nestled in the jagged peaks of the Andes, was built in the mid-1400s and inhabited for less than a century before the Spanish Conquest began and the Inca Empire fell. Today, it's a UNESCO World Heritage Site, one of the New Seven Wonders of the World, the most popular tourist attraction in Peru, and one of the most Instagrammed places on the planet.
Like many of the world's most awe-inspiring features, both natural and constructed, Machu Picchu and the Inca Trail -- the iconic route that follows the same footsteps into Machu Picchu that the Inca took nearly 600 years ago -- have become victims of their own popularity. The citadel is so popular with craven, littering, monument-defacing tourists, that this year, fresh new rules protect the site and curb overcrowding, including some genuinely excellent ideas like banning single-use plastics and confining visits to four consecutive hours (here's the full slate of new regulations). Meanwhile, erosion caused by rampant tourism has long since led the Peruvian government to cap Inca Trail hiking permits at 500 per day, about 200 of which are left for tourists after you account for all the staff needed to accompany them.
Hiking to Machu Picchu is almost synonymous with the Inca Trail. The Inca Trail is actually three overlapping trails stitched together -- Mollepata, Classic, and One Day -- and the route to Machu Picchu is a small part of a much larger network of trails that span thousands of miles across South America.
It may be the only trail that will take you right up to the citadel and deposit you at the Sun Gate (Inti Punku), but it is not the only trail you can hike.
The Salkantay Trail
It's a little counterintuitive, but hiking to Machu Picchu is really one of those things where it's about the journey, not the destination. If the point of your trip is to see Machu Picchu, then that's fine -- there's a train you can take from Aguas Calientes that'll save you some time and money. But if you're going to hike to Machu Picchu, then the point of your trip is the hike.
Though it lacks the name-brand heft of the historical Inca Trail, the Salkantay Trail is actually a more challenging hike. More importantly, it's a more stimulating one, providing much more diversity in scenery and terrain; more on that in a moment. While hikers on the Inca Trail will frequently bottleneck, Salkantay is less crowded by a factor of 2 or 3. Also, it's cheaper.
Yes, you need to go with a tour company
I am always in favor of independent travel over organized tours, but there are places you just can't get to on your own. Machu Picchu is one of these places, regardless of what trail you take (even if you take the train, you'll still need to enter with a guide). My group went with Salkantay Trekking, a tour company that leads treks on the Inca Trail and a handful of other alternatives besides Salkantay, but focuses exclusively on Machu Picchu.
The Inca Trail can involve a lot of jockeying for position and some comparatively charmless accommodations, but on Salkantay, you're sleeping in glass stargazing igloos and traveling a mostly remote path that ensures your trek is in no way reminiscent of a cattle herd, at least until Day 5. The Salkantay Trekking cooks also ply you with multi-course meals that are delicious in taste and truly shocking in quantity, like a comedic parade of tasty dishes you will valiantly try and fail to finish.
You can choose how much time you spend hiking
Regardless of trail or tour company, most treks to Machu Picchu last between two and seven days. My group went with the five-day Salkantay Classic, and -- while it is true that I have nothing to compare it to -- this still feels to me like the correct choice in terms of both route and length of time.
If you don't happen to know much about the geography, you probably imagine the hike to Machu Picchu as one that goes up, but it really goes down. Rather than starting at the bottom of a mountain and working your way to the top, you're starting in Cusco, which is around 11,000 feet above sea level, while Machu Picchu is at 7,972 feet above sea level. Sure, on Days 1 and 2 of this trek, you'll be climbing up across snowy glaciers, reaching a peak elevation of 15,255 feet. But on Days 3 and 4, you're descending through the humid, tropical cloud forest, shedding layers as you go. Day 5 is Machu Picchu.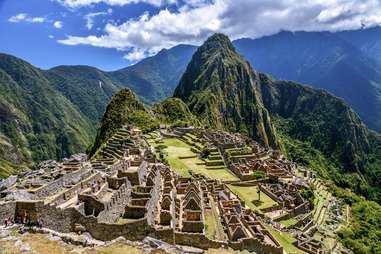 What you can expect with a tour company
Amenities will of course vary a bit from company to company, but the broad strokes are the same. The 5-day trek runs $450 per person, which covers your meals, water, lodging (including your hostel in the nearby town of Aguas Calientes), duffel bag-bearing mules for the stuff you don't want to carry while you're hiking, train ticket in Aguas Calientes, transportation to and from your hotel in Cusco, luggage storage in Cusco while you're hiking, entry into Machu Picchu itself, tea, snacks, and of course your excellent trail guides. There's also a fairly overlooked museum about a half-hour walk from Aguas Calientes you can visit for around $7, and beloved thermal baths you can enter for around $3.
Make sure you have cash (in Peruvian sol) for tips -- the amount will vary depending on trek size and number of staff members, but in addition to tips for your guides your group should plan to collectively kick in on a pot for the cooks and another for the porters. Ask your guides for the preferred way of distributing them at the end.
What to pack when hiking Machu Picchu
There are really only a couple of essentials you need to make sure you've got sorted out before you head to Peru, the first of which would be comfy hiking boots that you've ideally already tested in the field. I, however, did not have hiking boots, and am very pleased to report that I made it the entire way in Timbs. I assume I was in slightly more pain than everyone else who came with boots that were actually designed for hiking, but honestly it was not bad.
Sleeping bags are not included, so if you have a nice one, bring it. Alternatively, you can rent (clean!) ones from the company for about $5 per night. Everyone else in my group rented walking poles ($20 flat rate) but I did not and here I am, still alive. Most people will bring a backpack to carry while hiking that's separate from the more suitcase-type luggage they brought for the trip to Peru as a whole, but ever since backpacking I own no luggage and use the same single backpack for everything -- this has always served me fine. You definitely want a healthy supply of sunscreen, bugspray, your preferred product for addressing and/or preventing blisters, and -- very importantly -- lots of exercise-friendly layers. You need a big winter jacket for Days 1 and 2, where the trail is reminiscent of that pass through the Misty Mountains they try to cross in The Lord of The Rings before they turn around and go through the mines, but throughout Day 3 and Day 4 there's a sort of collective group molting as everyone peels down to base layers, maybe short sleeves. You're in the rainforest now.
The other thing everyone else in my group opted for that I did not was medication for altitude sickness. I did not, because I have both a high opinion of myself and poor organizational skills, and if you are wondering whether I threw up at any point the answer is that I threw up at numerous points. However, three out of the four members of our group also threw up, which we attribute partly to arriving hungover for what turned out to be a very winding, lurchy bus ride.
Accessibility
There are no age restrictions for hiking the Salkantay Trail. You need to be slightly physically fit, but probably not nearly as fit as you think. Personally I found Day 1 of our trek to be the most trying, because I was still adjusting to the altitude due to my steadfast commitment to being a dummy, but Day 2 covers more ground and involves the most uphill hiking. It is generally considered the hardest day.
Guides do carry supplemental oxygen should anyone become ill during the trek, and if you need to (or simply want to) you can ride one of the mules during the uphill portion for a small fee.
In January 2019, travel company Wheel the World unveiled the first wheelchair-accessible tour of Machu Picchu. Packages start at $398 for single-day tours to the Machu Picchu citadel, up to $2,900 for six-day tours around Machu Picchu and Cusco. The price includes meals, guides, accommodation, accessible transportation (including to and from the airport) and adaptive gear including specially designed wheelchairs for covering the Machu Picchu terrain.
When to go
July and August are the height of the tourist season, so none of that if you can help it -- unless, that is, you're determined to. February, meanwhile, is the height of the rainy season, and also when the Inca Trail closes each year for maintenance, so conventional wisdom generally holds that this is a bad month to go -- but if you plan to hike Salkantay, want thinned out crowds in the citadel itself, and are not pressed about getting wet, then February may actually be to your advantage.
While the limited number of permits means those hoping to hike the Inca Trail must reserve many months in advance, with Salkantay you can book your trek probably five to eight weeks out (more if you're planning to visit during the summer, though). Overall, your best bets are either April/May or September/October. I went in April. It was nice.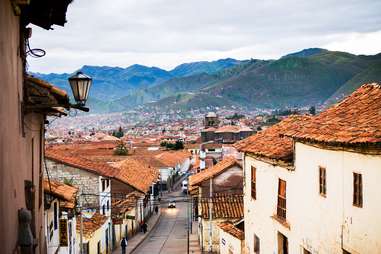 But before you start, sort your altitude sickness in Cusco
Because of the high altitude, you can't just fly into Peru and begin hiking immediately. You need to block off some time beforehand to hang around Cusco and let your body acclimatize.
Give yourself at least two or three days in the city, four if you have the time. You'll be offered lots of coca tea and coca leaves throughout, which you should respectively drink and chew to help with the symptoms, too. It'll take the edge off your nausea and pounding headache and it's a good incentive to stay hydrated, plus it is the personal opinion of this journalist that it tastes nice.
As someone who tends to skip a lot of steps and just wing stuff most of the time, I must instruct you to not fuck with this part. If you don't take time to work through at least the bulk of your altitude sickness before you start your hike, you will be working through it during your hike, and this means you will simply struggle humiliatingly for a couple of hours -- nausea, vertigo, throbbing headaches, difficulty breathing -- until you faint and your guide has to mail you off to Machu Picchu on a bus. You will miss everything, and you will feel dumb.
Plus, Cusco is great! Your trip is all the better for spending a couple of days there sampling cuy and pisco sours anyway, though I'd encourage a healthier respect for impending hangovers than you'd maybe have at home. You don't wanna waste the next day in bed recuperating, you got things to do.
Sign up here for our daily Thrillist email, and subscribe here for our YouTube channel to get your fix of the best in food/drink/fun.