The Next Portland: 8 Cities All the Cool Kids Are Moving To
Now that Portlandia has logged five seasons and word of Voodoo Doughnut has traveled all the way to your great aunt, it's time to face the facts: Portland is over, people, and a new city must rise in its stead. But which American metropolis best encapsulates the values of Rip City?
Any heir to the city's handcrafted, free-range throne must have these qualities: a substantial food and drink culture, an emphasis on "artisan" shops, and a considerable number of eccentrics. These eight candidates all clear those criteria, but a victor won't be crowned until a unicycle-riding, bagpipe-playing Darth Vader minstrel appears up in one of these cities. Consider the race officially on!
Missoula, MT
Portland-worthy restaurants: Pearl Cafe, Red Bird, Scotty's Table
Could Missoula evolve into a full-blown hipster utopia? Well, it's already got a bunch of young, educated people within city limits thanks to the University of Montana campus, and groundwork has been laid with eateries like Pearl Cafe, Red Bird, and Scotty's Table (all of which emphasize Missoula's access to quality, locally raised meats). Oh, and don't discount the breweries, or the Montgomery Scotch distillery. Downtown, there's easy access to organic soaps and dog treats. Plus, Missoula is just as concerned about keeping things weird as Portland is.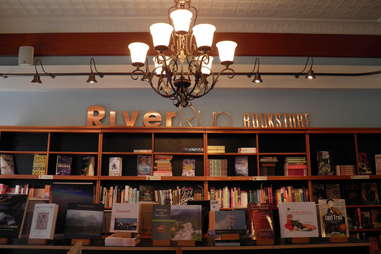 Portsmouth, NH
Portland-worthy restaurants: Moxy, Black Trumpet, Street, The Friendly Toast
The so-called "food revolution" going down in Portsmouth has produced fantastic tapas bars like Moxy, bistros like Black Trumpet, sit-down street food restaurants like Street, and vegan eateries like The Friendly Toast. But if you're more interested in liquid lunches, there are plenty of options there, too -- the town even has its own beer festival for a reason. As for the shopping, you'll find local fabric, candle, spice, and stationery stores, duh. But are these New Englanders quirky weirdos, too? We'll let the "Tweed Ride" speak for itself.
Pittsburgh, PA
The most Portland thing about it: Fraley's Robot Repair
We almost shut the Steel City out of this race because its people just seem like they want it to be called the new Portland, and expressing eagerness for anything goes against everything the truly hip stand for. However, on top of having several expert-vetted breweries, Pittsburgh is home to many superior cocktail bars -- including one that we can't seem to keep off our annual best cocktail bars in America lists. As for food, it's rocking a culinary scene with nationally famous pierogies and sandwiches.
There is a fake robot repair shop inside the airport, which is a totally, totally reasonable thing to have in an airport, and if you're after artisan stuff, Handmade Arcade -- "Pittsburgh's first and largest independent craft fair" -- will have all of the trinkets and tchotchkes you definitely don't need.
Asheville, NC
Portland-worthy stores: Garage 34, Asheville Goods, Brian Boggs Chairmakers, Hitched Handmade
Hopefully you've heard of Asheville's impressive beer offerings by now, -- if you haven't, a word on those -- and its crop of trendy, one-word restaurants (Cúrate, Chiesa, Nightbell). The local, handcrafted retail stuff can be found at Garage 34, Asheville Goods, Brian Boggs Chairmakers, or, if you're specifically after indie wedding supplies, Hitched Handmade. Like Portland, this southern city has some weird stuff, notably nuns on oversized bikes chasing purple buses.
Louisville, KY
Portland-worthy stores: Louisville Stoneware, Peace of the Earth
Louisville comes out of the gate with a serious advantage -- bourbon is baked right into the culture (ever hear of the Kentucky Bourbon Trail?). If you're not opposed to cutting the brown stuff with... other stuff, local mixologist Joy Perrine (one of America's best bartenders) will make you a fantastic cocktail or four, and the "Louisville Originals" -- a collective of 30+ independent restaurants​ -- will allow you to soak them all up.
There are also small-batch bourbon candy stores, but if that's not your bag, the artisan scene includes retail shops like Louisville Stoneware and Peace of the Earth (above), the latter of which specializes in handmade, environmentally friendly bath products.
Boise, ID
Portland-worthy breweries: Cloud 9 Brewery, Highlands Hollow, Sockeye Grill & Brewery
This wild picture has something to do with Boise's chapter of RAW, an artist collective that's for artists, by artists, obviously. That gives Boise points for eccentricity, but the Idaho city also has the food/drink requirements locked down with nearly 150 coffee shops, almost a dozen breweries, a small, but growing batch of whiskey distilleries, and lots of laudable restaurants, like the reliably delicious Cafe Vicino. Indie Made is the almost-too-obvious destination for fine local goods.
Salt Lake City, UT
The most Portland thing about it: The Secret Lives of Clowns
With the kind of cash-only dives with PBR tallboys (looking at you, Twilite Lounge) that the hip kids love, beloved breweries like Squatters, and young distilleries like Sugar House, and coffee shops that serve jalapeño goat cheese toast, Salt Lake City is a strong contender to replace Portland.
The storefronts advertise Salt Lake-produced honey, glass work, and fabrics (what are all these people making?), and the official tourism website proudly advertises "graphic, adult-oriented" plays about clowns. The playwright is obviously a local.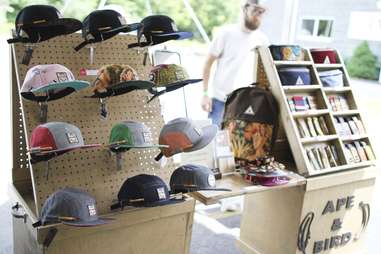 Portland, ME
Portland-worthy breweries: Allagash, Peak Organic, Shipyard
No, this isn't some overly clever argument that Portland is constantly evolving and thus, always the "next" Portland. We're talking about Portland, Maine, which has a thriving affluent young bohemian scene all its own. The northeastern city is home to Allagash, Peak Organic, Shipyard, and so many more breweries/brewpubs that reputable publications have dubbed it a "craft beer heaven." Plus, the underrated food scene boasts tons of delicious seafood and James Beard Award-winning chefs.
Browse the shops and you'll quickly find pottery shops, custom menswear stores, and chocolatiers within feet of each other. And of course, Portland has an arts center that proudly hosts B-movie screenings and adult puppet shows. Get excited: the puppet "slam" show is just around the corner!
Sign up here for our daily Thrillist email, and get your fix of the best in food/drink/fun.
Kristin Hunt is a staff writer for Thrillist, and wants to write a book about that Asheville nun. Follow her to fixies with holy cards in the spokes at @kristin_hunt.