Historic Then-and-Now Pictures of the World's Most Famous Skylines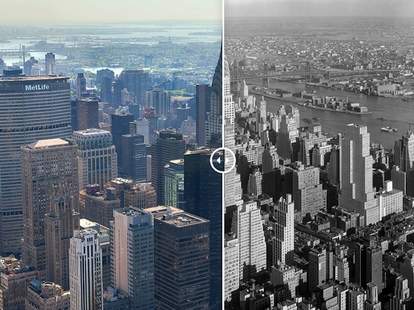 ALEKSANDR REZNIK GOOGLE MAPS/WALLPAPERPLAN.NET
We can wax on about fun stuff like art and sports teams being the symbol of a city, but when you picture any large metropolis, the first image that comes to mind is its gleaming skyline. Unless you're picturing Phoenix.
America's got some pretty great skylines. As does the rest of the world. But just 100 years ago, most weren't recognizable save for maybe a clock tower and a grand old hotel. And to show just how much the world's most famous skylines have changed over the past century, the folks at RENTCafé -- a nationwide apartment search website -- put together these then-and-now slides.
New York City
View from the Empire State Building, 1932
Credits: 2014: Alexandr Resnik/Gogle Maps, 1932: Wallpaperplan.net
Clichéd proposals looked a lot different in 1932 than they do in 2016. First, because at the time they took place on the tallest building in the WORLD. And second, they weren't all sponsored by MetLife.
Toronto
View from Lake Ontario, 1930s
Credit: 2015: Ev Delen/Google Maps, 1930s: Derek Flak/Blogto.com
While the Commerce Court building was the tallest building in Canada when it was built in the 1930s, you can't even see it today from the shores of Lake Ontario. And that wide building dominating the 1930s Toronto skyline? Well, that is the Royal York Hotel -- it's still open today.
Rio de Janeiro
View from Christ the Redeemer, 1926
Credits: 2014: Ohmygodfacts.com, 1926-1931: Imugr.com
Let's just say that taking a selfie from the top of Christ the Redeemer would have been a lot easier in 1926.
Paris
View from the Eiffel Tower, 1889
Credits: 2013: Google Maps, 1889: trialsanderrors via Wikimedia Commons
If only there was some way to peer inside all of those apartment buildings being built along the Seine.
London
View from Victoria Tower, 1920s
Credit: 2012: onehdwallpaper.com, 1920s: Wikimedia.org
Not surprisingly, the view from London's Victoria Tower has changed the least since the 1920s (except for the Eye, of course). The major changes have come in Canary Wharf, where One, 8, and 25 Canada Square, and One Churchill place now dominate the skyline.
Moscow
View of the Kremlin Palace, 1917
Credis" 2-15: Google Maps, 1917: Iliketowastemytime.com
It appears that "landscaping" was not at the top of Lenin's revolutionary checklist. Amazing what a few trees can do to dress up the view across the Moscow River, no?
Shanghai
View of Pudog, 1987
Credits: 2013: Carlos Barria/Reuters, 1987: Carlos Barria/Reuters
Much like Madonna, there's really nothing recognizable about Shanghai from the 1980s. The Customs House in the foreground and the Huangpu River are about the only landmarks that confirm this view of Pudog is the same. Guess that's what happens when your population jumps from 10 to 16 million in 30 years.
Sydney
Southern approach to Sydney Harbour Bridge, 1930s
Credits: 2015: Oliver Wavre/Google Maps, 1930s: Locofonic.alphalink.com.au
Oh, look, they painted numbers on the bridge! Also, they built a ton of buildings behind it to create the best looking skyline in the entire world.
Sign up here for our daily Thrillist email, and get your fix of the best in food/drink/fun.
   
Matt Meltzer is a staff writer with Thrillist. Follow him on Instagram@meltrez1.