Welcome to Tierra Santa, a religious theme park that brings the Holy Land to Buenos Aires, Argentina.

Christianity's answer to Disneyland, the theme park -- which considers itself the world's first religion-themed fun land, though certainly not the only one -- set up shop in 2000 next door to a water park, because if there's one thing god-fearing people love, its a baptism by slip 'n' slide.
Replete with fake shepherds, apostles, wise men, and Romans, an hourly resurrection of a robotic Jesus (Jesus...), and staff in period costumes who you might spot on their iPhones, Tierra Santa stages live performances of Bible excerpts.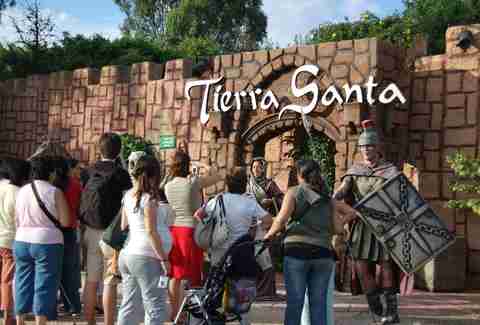 At Tierra Santa's grand entrance, you won't be greeted by St. Peter. Nope. Instead, there's a guy in a skirt.
Here he is, herding the tourists through Tierra's plastic gates, asking visitors to please not litter in the hay. Because hey, that could end up being where baby Jesus sleeps.
Those pearly plastic gates won't lead you to the Kingdom of Heaven. But they will take you to the smaller, plastic version -- like Gary, Indiana to Las Vegas, if you will.
Mapped out like a Little Jerusalem, Tierra Santa's a playground scattered with fake temples and dwellings where you'll rub shoulders with the Biblical elite. Jesus, Mary, and Joseph, -- it's not even an expletive! -- you'll find the whole crew here.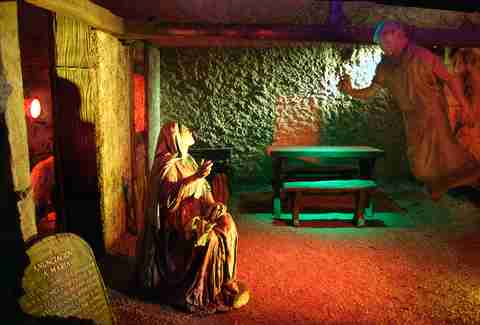 In one of the theme park's many dramatically lit tableaus, the Virgin Mary learns of her pregnancy from the angel Gabriel. So much better than peeing on a Clearblue stick in the Walmart bathroom.

In addition to all your favorite Biblical characters, the park's made a special effort to throw in local color -- hence this very hygienic dentist casually operating on a patient. 
Turns out, the dental procedures practiced in the Holy Land back in the day were only slightly less sadistic than those used today.
Tierra Santa is also apparently frequented by hipster couples who moved to Jerusalem from Brooklyn before it was cool. Seriously, we're pretty sure that guy rides the L train.
What, you've never seen shepherds herding sheep before? It's literally the definition of what they do.
Think of Tierra Santa as a Madame Tussaud's for God in Buenos Aires, where visitors cozy up to creepy wax mannequins for Instagram poses. We're not really sure who this bald character is, but that lady seems really into him. And he's weirdly really ripped.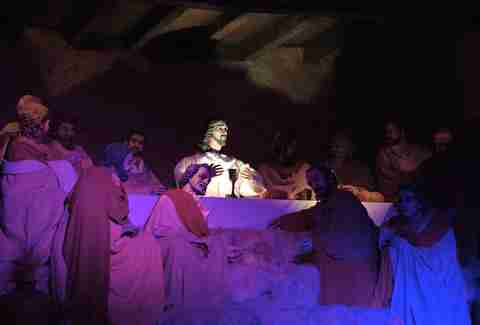 If you don't get to see Leonardo da Vinci's rendering of the Last Supper in Milan, the tableau at Tierra Santa is the next-best thing, in the same way that SpaghettiOs are the next-best thing to spaghetti alla carbonara in Rome. 
Of course, the theme park's representation -- with its fetching fluorescent pink mood lighting -- makes dinner look more like it was at Jay Z's 40/40 club, and not at Jesus's buddy's house in Jerusalem.

On top of the plethora of plastic sculptures and creepy mannequins, the theme park boasts live productions of Bible scenes, which naturally attract larger crowds around Easter. The annual holiday show features an actor as Jesus who gets fake flogged (yep), and bleeds fake blood...
Let's just hope it's nothing like a Gallagher show.
Like these plastic models, an actor playing Jesus gets strung up on a giant cross, fake crucified in front of an audience for the frighteningly real Stations of the Cross ceremony.
As you know, there's a happy(ish) ending, with Jesus being resurrected and all.
But while the Bible has just one resurrection, Tierra Santa ups the ante with a 40-foot mechanical Jesus that emerges from a mountain and blinks at his throngs of disciples 10 minutes before every hour day of every day, all to the tune of Handel's "Messiah". 
Have a look for yourself. Rejoice in the awkward glory of animatronic Jesus slowly creeping out of a rock with music blasting at a deafening level. And look at all those happy believers.

Chloe Pantazi is an editorial assistant on Thrillist's travel team. Though she's not religious, she quite likes how the Greeks do Easter. Follow her like a disciple on Twitter at @ChloePantazi.