Hong Kong "solves" its smog problem for tourists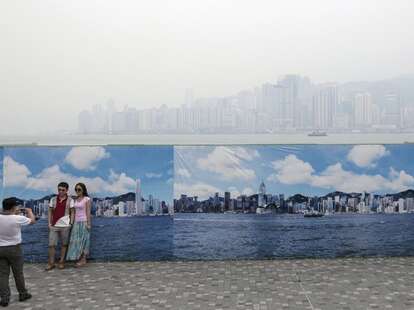 When it comes to air pollution, Hong Kong's king. You knew that, right? Well, if you didn't, you do now. In fact, as smog-so-visible-you-could-spoon-it-out-of-the-air destinations go, a trip to Hong Kong is akin to traveling within a gigantic cigarette... without a filter.
Don't get us wrong; you should TOTALLY still go! Although the department of tourism can't really do anything about the astronomical levels of toxic ozone and nitrogen dioxide that make the skyline virtually impossible to see and will kill you, they can (and did) put huge skyline pics in the most Insta-worthy locations so, at least in your photos, you'll look like you were there on a perfect day. Tourism board brilliance!
In this photo, "actual" Hong Kong is on the left.
"A little to the right, actually."
"Here, I'll hold your respirator for this one."