10 of the world's most insane hotel amenities
Remember the days when you'd go on vacation and be satisfied with a clean room, towels at the ready, and turn-down service that yielded a mint on the pillow? Times have changed, fellas, and these days, top-end hotels are separating themselves from the pack by offering luxury add-ons Robin Leach'll pocket from the toiletry shelf.
Whether it's a concierge monitoring your sleep habits (creepy) and hand-cutting daily soap for your bath (what?), or providing you with a solid gold iPad and comp'd sports cars, here are the world's most insane hotel amenities... Ready to check in?
10. Tanning Butler, Ritz Carlton South Beach -- Miami, FL
Those hard-to-reach places are the domain of your Ritz-Carlton tanning butler, whose sole responsibility is to keep you oiled up, remind you when it's time to flip, and ensure the umbrella in your coconut's providing just the right amount of shade to keep your daq frosty.
9. Villa Rockstar Recording Studio, Eden Rock Hotel -- St. Barths, Carribbean
Sleeping in the same digs as Paul McCartney, Mick Jagger, and Dr. Dre may be enough for a hardcore music fan, but this 16,000sqft Villa at Eden Rock comes complete with a state-of-the-art recording studio.
8. Sleep Concierge, The Benjamin -- New York, NY
In the city that never sleeps, getting a good rest ain't easy. Enter The Benjamin's Sleep Concierge; she's here to knock you out by assessing your slumber habits, arranging bedtime munchies and sleep-inducing massages, and recommending the perfect place to rest your head off the custom Pillow Menu.
7. Gondola Massage, Loews Coronado Bay Resort -- San Diego, CA
It's hard to imagine enjoying an hour's paddle through the tiny sewers and crowded back passage canals of Venice while a fella in stripes garbles "O sole mio." So, this resort in laid-back San Diego attempts to recreate the more romantic aspects (onboard a 33ft gondola equipped with two professional masseuses) in the enchanted privacy of the Coronado Cays. Buono.
6. Pet Amenities, Hotel deLuxe -- Portland, OR
This place rolls out the red carpet for your four-legged plus-one with custom bedding, bowls, toys and treats. Your date might send you off for a bit of privacy, however, as they also offer pet room service, doggie massages, and in-room psychic readings for hounds. So much for man's best friend, you selfish pooch.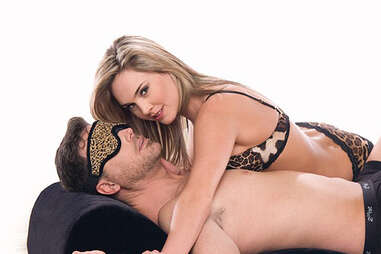 5. Pleasure Menu, The Drake Hotel - Toronto, Canada
We'll put it out there -- hotel beds get a lot of action. But when you travel, you may be hesitant to display your favorite frisky liquids and gels in that so-unsexy TSA tub. Enter the in-room Pleasure Menu, from which you can order freaky gear like feathers, bondage tape, whips, and even a 24kt gold dildo. Which you'll want to bring home in your checked luggage.
4. Suite Drive, Four Seasons -- Los Angeles, CA
Why be at the mercy of shady cab drivers and public transportation when you can take the wheel of an exotic luxury car? An overnight stay at the regular room rate in one of the Four Seasons LA's top-level luxury suites gives you exclusive access to a selection of hot rides like a Maserati, Ferrari, or Lamborghini. Go ahead and take out the extra insurance this time.
3. Bathtub Hammock, W Hotel -- Mexico City, Mexico
As sleeping in a hotel bathtub can lead to international headlines, the W Hotel Mexico City's introduced a hammock to keep your bathtime dreamings above water.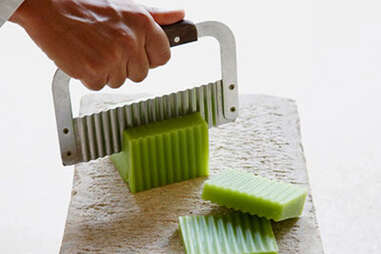 2. Soap Concierge, Tides Riviera Maya Resort -- Playa del Carmen, Mexico
Most hotels provide heavily-scented soaps and bath gels for you to pocket, but this resort takes toiletry treats to a whole new level with their Soap Concierge. Prepare to be presented with locally-made soaps, in a variety of personalized scents and slices, throughout your stay.
1. Gold iPad, Burj Al Arab -- Dubai, United Arab Emirates
It's a 24kt gold iPad. A freaking gold iPad! The luxury tablet is offered to guests upon check-in to use as a virtual concierge throughout your stay. Arrange for private dining, order room service, and play Angry Birds like a sheik.