A rendering of the hotel from the east. Solar panels for everyone.

| Photo courtesy of Hotel Marcel
A rendering of the hotel from the east. Solar panels for everyone.

| Photo courtesy of Hotel Marcel
You're driving down I-95 in New Haven, Connecticut, and near the waterfront district of Long Wharf a building catches your eye. It's basically a concrete cube and yet it's stunning: the outer façade patterned with pleasing angular grooves, its recessed windows like 525 reflective eyes. And then you do a double-take: Wait a minute, is it floating?
You would be forgiven for thinking so. Completed in 1970 as offices for the Armstrong Rubber Company (later bought by Pirelli Tire), it was the work of designer-architect Marcel Breuer, Bauhaus acolyte and leader of the Brutalist architectural movement. Bruer favored raw and functional materials and utilitarian, geometric design—and was also a fan of levitating things. His much-replicated cantilevered Cesca chair seemed to balance like magic. His bell tower at St. John's Abbey in Collegeville, Minnesota, reaches up to the sky. Perhaps his most famous building, the upside-down Madison Avenue Whitney Museum (later the Met Breuer, now housing the Frick Collection), reaches over to the street, appearing light despite its heavy concrete building blocks. No size fazed him in his architectural acrobatics.
"Because Breuer was both a furniture designer and an architect, he was able to transcend scales," says Bruce Becker of the architecture firm Becker and Becker.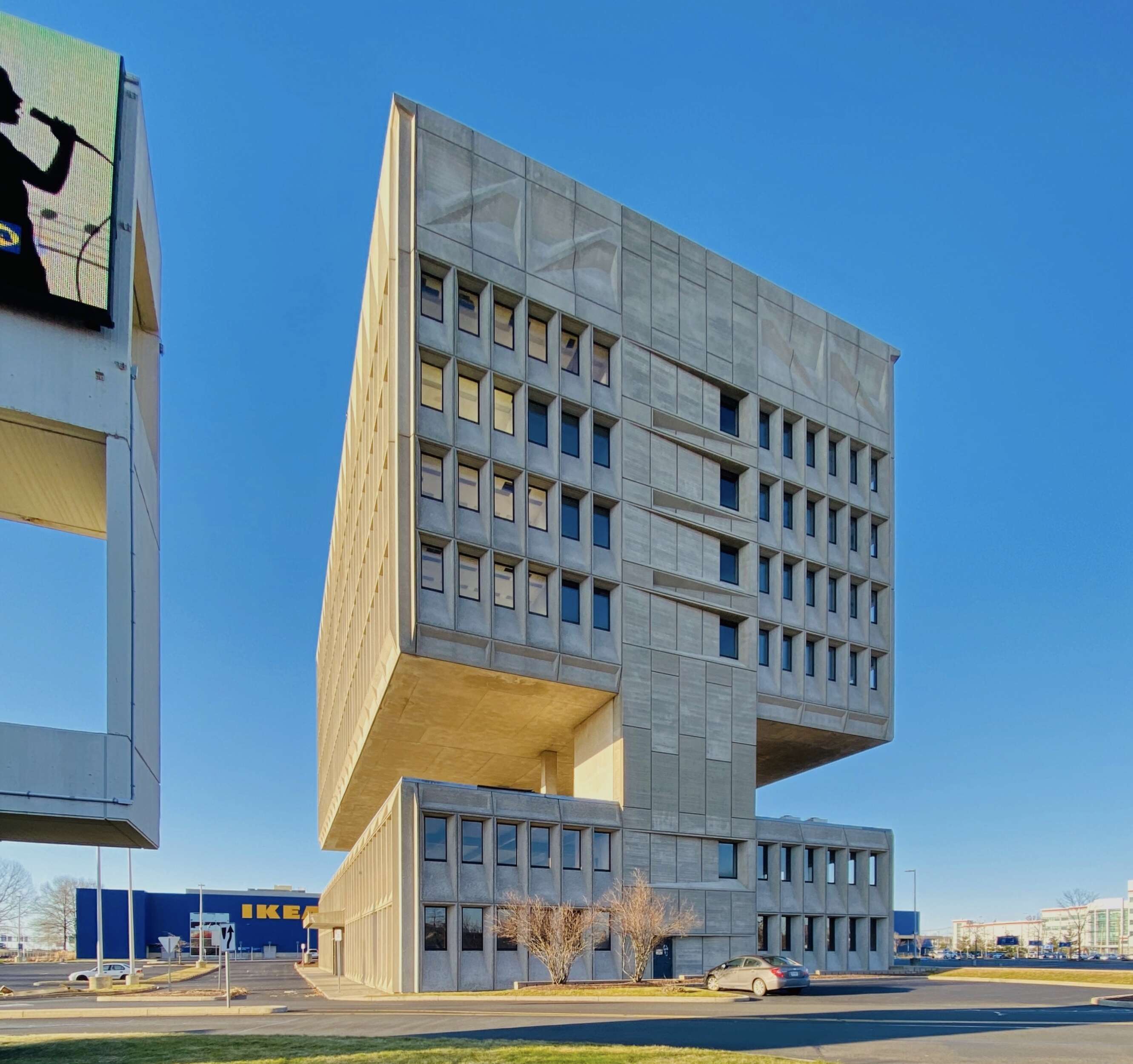 And this highway-side building—easily the most-seen piece of Brutalist architecture, with 140,000 cars whizzing by daily—seems to levitate due to its "missing" third and fourth floors. The top section is held up by a few middle stalks, creating a window to the city beyond (and a wind tunnel for anyone who tries to stand in it). The unorthodox design took a little convincing. Says Becker, "He sold it to Armstrong by telling them they could put in the third and fourth floors later, if they needed space."
The historic building was bought in 2003 by IKEA, of all things, and has been sitting empty ever since: a gigantic Brutalist billboard sporting a banner ad for the latest in affordable Scandinavian furniture. The company razed part of the building for a parking lot, but were prevented from doing anything further by preservation activists. Switching tactics, in 2018 they were granted permission by the city to repurpose it into a hotel, with the intention to sell. Becker, long an admirer of the architectural icon, jumped at the chance to submit his proposal for a sustainable 165-room boutique hotel—the country's first hotel with net-zero emissions.
He bought the property for $1.2 million (with a few caveats: 10 percent of furniture used will be IKEA), to open this fall as the Hotel Marcel.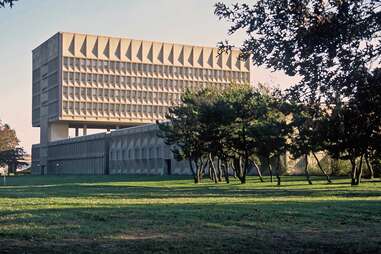 Becker is no stranger to working green: it's the specialization of his firm, along with restoring and adapting old buildings. Past projects include the Octagon, a former asylum on New York's Roosevelt Island that's now a LEED-certified luxury apartment building.
But Hotel Marcel is Becker's first hotel, and to make it zero-net, he pulled out all the stops. Through solar paneling on the roof and as parking canopies, the hotel will generate 100% of its own electricity, heat, and hot water. The structure is LEED platinum-certified, a rarity in the hotel world ("Hotels are some of the most underperforming buildings in terms of sustainability," Becker notes).
Hotel Marcel will also be the first all-electric hotel in the United States; even the kitchens and laundry will be powered by renewable on-site energy. High-performance, triple-glazed windows provide ultra-efficient insulation (and block out sound from the highway) while built-in sheer and blackout window shades will reduce lighting energy by over 30 percent. And if you have an electric car you are especially loved: Guests can charge up using 12 on-site Tesla Superchargers or level-two EV chargers.

While its green certifications catapult it into the future, the building is listed on the National Historic Register, and its interior design will nod back to—even celebrate—its Bauhaus origins. "Like other buildings designed by the Brutalist architects, this one is loved by many but often misunderstood," says William Oberlin, one of the founders of Dutch East Design. "The building's new role as a hotel allows us to make it an inviting space—more than an office building."
Much of the lighting and furniture will be custom designed by Oberlin's firm (one skinny-legged seat, in collaboration with designer Jamie Stern, is fittingly called the Float Chair). The 16-foot tall penthouse, once a windowless storage area housing mechanical equipment, will now function as a 7,000 square foot event space, a hidden gem with a glassed-in interior courtyard and indoor-outdoor light-wells that create James Turrell-like portholes to the sky.
Original features have been enhanced throughout: The geometric exterior window panels have been detailed in wood, and the perfectly preserved gridded ceiling—a classic in mid-century modern offices—is highlighted by custom lenses on its recessed lights. "Ceilings like this aren't seen often anymore but were a staple of the era," explains Oberlin.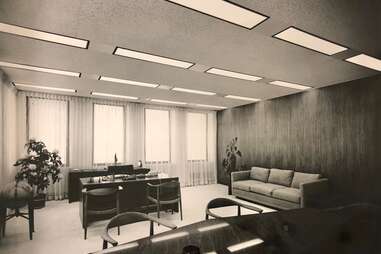 And the preserved stairwells—a combination of poured concrete and terrazzo, similar to the Brutalist stairs at the Met Breuer—have proved so popular that during renovation people came from all over the world to photograph them. "They are a big draw," says Becker. "Not everyone understands how special they are. You have to sort of be a fan of Brutalist architecture."
But even if you're not, Becker sees the hotel as having wide appeal, be it with the waterfront views, restaurant, or the backlit bar (which may have drinks named after Brutalist icons—they're still deciding if that's overkill). The location is also ideal: close to Yale, the Amtrak station, and various bike trails, and right across the street from the new 30,000 square foot Canal Dock Boathouse. Failing that, you can also spot the building on one of Becker's favorite Instagram accounts, Cats of Brutalism.
Vanita Salisbury is Thrillist's Senior Travel Writer. She's been called a Brutalist but that's unfair; she thinks she's pretty nice.