Luxury digs in the heart of downtown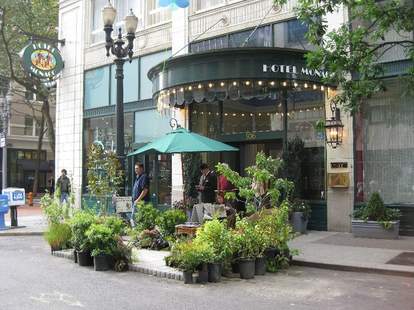 Making up for its lack of casinos, F-1 racers, and snooty French accents with luxury rooms plopped within walking distance of pretty much every corner of downtown, Hotel Monaco's pet-friendly accommodations come with one of Portland's awesomest upscale happy hours right in the lobby.
Rooms rock ultra-plush beds, and most also feature separate living rooms with desks and flatscreens.
Wanna be a baller and make Zack and Cody jealous? Hit up this top-floor, 850-sq-ft suite w/ a hot tub and a king bed
No matter your room, you're gonna see lots of stuff with birds on it. Because this is Portland.
There's a 24hr fitness facility in addition to free yoga classes in case you're feeling a little stiff.
There're also complimentary bikes you can use to cruise all over downtown, or, if you're lazy, the bus and light rail are just a few steps away. You could probably hire a pedi-cab to take you those 50 feet.
Monaco also plays host to Red Star, a celebrated restaurant & steakhouse that boasts a huge, under-$10 food happy hour, along with one of the larger selections of spirits in town.