If you've ever dreamed of chucking it all to ride the rails like a hobo in 1930, you should totally not do that. It's highly illegal. And very dangerous. Instead, get a feel for living aboard a locomotive by heading to Virginia's Shenandoah Valley and spending the night in the exquisitely restored 1926 Chesapeake & Ohio caboose -- you might even say it's an Airbnbest… railway sleeper.
Wait until the crossing is clear before making your way up the stairs to the caboose, which was placed on rails with the help of a "100 ton crane and two low boy trucks".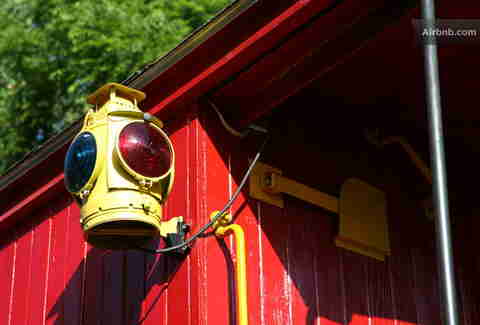 Nod approvingly at the authentic signal lanterns, marker lights, and myriad railroad memorabilia hung on and about the car.
Alllll aboard! Finished with red cedar walls and cherry floors, the caboose boasts an "original curved wood ceiling", double captain's bed that was custom-made by an Amish craftsmen (for real), full bath w/ shower, air conditioning, and even cable TV & a Bose stereo (not made by Amish craftsmen).
Sure, you could cook your Hot Pockets in the car's convection microwave (there's one in the galley along with a two-burner stove, sink, and fridge), but why do that when the brick patio rocks a gas grill?
With a 360-degree view of the property, use the cupola atop the car to keep an eye out for approaching train robbers, bears, or Tom, the dude that owns the the place and collects your money.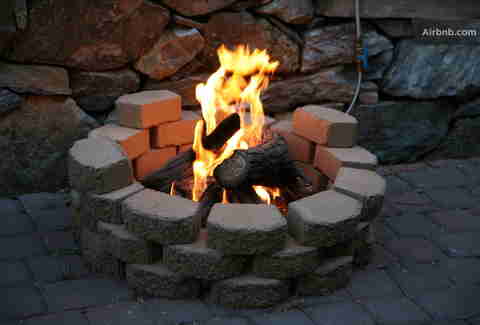 Finally, end your live-long day workin' on the railroad by soaking up some peace and quiet as you roast S'mores on the gas "hobo fire pit".