Going mod without losing its rustic, woodsy, Green Mountain vibe, Hotel Vermont's a sophisticated 125-roomer in downtown Burlington, boasting stunning views of Lake Champlain and more locally-made amenities than you'll find at a Montpelier craft swap.
After cycling in from Albany, locate the sign that reads "Guest Arrival" and park your bike, being certain to tip the doorman for carrying in your saddle bags.
With glass of water in-hand (from one of the hotel's many filling stations -- no plastic water bottles here!), relax in one of the lobby's comfortable chaises, perhaps by the fireplace?
Now that you've caught your breath, it's time to check-in. Don't forget to nod approvingly at this handsome work of art that's hanging behind the reception desk, as it was created by a local artist with "discarded wood gathered from landfills and construction sites around Vermont".
In addition to furniture crafted from native white oak, rooms come standard with Johnson Woolen Mill virgin wool blankets, sap buckets for ice, flannel pajamas (!), and even direct wireless printing to the front desk.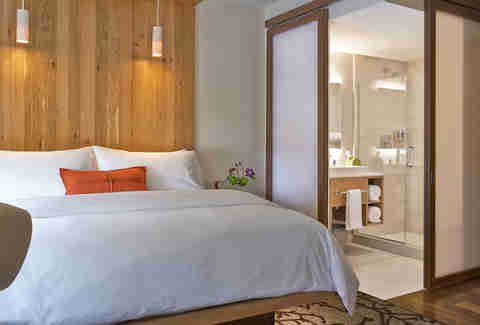 You're looking at one of the King Rooms. Pretty smart, right?
Now, after briefly resting your eyes, head downstairs to the 30-seat, "ingredient driven" Juniper Bar complete with pints of locally-brewed beer, Jazz Wednesdays...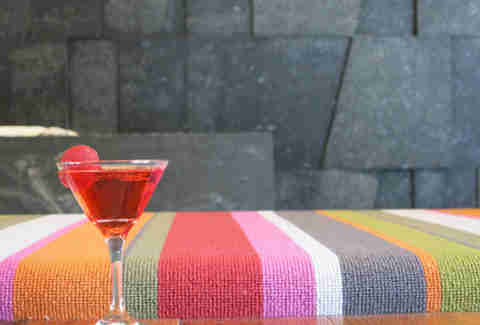 ...and cocktails made exclusively with their extensive selection of Vermont-distilled spirits (noticing a theme here?).
Burlier entrees from the Juniper kitchen include roasted rabbit w/ turnips & green garlic and grass-fed beef pot roast, but you can also nab shareable portions of buttermilk fried chicken w/ hot peppers & honey and poutine w/ pomme frites, oxtail gravy & cheese curds.
And finally, if the weather's nice, saunter out to the firepit-warmed patio that overlooks Burlington Harbor and enjoy a lovely bottle of Elder Betty from the South Burlington-based Magic Hat Brewing Company.