Overlooking the runway at the Netherlands' Teuge Airport is a 1960 Soviet Ilyushin 18 four-engine turboprop airliner that -- after years of service in the fleet of the East German airline Interflug -- has been painstakingly "converted into a single luxury suite". Yes, a single suite.
Recommended Video
Spend the Night in This Suspended Mountainside Glass Pod With the Best Views in Peru
Passport? Papers? Just kidding! There're no East German Stasi to keep you from climbing aboard and plunking yourself down in the spacious living room, which comes furnished with a mini-bar, flat screen TV/blu-ray DVD player, and "comprehensive collection of DVDs". There is, however, a stern warning declaring that -- despite the fact that the plane used to hold 120 passengers -- "you are not allowed to receive family, friends or acquaintances at the suite". Ok, so maybe they are keeping the East German theme going.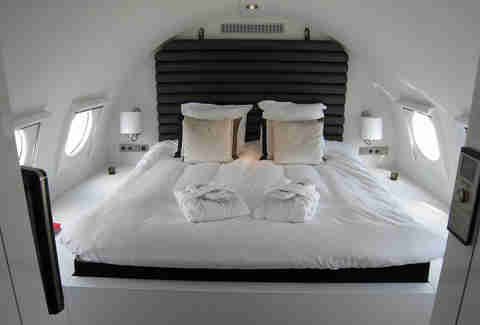 After enjoying the cake/cookies that await your arrival, you'll find plush robes and slippers in the bedroom, which's also equipped with a stereo, queen-sized mattress, and another flat screen (fyi, there are three total on board).
Now briefly ponder what it must have been like on-board flying from Berlin to Havana in 1967, and then imagine the exact opposite, as you remove the aforementioned robe and bounce between the separate shower, jacuzzi tub, and infrared sauna.
So as you aren't forced to dine in the airport's food court, the plane's kitchenette comes equipped with pantry, oven/microwave combo, refrigerator, and coffee/tea maker. Even better, a breakfast of "croissants, bread w/ toppings, yogurt, and fresh juices" is served each morning.
The original four-man cockpit remains untouched (too bad you can't have family over) and offers you and your single guest hours of entertainment pretending you're about to make the jump to hyperspace to fly East German political prisoners to the Soviet gulag. That or you can enjoy panoramic views of the airport. Up to you. If you roll with the latter, though, there's also a raised outdoor terrace that overlooks the runway.
Finally, ever wonder what goes into transforming a dilapidated old airplane into a luxury hotel? Well, look no further than this video, which chronicles the entire glorious renovation.