Hotels Are Trying to Ban Your Wi-Fi and Force You to Pay for Theirs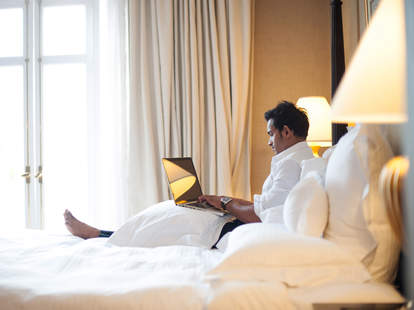 From the minibar to the movies you rent, hotels want to squeeze every last penny out of you. And if they squeeze any harder, boogers are gonna start popping out of Lincoln's nose. Case in point: hotels want to block your mobile Wi-Fi (that you pay for!) altogether, so you HAVE to shell out for theirs.
Hotel giants Marriott International and the American Hotel and Lodging Association have filed a petition with the Federal Communications Commission to allow them to disable guests' Wi-Fi devices, leaving no other choice than to purchase the hotel's Internet connection.
Of course, those guys are claiming that cutting off Wi-Fi connections is to protect guests from identity theft. "Any access point can be used to launch an attack against an operation network or threaten its guests' privacy," the petition states. Yes, because hotels are now also IT fortresses and totally altruistic.
The lobbyists also argue that too many Wi-Fi devices in simultaneous use "can adversely affect the performance of a hotel's Wi-Fi network." Translation: their Internet sucks, but it's your fault.
It's unlikely the FCC will approve the petition, according to the New York Times. Last October, it fined Marriott $600,000 for prohibiting convention attendees and exhibitors from using Wi-Fi in Nashville, where guests had no choice but to pay between $250 and $1,000 each(!!) to connect to the hotel's Internet.
Meanwhile, Wi-Fi is free in a bazillion places these days. So, screw you hotels.

Chloe Pantazi is an editorial assistant on Thrillist's travel team. She refuses to pay for Wi-Fi, unless it comes with a cup of coffee. Follow her on Twitter at @ChloePantazi.