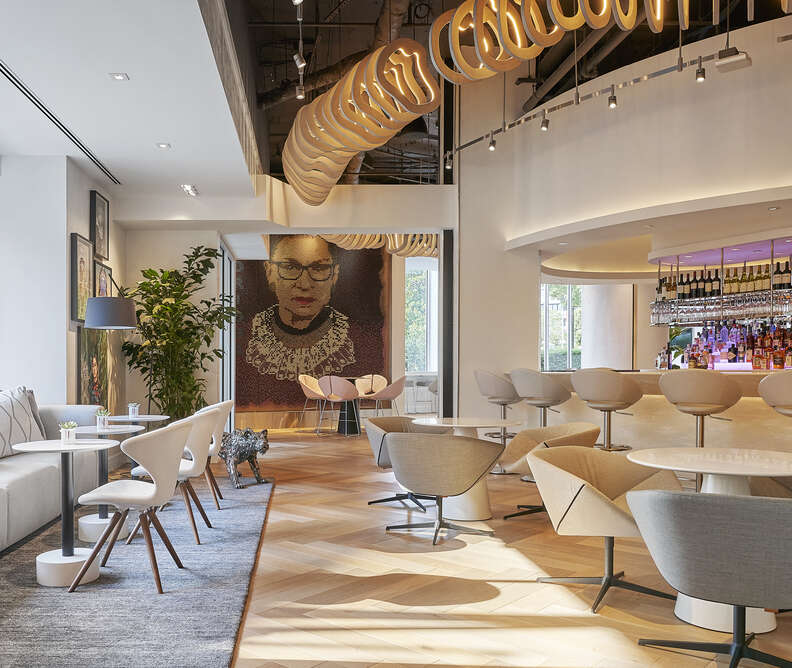 She sees you.

| Photo courtesy of Hotel Zena
She sees you.

| Photo courtesy of Hotel Zena
There's a portrait of Ruth Bader Ginsburg hanging in the lobby of the Hotel Zena in Washington DC. It's big: over thirteen feet tall, and from a distance appears textured, like it could be knitted or quilted. But upon closer inspection the mural's menstrual nature becomes clear: it's made of tampons.
20,000 of them, in fact—each organic and hand-painted to create a remarkably detailed likeness of the late Supreme Court Justice, complete with bright red lips and her signature lace collar. From her position near the hotel bar, it may look like she's judging your drink of choice, which, unless it's fancy wine, she probably is.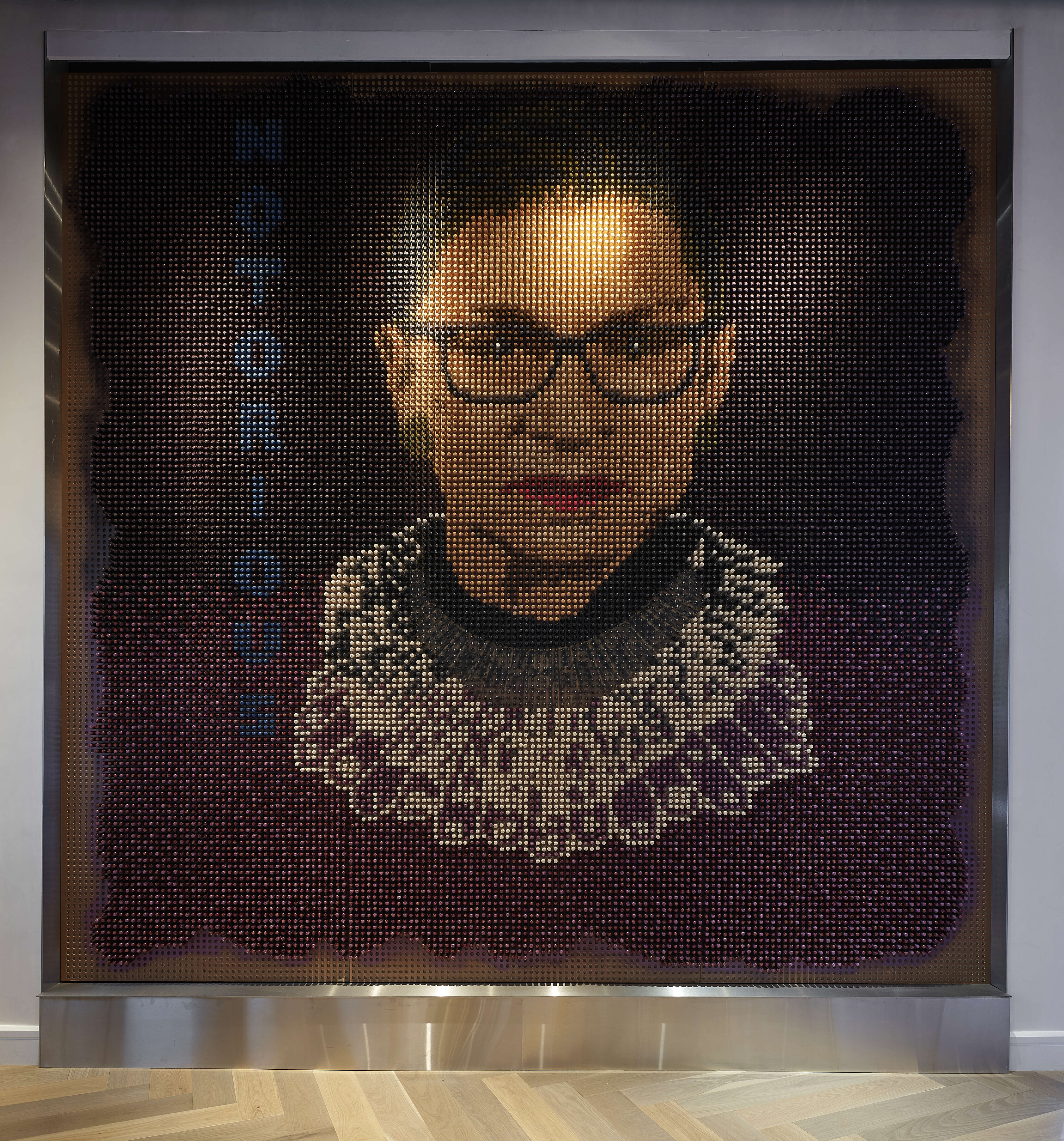 Since its recent downtown opening in October 2020, the Hotel Zena has zealously and colorfully branded itself with women's empowerment—including offering a cocktail called the Empowermint—with the earnest aim of shining a light on trailblazers both famous and lesser-known. It's not the first hotel to do so: the Woodlark in Portland, Oregon, for example, named its bar after local suffragist and newspaper editor Abigail Scott Duniway, while the Hotel Figueroa in downtown Los Angeles, originally a women's-only hostel, features an art gallery in the lobby paying homage to its feminist roots.
But Hotel Zena may be the most overt of all the lady hotels, using art for playful provocation with over 60 pieces created specifically for the hotel by a cadre of international artists. Art is everywhere you look, commenting on everything from the sewing circle, to the body in all its forms, to the use of fashion to instigate change.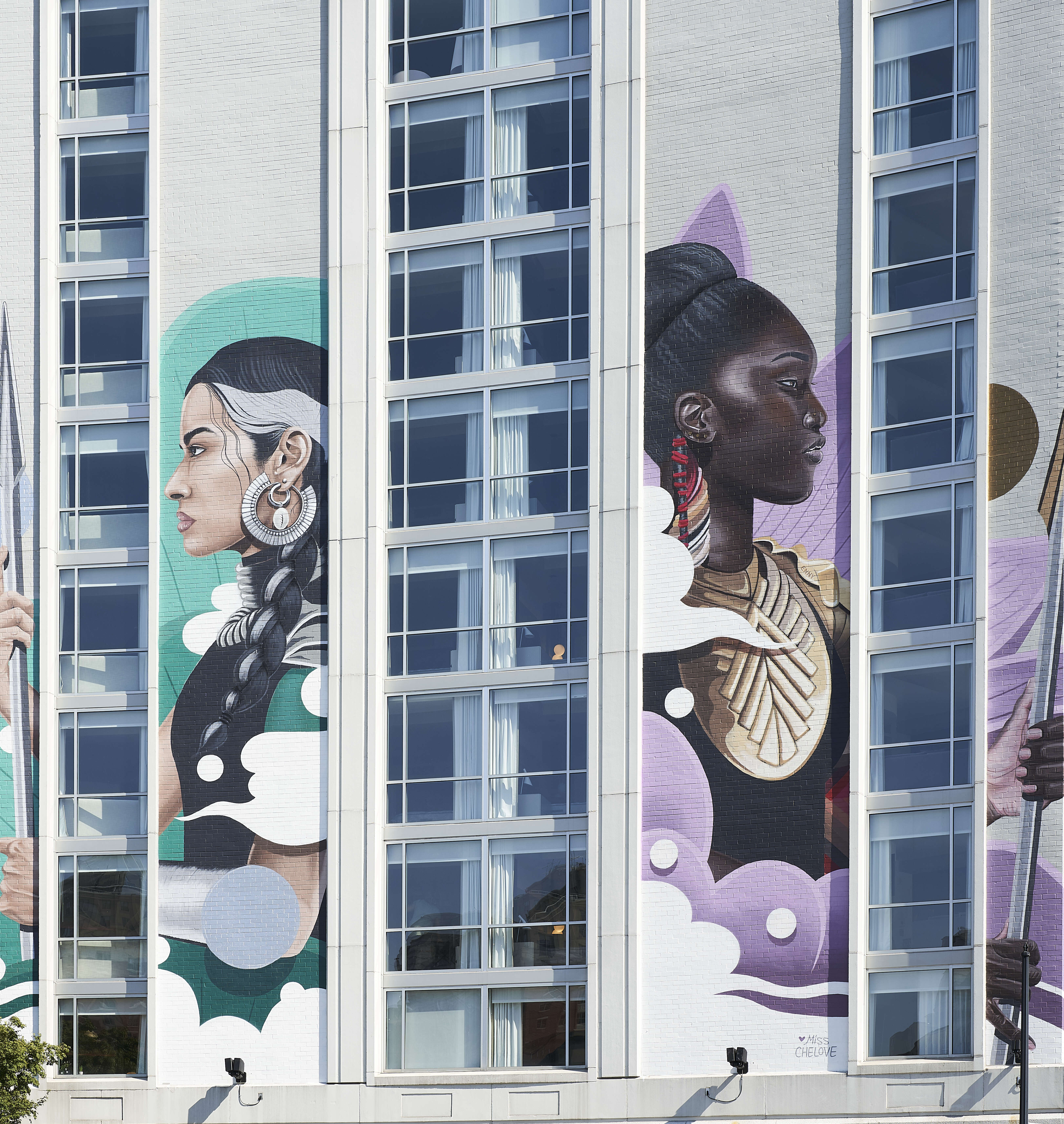 An exterior mural features a pair of oversized Warrior Guardians. In the lobby, an abstract serpent sculpture hangs from the ceiling, and the transparent reception desk is filled with colorful upcycled high heels. A collage of Congresswoman Shirley Chisholm and a painting of Sampat Pal Devi, the leader of an all-woman vigilante force in India, keep RBG company in the portrait gallery. And shimmering on the wall of the hotel's bar and lounge is a 20-foot sequined "gown" made of 12,000 buttons collected from generations of marches and protests supporting the good fight.
The theme extends beyond what's hanging on the walls. For Women's History Month, Hotel Zena has curated a mix of remote and in-person events, including a free virtual reading from Roxane Gay from her book of essays Bad Feminist on March 12, and an online screening and discussion with filmmaker Oge Egbuonu about her documentary (In)Visible Portraits on March 17, also free. If you happen to be in the area, stop by the hotel for tours, painting events, and crystal healing on their forthcoming Hedy's rooftop.
And while you're there, be sure to rack up a game on the pink pool table under the interactive LightZilla wall (it's like a Lite Brite, but giant). Swing by the gym to learn some moves from the instructive self defense black light panels, glowing under a neon sign that instructs "Wake up, Kick Ass, Be Nice, Repeat."
And don't forget to try the Empowermint.
Vanita Salisbury is Thrillist's Senior Travel Writer. She would not turn down an Empowermint.