Airbnb's got your on-the-water housing covered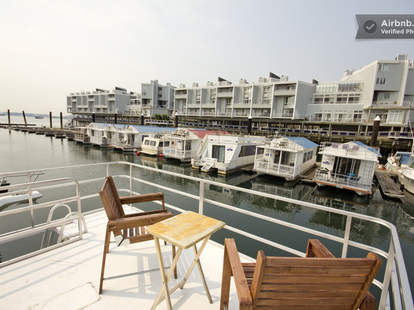 Why stay at a hotel on the water when you can channel your inner-Sonny Crockett and stay on the water, thanks to this "fun and funky" Airbnb houseboat that sleeps six, rocks exposed beams and dual decks, and is docked in a Harbor marina that's within walking distance of both downtown and Old (but-not-Michael) Ironsides.
After soaking in the sunset with a roof-deck libation, head below and get a feel for the woodsy "Wait, is this a cabin in VT or on a houseboat in the city?" space
Maybe a view from the other direction will solve the mystery. Are those 11-foot exposed beam ceilings
Cut down on expenses by going BYOG (Bring Your Own Groceries). Who wants Pop Tarts?
Maybe you should just stay in and watch Captain Ron
Be the guy in the group that books the reservation and the Queen (with closet and private deck) is yours...
...whilst the other dudes share the two twins and Aero Bed in the upstairs loft.
Or snag a spot on the couch. Doesn't even matter, just let the soothing waves rock you to sleep
End the day the same way you began it, kicking back on the promenade deck.