Maybe It's Time to Try the Houseboat Life
Take to the water for your next Airbnb... or apartment.
Presented By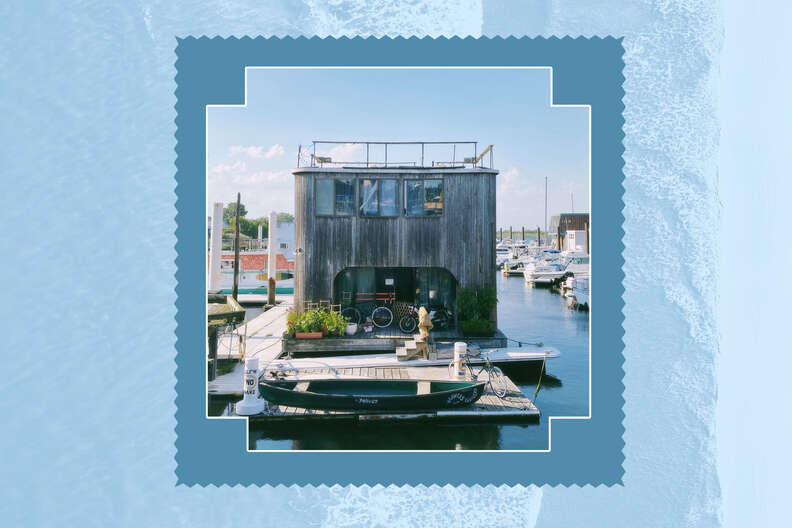 Gina Jurlando and Tim Reckel surrendered to the houseboat life in New York's Rockaway Beach three years ago, when a friend pointed them in the direction of a docked 1976 Chris Craft for sale. The boat was called "Hudson" and it had a throwback vibe, with wood paneling, one bedroom, and one bathroom out of commission.
"They said the person selling it was looking for anyone weird enough to want to buy it," Jurlando laughs. Now, after some much-needed upgrades, you can rent Hudson out on Airbnb starting at $119 a night.
The lifestyle change wasn't a total stretch for the couple; they'd both grown up spending time on houseboats—her in Long Island and Fire Island, him in New Jersey—and were familiar with the ins and outs (and many, many quirks) of life on the water. "We always joke that BOAT stands for Bust Out Another Thousand," says Jurlando. "You fix one thing and find five more problems."
Still, the draws of houseboat life are also pretty obvious: It's peaceful out there. Sunrises are gorgeous and alive with birdsong. Waves are gentle, and sleeping is a dream ("It's something our guests always comment on, they say it's the best sleep they've ever had.")
And there's a certain close-knit vibe to houseboat communities—the most well-known might be in Sausalito in Northern California, where the architecture is so ornate you can take tours—that tends to attract interesting, misfit characters. "I'd say half the people in the marina live there—not full time, but quite a bit," says Jurlando of the Rockaways. "We always say you have to be a little bit crazy to want to live or stay on a boat, so it's interesting. There's a lot of artists, and a lot of people that have lived on boats before."
Wondering if marina life is for you? Try it out first. Whether you're looking for a houseboat on Airbnb for a weekend escape or renting for an extended vacation, here are some ways to get out on the water. Captain's hat optional.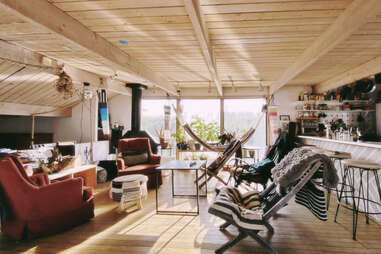 Not your average Airbnb rental
Two years ago, Jurlando and Reckel jumped on their second houseboat purchase: a gray barge they called Lucille II. Lucille II has seen some things—she belonged to a Goldman Sachs exec in the '80s who hosted Wolf of Wall Street-esque parties onboard, aided by a Jacuzzi and built-in wine fridge. Eventually, a Brooklyn design studio gave her a full aesthetic remodel for use in photo shoots. "They spent a lot of time making it look really beautiful, putting in the final touches and details," says Jurlando.
Now Jurlando and Reckel's task is more practical. "We're working more on the structure, making sure it doesn't sink," she says. Once the boat is fully renovated for use as an Airbnb and community space, guests will enjoy three levels and a downright luxurious 3,000 square feet, including four bedrooms, patio space, and—proving that it never goes out of style—a Jacuzzi tub.
We let go of a lot of norms in 2020: like shaking hands, wearing pants, and (most importantly) working in an office. You're no longer tied to a commute — so why should you be tied to one place? Enter: Landing, the housing startup that's reimagining apartment living. Thanks to its network of fully-furnished (or unfurnished) apartments across the country, you can have the freedom to live (and work) practically anywhere. With perks like a 24/7 concierge service, easy lease transfers, and waived security deposits, you'll have more flexibility than ever before, too.
If you're dreaming of buying or renting your own houseboat, note that marina fees are a little steep, and based on square footage—for their spacious barge, Jurlando and Reckel pay $1,200 a month. And land dwellers should prepare for a major lifestyle adjustment: Belongings must be downsized, and storage waterproofed. Wi-Fi can be tough; right now, the couple is borrowing Wi-Fi from the marina.
"We also do not have water for about four to six months of the year, depending on weather," says Jurlando. "You just have to take your dishes elsewhere, take showers elsewhere."
In the event of no water, they use the bathrooms in the marina. "Marinas are built to be a public space. They usually have large showers and small bathrooms. So even if you are renting a boat that doesn't have one, there's probably that nearby."
Perhaps the biggest challenge the couple faces: Airbnb renters who don't know what they're getting into. "We've had boats sink in the marina before, people having parties and tipping the boat over, things like that," says Jurlando. "Some Airbnbers expect to be able to drive them. It's never happened to us, but we've heard of people who start moving the boat or trying to take it out. That's not good."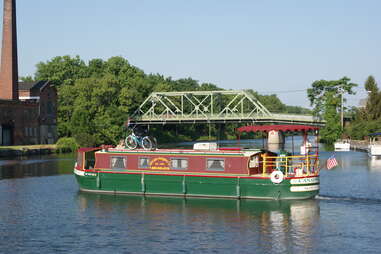 Have your houseboat rental with a side of adventure
Let's say you want your houseboat to actually go somewhere. For that, you have at least one option out of upstate New York: Erie Canal Adventures, which rents European-style narrowboats that let you traverse the Erie Canal from Rochester to Syracuse. Trips run from three to seven nights, but it's easy to opt for a longer excursion. "We have a request for someone coming back next year who will stay over a month," says owner Brian Keenan.
Boats come in three sizes for up to six people (and in some cases, a small dog) and with added amenities like beach cruisers and a portable grill. There's also room for canoes, kayaks, and paddleboards. You'll cruise the canal and dock at historic Norman Rockwell-esque towns like Pittsford, the oldest village in New York, and Fairport, whose brewery taproom is housed in a charming landmarked building on Main St.
But before you hit the canal, renters are given extensive instruction on how to drive, park, and navigate the boat, with emphasis on the fact that they're slow and heavy. "They're canal barges, so they travel at canal speeds, about seven miles an hour," says Keenan.
There's also a little extra support if you're apprehensive about going through the locks in the canal, which lift your boat in the air—harrowing if you have no idea what's happening, but kind of exhilarating if you're expecting it. "You go into a lock on one of these boats and you will rise anywhere from 30 to 50 feet in a matter of seconds," says Keenan. "And it's a thrill."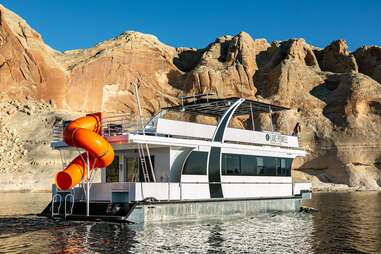 Post up on the lake for a houseboat vacation
Spread out on a pontoon on Beaver Lake in Arkansas or a 48' yacht on Halibut Cove, Alaska. But do it fast. "Basically we're sold out for 2021 and we've been sold out since February, so we began booking for 2022 in June," says Lynn Lovelady, General Manager of Wahweap Marina at Lake Powell.
A massive 186-mile man-made reservoir in the Glen Canyon National Recreation Area of Arizona and Utah, Lake Powell is a houseboater's dream, with blue rivulets, sandy beaches, sandstone cliffs, 96 side canyons and other natural formations nearby to explore, like the famous Rainbow Bridge National Monument (think the Grand Canyon, if it was filled with water).
As it's part of the National Park Service, the longest possible stay on the water would be 14 days. There's no boating license needed for Lake Powell: the marina will teach you everything you need to know. Just drop anchor somewhere along the 1,900 miles of shoreline, and have at it.
"It's a great vacation because you're basically securing your houseboat to the beach, and you can have campfires on the beach in the evening," says Lovelady. She also recommends having a second watercraft like a kayak, jetski, or powerboat (all of which the marina rents) for exploring, as the massive houseboats chug at a leisurely 10 miles per hour at peak speed.
"I personally take our family every fall and we have people from age two to age 82 on board, as many as 19 people," she says. And they all enjoy the slide, which every boat comes equipped with. Says Lovelady, "There's no age limit on that."
Vanita Salisbury is Thrillist's Senior Travel Writer. Seriously, let her at that slide.