Sponsored By
Bermuda Tourism
How Bermuda Is Different Than Any Other Island Vacation
Sponsored By
Bermuda Tourism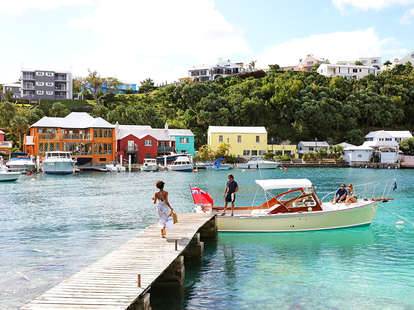 Courtesy of Bermuda Tourism
With the weather cooling down, you're ready to head somewhere warm. But Bermuda isn't just somewhere. With endless adventure, epic seafood, breathtaking views, and ideal weather, you can enjoy the wonder of Bermuda year round. We've compiled a list of everything that makes this destination unlike any other vacation -- and trust us, you'll be booking your flight before you can say "spiny lobster season."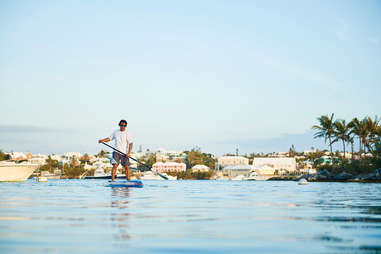 There are plenty of ways to get out on the water
Bermuda is known for their epic water activities, and one of the most prominent is sailing. For over 400 years, Bermuda has been home to traveling ships and generations of local seamen. In the early 1600s, a boat called the Bermuda sloop was invented on the island and it changed sailing forever. If you want to see what Bermuda does best, plan your 2018 trip around a race. For a more hands-on experience, take lessons with the Royal Bermuda Yacht Club, where they customize your session based on your skill level. And if sailing isn't your cup of tea, try your hand at paddleboarding or flyboarding. Don your wetsuit to take a dip in the ocean even during winter, then scuba dive over shipwrecks, coral, and the numerous fish that call Bermuda home.
You can hike your way across the entire island
One of the best ways to explore Bermuda is on foot, because you can experience some of the island's natural beauty. The Bermuda Railway Trail National Park stretches 18 miles from one end of the island to the other, following an old railway trail that locals once used. The "Old Rattle and Shake" train ran east to west from St. George's Station to Somerset, but hasn't been in use since the '40s. Today, 18 miles of the original railway are protected as a national park, accessible by either hiking or biking. Along the way, you'll catch plenty of local flora and fauna, and even stumble upon some secluded beaches, panoramic ocean views, and an old drawbridge. So give yourself plenty of time to explore, and take a few pics for your Insta story.
There's a unique (and eco-friendly) way to explore Bermuda
In a location where you can't rent cars -- you can rent a Twizy. Ideal for navigating the island's narrow roads, the all-electric mini car is an incredibly fun way to discover forts, pink-sand beaches and a UNESCO World Heritage site. You can find one for rent at several Current Vehicles spots around the island, and you'll feel good about whipping around in it, too: it produces zero emissions, so the Instagram-worthy nature and sub-tropical ecosystem you're enjoying remain beautiful and healthy for future visits. You'll even get around the entire island almost three times on just one charge. It's also easy (and free) to charge up, since most hotels offer electricity ports and there are plenty of "Oasis Points" stations around the island.
It has nearly 19,000 yards of golf courses
Even though Bermuda is only 21 square miles (about the same size of Manhattan), there are a whopping six golf courses across the island. If you're counting at home, that's more per capita than any other country. These aren't just average courses, either. Everyone from presidents to movie stars to golf royalty have visited the island to tee off (Samuel L. Jackson, Tiger Woods, Winston Churchill, plus Catherine Zeta-Jones and her husband, Michael Douglas, to name a few). Turtle Hill stands out as one of Bermuda's most popular award-winning courses, thanks to sweeping views of the Atlantic Ocean along its fairways. (Golf Magazine agrees, naming Turtle Hill one of the top five par-3 courses in the world.) Port Royal is another must-play for every level of golfer -- the course hosted the PGA Grand Slam for seven years and has more than 20,000 feet of manicured greens to drive and putt through. Just make sure to stuff your bag full of extra balls -- Port Royal's 16th hole, which tees off from atop a cliff high above the Atlantic, is considered one of the most challenging in the world. If golf isn't your thing, there's no shortage of other outdoor adventures to experience.
Its local cuisine can't be missed
September in Bermuda marks the start of spiny lobster season -- the crustacean is a Bermudian favorite and local delicacy that occupies menus until March. Unlike its Maine counterpart, the spiny lobster doesn't have claws, so most of its meat is found in the tail under its hard outer shell. Experts know you should also try to get some meat out of the legs and antennae, though -- it's considered the tastiest part. In Bermuda, the fish sandwich is another national treasure. Made with deep fried fillets, topped with tartar sauce, and served on raisin or whole wheat bread, you can find these iconic sandwiches on just about every dining menu on the island. Most places will feature their own takes, so be sure to try a few. While you're at it, check out and enjoy all of Bermuda's great cuisine.
It brings out the rum lovers in all of us
Sure, rum and beach vacations go hand in hand -- but even more so in Bermuda, where both the Dark 'n Stormy® and the Rum Swizzle were invented. The Dark 'n' Stormy® -- made by pouring Gosling's ginger beer and dark rum over ice, then garnishing with a lime -- has become an international favorite since the Gosling Brothers came from England in 1806. After 91 days at sea, they docked at the nearest port in the town of St. George and soon opened up shop. (Pro tip: when you sip a stormy, don't forget to stir. Otherwise, you'll get a big 'ol shot of rum followed by a spicy gulp of ginger beer.) The Rum Swizzle is said to come from the Swizzle Inn. Open since 1932 and located in a 17th century roadhouse, the Inn is Bermuda's oldest and most famous pub. Stop in to try an original Rum Swizzle, made by mixing Gosling's rum (Black Seal or Gold) with pineapple and orange juice, Angostura bitters, and grenadine, and shaking until frothy before pouring into a cocktail glass. Not only is it tasty, it's pretty fun to say. A little swizzle, anyone?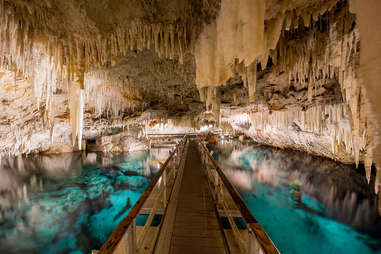 It's home to seriously beautiful natural wonders
During the Ice Age, when much of the Earth's oceans froze, sea levels dropped, and rain seeped into Bermuda's limestone, some of the most beautiful caves in the world were formed underground. Located on the east end of the island, the Crystal Caves are among Bermuda's most popular tourist attractions, inspiring everyone from Mark Twain to famed puppeteer Jim Henson. In fact, when Henson visited this Bermuda attraction in the 1980s, he came up with the concept for Fraggle Rock. (Stop pretending you don't still know the theme song word for word.) You don't need reservations to explore this natural wonder, either -- guided tours are given daily.
There's plenty that adventure seekers can't miss
Pink-sand beaches and limestone caves aren't the only natural wonders on this island (although, we do suggest spending some time exploring those). Wild, untouched nature reserves dot the island, where you can see ancient cedar trees, mangroves, and even hidden grottos. Take the Cooper's Island Nature Reserve: It's the former base of a NASA radar tower, with 12 acres on the southeastern tip of the island threaded with pathways that cut through the forest and lead to secluded beaches. After exploring Cooper's Island, head to Paget Marsh and Boardwalk near the center of the island to get a glimpse of the original Bermuda. This 25-acre area has a thriving ecosystem that has been practically untouched since the first settlers arrived on the island. Round out your day spending time on a sunset cocktail cruise, climbing Gibbs' Hill Lighthouse, or one of Bermuda's other top experiences.
And, it's time to check out Bermuda's Pink Sale
If you're heading to Bermuda, we know you're trying to get in some serious R&R -- and this island has you covered. From December 26, 2017, to January 23, 2018, participating hotels will offer their rooms for as much as 50% off as part of an island-wide "Pink Sale" -- just in time to gift yourself a little something this year. But don't wait too long: These deals are too good to be true and rooms are sure to book up fast. The Pink Sale is the perfect way to get lost in all of the wonderful adventures waiting for you in Bermuda.