How Cleveland Got Over LeBron and Became Legitimately Fun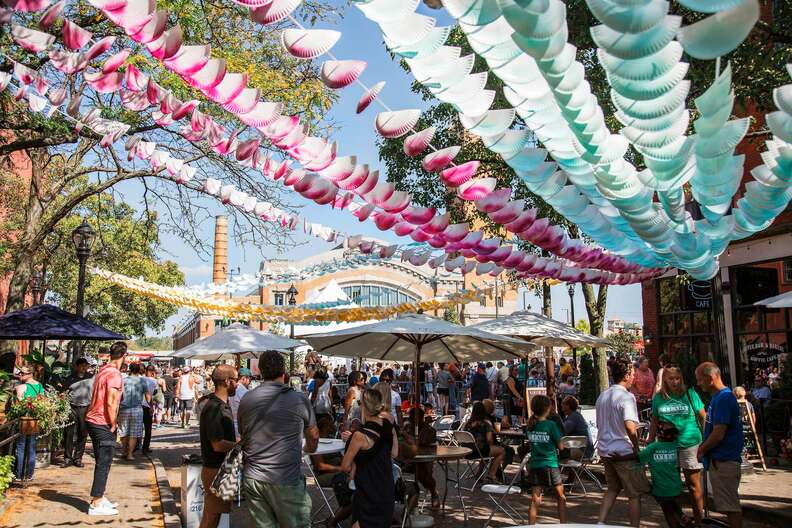 A sunny day at the market

| West Side Market
A sunny day at the market

| West Side Market
"Look at that," I said to a trucker-hatted man sitting next to me in downtown Cleveland's Jack Casino. He looked up confusedly from his intense game of virtual pai gow. "LeBron's leaving AGAIN." I pointed at the TV, thinking maybe he hadn't heard the news that LeBron was heading to the Lakers. I was ready to drive this casino into a fit of jersey-burning rage.
"Huh," he said, raising a couple of eyebrows as he obligingly glanced up at the TVs. "Well, that'll be interesting." He then ignored me and went back to video poker.
It wasn't just degenerate weeknight gamblers who were apathetic about LeBron's departure. Every bar, brewery, and boat party I went to in Cleveland over the next week seemed pretty contented with his decision. In a town that allegedly lives and dies by its sports teams, this struck me as a little odd. The Cavs' title win two years ago certainly did a lot to brighten people's moods. So wouldn't it reason a return to sports irrelevance would also return Cleveland to the depressed rust-belt relic America believed it to be?
Not at all. Because in the eight years since LeBron so famously said he was taking his talents to South Beach, the city evolved without him. Its low cost of living and great cultural bones have fostered a creative culture it never gets credit for, because its name is Cleveland and not Austin. But this is a city full of James Beard Award-winning restaurants, breweries, beaches, and shuffleboard arcades. And if you spend a weekend here eating, drinking, playing, and relaxing, you'll wonder how Cleveland ever got such a downtrodden reputation.
Admittedly, Cleveland had a pretty rough half-century
Cleveland flourished during the heyday of American industry from 1860 to 1920, growing to become the sixth-largest city in America. It was home to nearly a million people, and the families who made their fortunes here -- most notably the Rockefellers and Seiberlings -- filled the city with cultural institutions that still exist. The second-largest performing arts center in America, for example. And the Cleveland Orchestra. And a free, world-class art museum.
But as happened in nearly every rust belt city, manufacturing jobs vanished and the economy tanked. The city went into fiscal default in 1978, the first US city to do so since the depression. There were a couple of race riots. The river caught fire. Ernest Byner fumbled on his way to the end zone and the Indians closed out the century by losing the World Series. The economic crash of 2008 didn't help matters much, and by the time Cleveland's one shining hope announced he was heading to Miami in 2010, residents were at the breaking point. The future seemed pretty bleak, and that was why they were burning jerseys in the streets.
Cleveland realized it needed more than sports to craft its 21st-century identity. Sure, it was home to the Rock and Roll Hall of Fame, but one need look no further than Canton to see a city needs more than that to thrive. So Clevelanders had to start reinventing their city.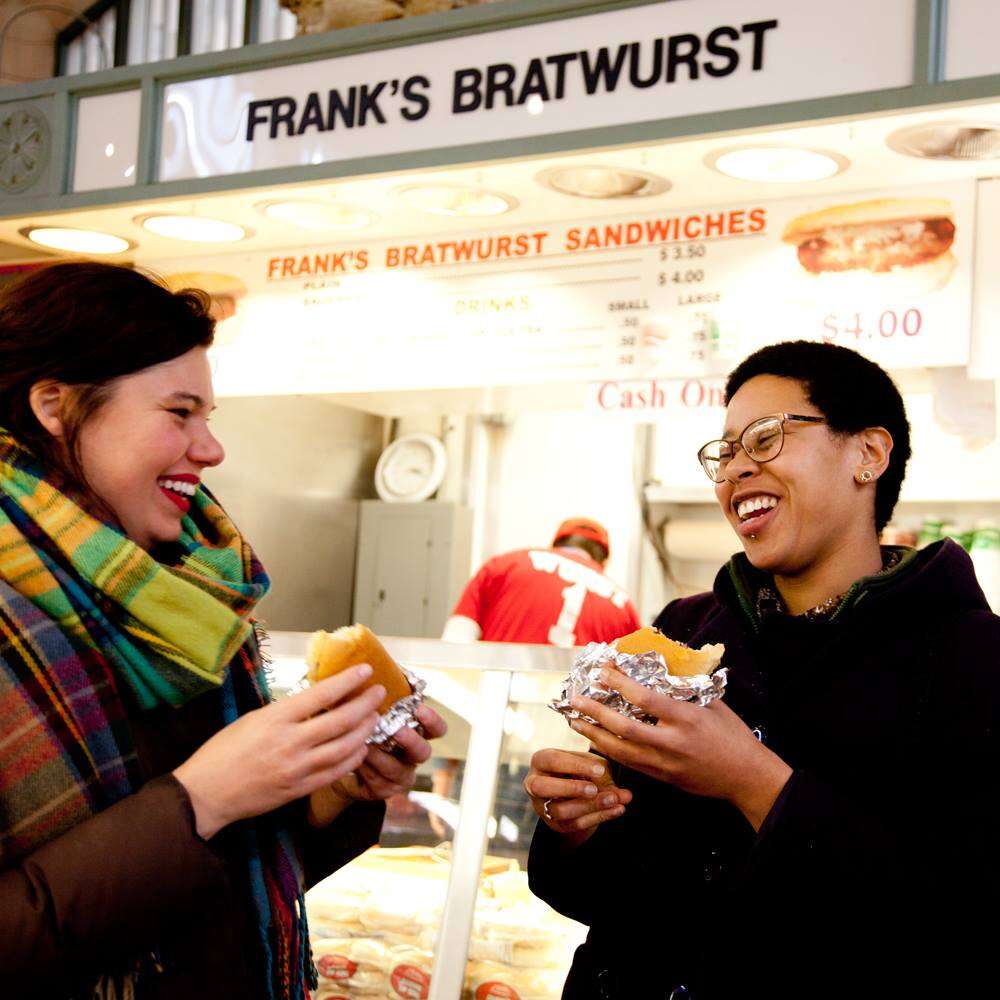 The food scene had already begun to emerge in the late '90s and early 2000s, with locals like Michael Symon and Jonathan Sawyer opening Lola Bistro and Greenhouse Tavern to great critical acclaim (both have since won James Beard awards). The national media took notice, and the pedestrian mall along East Fourth Street soon became a fairly known-and-respected food destination.
As the food scene grew around its local celebrity chefs, the economy began to rebound, and the Cleveland Clinic, Case Western University, and other large corporations began to draw young people back to Cleveland. The cultural institutions built on Gilded Age money were well-funded and better-attended. And the historic theaters of Playhouse Square found themselves newly renovated.
By the time the Republican National Convention arrived in 2016, Cleveland was ready to show itself off to the world. And people noticed. Forbes called Cleveland the hottest city in America. Even the LA Times announced Cleveland was on "the cusp of cool."
"I think we're irrationally obsessed with national articles that say nice things about us," says Jennifer Rome, publisher of Why CLE? and local lifestyle blogger. "So when the RNC came to town we had all these stories about how Cleveland was a nice place to visit. And travel sites took notice. It was great to have outside people come in and say nice things about us. It turned the mood around and was the shot in the arm we needed."
A renewed waterfront has transformed Cleveland's nightlife
As RNC delegates saw, Cleveland had done a lot to make itself feel better long before LeBron delivered its first banner in over 60 years. But by that point, it was merely the icing on the beer-battered donut.
"It would've been different if it had been the Indians, or, I mean it'll never happen but, the Browns winning a title," a friend's dad tells me as he steers his boat out onto Lake Erie on a hot evening just before LeBron's latest exit. "I mean, it was great. But the Cavs are new. It's not like there are generations of fans like we have with the Tribe or the Browns. We're happy about it, yeah, but it didn't save the city."
We ride his boat past downtown and FirstEnergy stadium, home of the wayward Cleveland Browns, and end up at a waterfront park where a massive crowd is lined up on the shoreline. "Cleveland has a beach?" I ask him confused, squinting to see if that was, in fact, sand the people were standing on.
"They've been trying to do something with this lakefront FOREVER," he says, as his daughter hands me a beer opener with the slogan Cleveland, it's not that bad. "They did a great job with this park, GREAT job. Five years ago you didn't come down here, now it's like where everyone's going on a Thursday, I guess."
We dock up and walk over to Edgewater Beach, a creation of Cleveland Metroparks, who turned this septic lakefront into a fully functioning 2,400-foot beach park. The $4.4 million project was capped off last summer with the opening of the Beach House, a two-story bar and recreation area that also hosts a summer concert series. The free concerts fill the sand with a cross section of the city, where buttoned-up young professionals play cornhole and heavily tattooed people drag their kids around. Their common thread, however, was they all seemed unusually happy.
That feeling of happiness didn't limit itself to a sunny day beach concert. A short walk up from Edgewater Beach I found myself at the Stone Mad Pub, an Irish pub with an outdoor area reminiscent of a monastery. Laughter, bocce ball, and general good energy filled the air, and open seats were hard to come by. Nobody seemed to notice the Indians were losing on the TV inside.
Back on the boat, my friend's dad takes me off the lake, under a bridge, and onto the once-flammable Cuyahoga River. "This is the Flats," he tells me, pointing to a collection of waterfront bars and restaurants, each with a patio full of people. "Five years ago you never came down here. Maybe if you were in college and looking to get drunk on cheap shots. But it was dirty."
Again, it almost seemed hard to picture. The Flats now is a waterfront nightlife district, slightly reminiscent of the area in Brooklyn near the base of the Brooklyn Bridge. Narrow streets flanked by old brick factories wind next to the river, with waterfront patios showcasing DJs and craft beers. Collision Bend Brewing has an hours-long wait on a summer Friday night if you want to sit outside. The Punch Bowl Social serves drinks in, as the name implies, punch bowls, which can be enjoyed while playing pool, pingpong, or Pac-Man. And the FWD Day and Nightclub is a posh-feeling place to sip rosé on a sunny Sunday.
Creative neighborhoods make this the Portland of the East
But nowhere exemplifies what Cleveland has made itself into like Gordon Square, a name you may recognize from LeBron James' TV series, Cleveland Hustles. On that show, entrepreneurs competed to open a physical location in the city's then-distressed arts district, a spot investors wouldn't dare touch in 2010. Now, you can try donuts made with beer at the Key West-themed Brewnuts, or head across the street to the Superelectric Pinball Parlor, where vintage pinball machines are available for play (or purchase) alongside a full bar.
Gordon Square has the kind of creative ventures one raves about when going to a place like Portland or Austin. Just in Cleveland they feel a little more authentic, and a little less pretentious. Nobody will turn their nose up at you if you order a Bud Light in the pinball parlor. Glazed donuts are just as acceptable an order as a mango-pineapple donut at Brewnuts.
Walk from Gordon Square towards downtown and you'll stroll through a residential area full of grand brick fortresses and Victorian marvels that seem like they once belonged to titans of industry. These homes sit along shady tree-lined streets, alternating between dilapidated and fully restored. This is Ohio City, once home to Cleveland's bourgeoisie and now home to city-dwelling millennials who, contrary to big-city media reports, actually can afford a home. It's affordable, gritty, and beautiful. But again, because it's Cleveland, nobody's paying attention.
Ohio City borders the famous West Side Market, which even in Cleveland's darkest days was a unique attraction and a bustling center for local farmers and food shopping. But in the past half-decade an exciting new neighborhood has sprung up around it. And now on a Saturday, in addition to families doing their grocery shopping in the narrow aisles between slabs of beef and pungent cheese, you'll find young people in the nearby Market Garden Brewery, or having ice cream at Mitchell's massive parlor and production facility.
"Twenty years ago, this place was all boarded up, vacant, full of graffiti and drug dealers," says Sam McNulty from his office near West Side Market, overlooking the entire neighborhood. "There was a really low barrier to entry if you wanted to buy one of the buildings, so I started buying a bunch of dilapidated ones and opened McNulty's Bier Markt in 2005."
McNulty was a bit of a new-wave pioneer for Ohio City, and since then he's added restaurants like Barcento and the Market Garden Brewery. Around them, West 25th Street has opened clothing boutiques, coffee shops, and a glass-blowing studio. Lorain Avenue boasts a shuffleboard bar at Forest City Shuffleboard, and a craft cocktail lounge posing as a tiki bar at Porco Lounge and Tiki Room. None of this is meant to be ironic, just plain fun.
Because Cleveland is, quite simply, a fun city to be around. It's not the downtrodden, rust belt disaster people like to say it is, and, if given a weekend here, chances are you'll find it a better time than other, more tourist-saturated cities. The food is fantastic, the people are friendly, and the feel is authentic. The people may love their sports, and going to a game should always be on the agenda if you visit. But it's no longer life or death. And LeBron will no doubt get a longer standing ovation when he comes back here than he'll ever get in LA.
Sign up here for our daily Thrillist email and subscribe here for our YouTube channel to get your fix of the best in food/drink/fun.
Matt Meltzer is a contributing writer to Thrillist who's always a sucker for a donut shop with flamingos. Follow him on Instagram @meltrez1.