Paid Content For
Smith & Forge
How on Earth Did People Drive Across the Country Before the Highway System?
Paid Content For
Smith & Forge
The Enthusiast Network/Getty Images
The Enthusiast Network/Getty Images
Until the 1960s, country roads, city streets, and a confusing patchwork of barely paved byways were all that linked the four corners of the United States. While some of these were technically called "highways", they weren't the straightaways you're thinking of. Instead of a network that easily took riders from A to B, this hodgepodge meant the "scenic route" was the only route. An American rite of passage, crossing the country, could take upwards of two weeks instead of just five days. But the experience was far different, too: seeing, feeling, and even smelling the differences in each town, sampling regional delicacies, stopping to chat with real locals, getting lost on back-road detours, and stumbling across attractions featured on no map.
Below are 10 routes that allowed that in the first half of the 20th century, so next time you're doing 75 on the interstate, worried only about finding the most convenient Chick-fil-A and cleanest set of rest area bathrooms, appreciate the hard work our adventurous ancestors put in with a look at how some of our most iconic highways came to be. As John Steinbeck said in his epic road trip book Travels With Charley, "Interstates are a great way to travel between New York and Los Angeles and see nothing."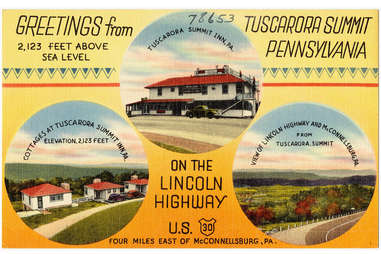 1. The Lincoln Highway
Before the Interstate System became a reality in the 1950s under President Dwight D. Eisenhower, the Lincoln Highway, which ran from New York City to San Francisco, was the most famous overland cross-country route in the US. But even it featured huge patches of unpaved road that turned dusty in dry weather and hopelessly muddy in rain. Case in point: in 1919, when Eisenhower traveled with the US Army's Cross-Country Motor Transport Train parading a newfangled invention called the "tank" to the American public, it took 62 days to make it from the Atlantic to the Pacific -- and that was with a head start in Washington, DC!

2. The National Old Trails Road (US 40)
Before he was Vice President and eventually President, Harry Truman headed the National Old Trails Road Association, which advocated for a straight-shot US highway system built on the imprint of famous paths of the past (like the Santa Fe Trail). After Truman became a US Senator in 1935, he even bragged about his love of driving to Washington, DC, from his home in Missouri on US 40. But the National Old Trails Road, which started in Baltimore before traversing Pennsylvania, Ohio, Indianapolis, Illinois, Missouri, Kansas, Colorado, New Mexico, Arizona, and Southern California, never earned the same cachet promised by Route 66 -- in fact, the western part of the National Old Trails Road from Las Vegas to Los Angeles was co-opted and certified as 66 as early as 1926. Today, Truman is probably spinning in his grave since to road-trip purists Route 66 is far more mythologized than the mostly forgotten ol' US 40.
3. Route 66
No highway encapsulated the romantic American spirit of cross-country travel like Route 66 -- and it's safe to say no stretch of blacktop will ever earn nicknames like "the Main Street of America" again. But before a booming tourist economy sprang up along the Chicago-to-Los Angeles route and kitschy songs were penned about the kicks you could find on it, the highway was a gravel and graded dirt hazard (in 1938, it became the first fully paved highway in the country). After World War II, with thousands of Americans heading west, Route 66 truly became the "Mother Road." Fast food was even born on this stretch of highway, with the first drive-thrus opening at Red's Giant Hamburg in Springfield, MO, and McDonald's in San Bernardino, CA, in the 1950s. That only cemented Route 66's status as an ideal microcosm of automobile-obsessed American culture.

4. US 1
The longest north-south road in the United States, US 1 connects every major city on the East Coast from Miami to Boston -- but then goes a step farther at its northern and southern terminuses by stretching all the way from the Canadian border to Key West. This is where the weird old Florida of alligator farms, roadside citrus stands, and space-themed auto-court motels was born, and where early American travelers first encountered rural low-country boils and real Carolina pulled pork. Pre-interstate, US 1 was the lifeblood of pivotal cities like Raleigh, NC, Richmond, VA, and Washington, DC -- in New Jersey and New York, it was by all accounts America's first multi-lane freeway devoted to industry. But in New England, US 1 meandered along Long Island Sound, the stately Rhode Island waterfront, and Maine's craggy coastline, providing early north-south nomads a perfect picture of America's wildly diverse East Coast.
"...the 101 became within just a few short years synonymous with a freewheeling West Coast culture."
5. Highway 101 from Seattle to San Diego
There's no argument that US 1's western equivalent, Highway 101, wowed early drivers far more in the jaw-dropping view department. From the Mexican border to Washington's Olympia Peninsula, a drive along the historic highway, completed in 1926 and tracing the El Camino Real Spanish missionary trail of the 1700s, brought the majestic mountains of the West Coast right into drivers' eyelines -- often in the form of hairpin curves and steep descents that finally provided access to California's most iconic landscapes (but were hell for the car-sick inclined). From urban Los Angeles and San Francisco to untouched redwood groves and the rugged & desolate Lost Coast, there's a reason why the 101 became within just a few short years synonymous with a freewheeling West Coast culture. But it wasn't easy, either -- Harvey M. Harper, the first man to drive through the Avenue of the Giants redwood forest, had to literally shovel out paths around the ancient trees so his Model T Ford could make it through a rutted, muddy hell. And making it all the way to the 101's northern terminus at imposing Mt. Olympus in Washington could take three days if you got stuck behind a truck on the terrifyingly steep mountain passes.

6. Highway 30 and Highway 20
By the 1950s, Highway 30 had absorbed much of the fabled Lincoln Highway along its 3,073-mile run from Atlantic City, NJ, to Astoria, OR. But a stunning stand-alone northern stretch through Wyoming, Idaho, and Oregon gave thousands of Americans their first look at the unspoiled West. Where else could early drivers find something like the Thousand Springs Scenic Byway, which descends into the Hagerman Valley and through the Snake River canyon, where countless streams and rivulets pour forth from its eastern wall? Highway 20 paralleled Highway 30 through much of the American Heartland, but deviations out west through Wyoming's iconic Yellowstone National park and back east through Massachusetts' beautiful Berkshires made the old Yellowstone Trail the longest road in the country -- at 3,365 miles, early cross-country travelers considered it the gold standard when it came to automobile adventure.
7. The Dixie Overland Highway (Highway 80)
Give 'em credit for having such foresight: the Automobile Club of Savannah first proposed this transcontinental route in 1914, and when Highway 80 was commissioned in 1926, it was the first all-weather coast-to-coast route awaiting intrepid drivers. Starting steps from the Atlantic Ocean in Tybee Island, GA, the route passed through important regional hubs like Savannah, Montgomery, Jackson, Vicksburg, Shreveport, and Dallas-Ft. Worth. West of there, Highway 80 dropped through the vast West Texas desert into El Paso, the last truly urban stop for hundreds of miles until Tucson and Phoenix, where over 85 historic motels awaited weary drivers on the Miracle Mile. Beyond that, it was just another day's journey to San Diego and the cool Pacific -- every early coast-to-coast traveler's Holy Grail.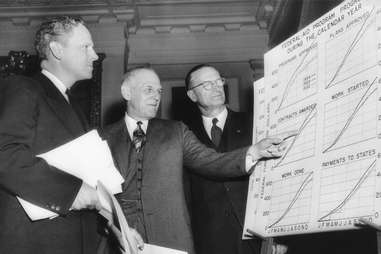 8. Highway 11 from New Orleans to Syracuse
Another member of the inaugural 1926 class of cross-country highways, US Route 11 spans 1,645 miles from New Orleans to the Canadian border in New York. That allowed 20th-century adventurers the rare chance to sample everything from the Big Easy's French-Cajun-Creole mish-mash to Alabama's oak-lined crown jewel, Tuscaloosa, to Tennessee's hidden gems of Chattanooga and Knoxville, all on the same stretch of highway. North of there, US Route 11, called the Valley Pike by locals, opened up the Blue Ridge and Appalachian Mountain Ranges in Virginia and West Virginia, along with the Poconos in Pennsylvania, to convenient exploration -- this is the same forbidding terrain that in pre-automobile times would take weeks to navigate.
US Route 11 also served as a vital trucking link for important industrial cities like Harrisburg, Scranton, Binghamton, and Syracuse, but the reward after passing through those industrial areas was worth it: a loop around the picturesque Adirondacks punctuated by a final stop in the icy blue waters of Lake Champlain and, if you were so inclined, a cross into the French-Canadian heartland in Quebec.
9. Highway 41 from Miami to Lake Superior
Once early highway addicts did Miami to Maine, Miami to Michigan became the next north-south challenge to conquer. Crossing Florida's Everglades, Highway 41 veered north and careened between rural solitude -- think Gibsonton, a small Florida town founded by carnival workers -- and big cities like Tampa, Atlanta, and Nashville. The construction of Highway 41 spurred a border war between Kentucky and Indiana where the road crosses the Ohio River into Evansville, although no fights have been documented since 1926 over the following 282 miles of Hoosier State emptiness. That abruptly ended, however, for early drivers entering bustling Chicago, where Highway 41 (or Lake Shore Drive) was a main thoroughfare through the city's most scenic sections -- and home to the vaunted Soldier Field.
North of the metropolis, Highway 41 was the earliest "vacationer's route," with legions of American families riding the newfound freedom of the automobile north to Lake Michigan, Lake Winnebago, and Michigan's idyllic Upper Peninsula, most of which has maintained the rustic charm it had in the mid-20th century.

10. The CanAm Highway (US Route 85)
While the 19,000-mile PanAm Highway took nearly a century to come to fruition, the CanAm Highway was completed in 1926, Year Zero for America's best cross-country roads. US Route 85 took early drivers north from the Mexican border outside El Paso, ascending slowly (good for those early, not-so-reliable cars) through New Mexico cities Las Cruces, Albuquerque, and Santa Fe before skirting the regal Rocky Mountain range through Pueblo, Colorado Springs, and Denver. North of Cheyenne, the CanAm got progressively more tough to navigate, though, as early adventurers got a look at South Dakota's Black Hills, with an eastward jog through once-rough-and-tumble Wild West ghost towns like Deadwood and Spearfish. After that, nothing but beautiful scenery stood in the way of the Canadian border, including a pass-by of North Dakota's highest points, White Butte and Black Butte, and a drive through the spectacular Badlands. Surely the extraterrestrial terrain there was something no early 20th-century traveler had ever seen before the advent of the automobile.