If you've ever dreamt of ditching your day job to wander the Earth like Caine from Kung Fu, do NOT, no matter what your sister says, ask your parents if it's a good idea. They will absolutely try to talk you out of it. No, instead, you should read about these five ordinary (but awesome!) professional travelers who were once cubicle-dwelling, bad coffee-drinking, 9-5ers, just like you -- until they quit their jobs to hit the road.
Jodi Ettenberg, awesome founder, Legal Nomads; former lame corporate lawyer
What were you doing before you were being awesome?
"Before I started traveling I was a corporate lawyer in a Manhattan firm."

Why did you decide to go awesome?
"I had watched a documentary on the Trans-Siberian trains when I was younger, and it just percolated under the surface for years. I really, really wanted to get to Siberia. And then as the years went on, it became, 'well maybe I can go to Siberia on a larger, more fluid journey?' I come from a family of people who love a good story, and I saw travel as a way of viscerally experiencing stories instead of just reading about them."

Money is an actual thing. How did you make #thestrugglelessreal?
"There are different segments for the travel I've done. When I quit my job, the plan was to go for one year and then return to New York. So as I worked in NYC, I tried to be conservative about what I bought, measuring things in terms of plane ticket costs. I started Legal Nomads to keep my mother updated about where I was going, but as I traveled and wrote, I started to receive offers for freelance writing. Once the site and the writing work became a new business on its own, it was no longer about pure travel. I don't monetize Legal Nomads directly with ads or sponsorship, but I did write a book about food and why it matters. I lead small group food walks in Saigon. I recently opened a shop selling hand-drawn maps of food, and other projects. All of these stemmed from the site."

How much is enough money?
"It depends on the type of travel you want to do, and where. I have a big travel resources page where I list budgets for travel from all over the web, some with spreadsheets. For full-time travel including flights, many come in at $10,000-$15,000 for one year. For a good part of that time spent in more expensive locations (Australia/New Zealand, UK, parts of Western Europe) you would need to budget more. When I live in Vietnam, my monthly budget is around $650, all in. Some can spend closer to $2,000 a month there. It depends on your style, what you like to eat, and how luxurious you want your accommodations to be."

Is this... it?
"It's been seven years so far. I recently wrote about the ups and downs of having no home base. There's no 'it' with anything, is there? You do what drives you to be better as a person, and for me this has been a great way to explore the world and share pieces of countries that hopefully get my readers to see them in a different way. If I do get tired of it, there would be no shame in stopping -- it's been seven years, it's not like I have anything to prove. So far I've truly enjoyed the different challenges this flexible lifestyle has provided, and so I do not plan to stop anytime soon. I go where my taste buds take me!"
Where did your awesome journey take you?
"I started in Helsinki, Finland, simply because I had enough miles to fly there one way. My trip focused on the 15 countries of the former Soviet Union, so I really wanted to start in Estonia, which was just a short ferry ride from Helsinki. From there I traveled through Russia, Latvia, Lithuania, Poland, Belarus, Ukraine, Moldova, Georgia, Armenia, Italy, Turkey, Azerbaijan, Tajikistan, Uzbekistan, Turkmenistan, Kazakhstan, Kyrgyzstan, and Spain."

How much is enough money?
"It's impossible to say, as it will be different for everyone. How much you spend depends on where you're going, what kind of activities you're doing, and how long you're traveling for. I spent $28,000 on 13 months of travel, but I know someone who spent the same amount on two years. I stayed at a mix of hostels, hotels, guest houses, and home stays, but I also really splurged sometimes -- for example taking a day trip to Chernobyl in Ukraine and hiring a guide for 10 days in Turkmenistan. Getting a job teaching English can be a great way to get started overseas."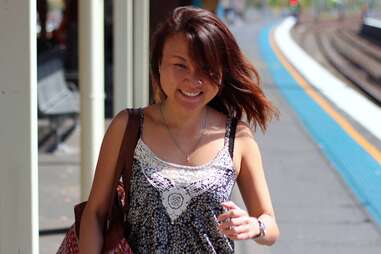 Ying They, awesome founder of The Tiny Wanderer; former lame lifestyle magazine writer
Why did you decide to go awesome?
"Many things, but chiefly the passing of my mother. A serendipitous meeting with a freelance meditation teacher who was formerly a Buddhist monk. And the meeting of many world travelers via the Couchsurfing platform, especially a particular American couch surfer named Steve. He sort of coached me into becoming a world traveler and TEFL teacher."

Any money-saving tips from the road?
"I live a pretty minimalistic lifestyle without much baggage. When I travel it's within my means. When I didn't have much, I tended to skip expensive activities including notable landmarks. I couch surf a lot. When I take up casual jobs, I don't eat out or party too much. I tend to wear the same things for three years. If you don't need something, don't buy it. Cook instead of eating out. And be shameless when it comes to hustling for jobs. Network and ask around if there are jobs available or if there is work to be done."
Was being awesome a spur-of-the-moment decision or did you save for it?
"I had saved about $3,000 before leaving China, but ultimately my decision to travel long-term was very last minute. If I hadn't gotten approved for that initial freelance writing gig, a notification that literally arrived days before my planned vacation, I have no idea what my life would be like now."

Where did you start?
"I backpacked through Vietnam for about three weeks and then Laos for a week with a couple I'd met in Cambodia a few months earlier. They didn't have freelance writing gigs or blogs, however, so we split off in Thailand. Then I continued on to Malaysia, Lebanon, and, after visiting Jordan, Israel, and Turkey, stopped in Switzerland to see my best friend."

How much money is enough?
"It's not really about the dollar amount at the end of the day, but having a constant, reliable funding source. For some people, this is a service-industry job, which allows them to bust their asses while they're "at home" and take off when needed. I do use a basic primer when traveling: $25-$50 per day in Southeast Asia, China, and India; $50-$75 per day in South America and much of the Middle East; and $75-$100 per day in much of the rest of the world."

Any "get rich quick" schemes?
"Don't start a blog! I mean, of course, five years later, I make a lot of money from my blog and get a lot of very lucrative freelance work as a result of it, but blogging is more of a long-term investment. If you want to earn remotely, then your first step is identifying your skills and scouring Internet jobs for remote gigs that use them -- if not freelance writing, then maybe design, programming, and even call center work. Like me, you will probably have to start with gigs that pay you less than you believe you are worth, but if you persevere you will slowly have to work less while earning more. Also, work along the way in hostels, hotels, tour companies, or other travel establishments. You might simply volunteer at a hostel in exchange for free accommodation. I've also met nomadic massage therapists, yoga teachers, hairstylists, the list goes on."
Kim Dinan, awesome founder of So Many Places; former lame sustainability coordinator
What places get you more bang for your buck?
"Well, most parts of the world are more affordable than North America/Western Europe. Southeast Asia, for example, has a well-worn backpacker trail. But again, you never know where life will lead you. You may meet great friends from Western Europe in a hostel in South America and spend a year house-hopping between them."

Are you hooked? Is this... it?
"You've caught me at an interesting time because my husband and I have just returned to the US after three years abroad. I'm hooked on travel in the sense that it will always be a part of my life, but being a full-time nomad isn't for me... I was craving a place to call home and we are expecting a baby in the fall. Right now I've still managed to avoid the "conventional" career and am writing, but my husband has gone back to a 9-5 job for now."

Meagan Drillinger is a freelance writer for Thrillist. She's considering switching to nomadic massage therapist. Follow her on Facebook, Twitter, and Instagram at @drillinjourneys.