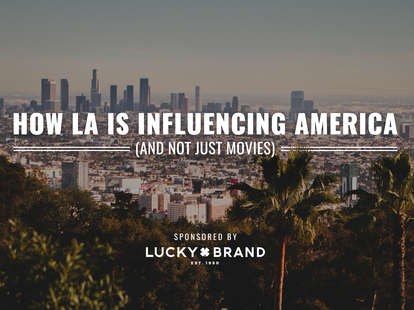 How LA Is Influencing America (And Not Just Movies)
When you think of Los Angeles' influence on the rest of America, it's probably something along the lines of "They make the movies and TV shows that (I talk about incessantly) (are turning our youth into demons)." But LA's movements and innovations have and are affecting the country in other, less scripted ways, from food and drink to tech and (non-celluloid) art. Here's a cross-section of areas where LA's making its cultural presence felt beyond California's borders.
In The Arts
For decades, LA's artists have had easier access to utility boxes, abandoned walls, and unsold billboards than they have to pristine white galleries, so it's no surprise that its street art took an easy leap from the sidewalk onto the highly respected walls of art museums here.
The Museum of Contemporary Art's 2011 survey on the history and evolution of street art -- from adopted locals like Shepard Fairey to international artists like Banksy who use the city as a canvas -- was just further proof of the city's role in street art's larger evolution. The survey has inspired street art exhibitions in the years since, from multiple showings at Art Basel in Miami to the ambitious Street Art Museum, set to open in Berlin in 2017. And surely there was no better home base than LA or Thierry Guetta's is-it-real-or-not documentary on the world's most elusive street artists (including camera-shy Banksy), Exit Through The Gift Shop.
But until recently, LA's influence on the international fine art scene was mostly by accident, born out of thriving subcultures that experimented with the aesthetics of music, street, surf, skate, and high & low art. From the politically charged Chicano murals of the early-20th century to gangland graffiti and the crude punk-show flyers of Raymond Pettibon, LA has always been a place where the best art is created out of necessity. And these days, with the rapidly revitalizing Arts District as its hub, the city is being hailed as the new center of the art world.
In March 2016, Paul Schimmel, former chief curator at MOCA teamed up with Swiss gallery juggernaut Hauser & Wirth to open one of the largest and most ambitious artistic spaces in the world. Natch, it's in the Arts District. Housed inside a former Pillsbury flour mill next to train tracks and the LA River, the Hauser, Wirth & Schimmel super-complex includes 30,000 square feet of exhibition space, a bookstore, a research area, a planting garden, a restaurant, and a multi-disciplinary arts center. It will host curated museum-grade exhibitions with accompanying public programming, making it unlike any other commercial gallery space in the city, or for that matter, in the Americas.
The arrival of Hauser, Wirth & Schimmel is no doubt a validation of the neighborhood of warehouse's newfound cultural authority over the international art community, but to see where this authority began, look no further than the exterior of the gallery's 100-year-old building. The brick walls will remain covered with original works of street art, made from spray paint and wheat paste, that reflect the hardscrabble life in the neighborhoods surrounding Arts District. You know, before the Europeans started calling it that.
With Food
If you've eaten a Korean taco or an upscale grilled cheese from a mobile kitchen anywhere in America, you can thank Los Angeles. The gourmet food truck's genesis was natural here, where car travel is still the dominant mode of transportation, and casual dining reigns so supreme that the Michelin rating guide hasn't bothered coming back for half a decade.
Even in sit-down restaurants, the culinary mashups currently being created in LA have led food critics to call it one of the most exciting cities in the world for food right now. From poké to modern Mexican to tasting menus of Korean experimentalism, LA's food culture just keeps innovating.
"I'm never complacent with what we've done," says Wes Avila, of Guerrilla Tacos. Avila makes tacos that are like courses in a tasting menu, inspired by French cooking traditions and Avila's own Mexican-American upbringing, and executed with whatever is in season on that particular day. Think: Santa Barbara uni and ahi tuna poké; cauliflower and romesco with brown butter and pine nuts; sweet potato with chile de arbol, feta cheese, and fried corn. Did we mention these gourmet tacos are served out of a freakin' food truck?
"It all starts with getting my ingredients," Avila says. "That's the philosophy I took." Guerrilla Tacos is a seven-day-a-week operation that spends most of its time parked in front of coffee shops in LA's Arts District. The concept of serving high-end street food was unfathomable when Guerrilla first started in 2011, but because of him and other LA chefs (like Roy Choi of Kogi), fancified takes on Mexican, Korean, and other ethnic comfort foods can now be easily found in most major American -- and international -- cities. Thankfully, so can their food trucks.
And Drink
LA might be characterized as a car-clogged, cold-pressed-juice-and-yoga kind of town, but for those who have heard of Uber (and aren't starting a master cleanse in the morning), there's a robust cocktail and beer scene. And its laid back attitude towards artisanal beverages has had a ripple effect across the country.
Having a serious cocktail often means getting a mustachioed bartender to make you a recipe gleaned from a pre-Prohibition-era songbook. But Jason Eisner, of vegan Mexican restaurant Gracias Madre, is just the latest in a line of LA creative cocktailers who don't take themselves too seriously, and whose philosophy is catching on nationally.
"I'm just trying to bring some whimsy and fun to some seriously good drinks," Eisner says.
LA's cocktail bars have always been a fun bunch, from the nostalgic Brat Pack-themed Breakroom 86 in Koreatown to downtown's Las Perlas, which exclusively serves tequila and mezcal. The latter is owned by downtown sultans 213 Hospitality, which recently invested in another alcohol-fueled venture -- a brewery.
Arts District Brewing launched late last year amid a sea of abandoned warehouses that has since become the city's best place to do a beer crawl. Along with the six other breweries that now call the neighborhood home, ADB is setting the bar for how craft beer can redefine communities (and make sweet delicious beer). Now that's something to raise your glass to.
Lucky Brand may be in more than 250 stores all over America, but its idealogical and physical LA roots are solid. It's been here since 1990 -- at least a decade before LA's premium denim movement took over the entire country's lower halves -- and is a bonafide part of the city fabric, with a 6,000 square foot flagship in El Segundo and headquarters downtown in the Arts District. Don't know that place? Oh, you will.
In Fashion
As a recent New York Times headline read, "LA is becoming Paris Amid the Palms." The city has overcome the stereotypes to become one of the world's great cities for fashion. Ever felt truly comfortable in stylish clothes? LA said trendy needn't be torture long ago.
For decades, it was all about the Botoxed ladies with botched peroxide hair buying too-tight athleisure outfits designed elsewhere and sold at steep markups on Rodeo Drive. It was dudes wearing flip-flops to business meetings and sweatpants to their tasting-menu dinner reservations. It was jeans and t-shirts to the coffee shop and sky-high stilettos to the clubs. But in the end, the city's relaxed style and loathe of couture has made LA a prime place for designers who crave a breath of creative fresh air.
California casual is as much a clothing style as it is a state of mind. It's exemplified in the lasting trends of comfortable basics, flowy dresses, and funky prints -- which local designers have refined over the years at schools like the Fashion Institute of Design and Merchandising downtown, and with raw materials purchased from the Fashion District.
Bolstering LA's spot on the international fashion scene are the haute couture houses that have found an adopted home here. Their runway shows and events further cement LA's reputation as a fashion nerve center that defies the city's perceived bad taste.
Yet the positive elements of California casual live on in the sneaker culture that values limited-release shoes, in the big floppy hats that keep the sunshine off our faces, and in the street wear and lifestyle brands.
In Technology
LA may not be the first name that comes to mind when thinking of tech startups, but that's set to change. Just ask executives at Microsoft, Facebook, Google, Yahoo or YouTube -- all of whom have set up shop in Silicon Beach over the last few years. No longer just a buzzword, it's now the fastest growing startup region in the country, with various reports listing it as the first- to second-largest tech hub in the world.
Snapchat is the perfect poster child for the city's newfound influence in tech -- its disappearing messages have changed the way an entire generation communicates. Founded in 2011, the company's dozen-or-so early employees started out of a funky old beach bungalow on the Venice Boardwalk, building an app that would send self-destructing images and videos to friends.
Insiders called Snapchat "the next Facebook." Today, it has an estimated 150 million daily users, and its valuation at $16 billion launched its co-founders onto the Forbes' list of richest Americans last year (Evan Spiegel, at 25, is the youngest billionaire in the country).
Snapchat was the first internationally recognizable brand to come out of Silicon Beach, but it definitely won't be the last. Other major companies like Space X, Riot Games, and Tinder also have Silicon Beach roots, and together with the slew of new startup incubators and accelerators -- many of which are affiliated with LA's network of prestigious colleges -- they're luring millions more venture capital dollars to the city.
The booming startup scene is such a reality that the tech community has traded in its funky Venice Boardwalk digs for an entirely new city, Playa Vista. Built on open space a few miles south of Venice, this new development of offices, apartments, and shopping centers is entirely geared towards accommodating LA's growing number of tech companies and workers (Google recently bought 12 acres here).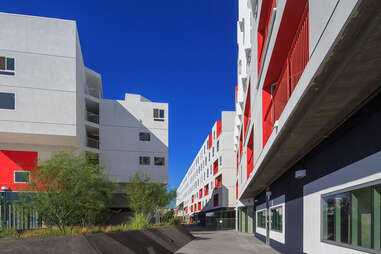 And Design & Architecture
Architect Frank Lloyd Wright once said that if you "tip the world over on its side, everything loose will land in Los Angeles." And while that might sound like something that could literally happen when the San Andreas fault finally explodes, it's also a great way to describe the city's unparalleled architectural hodgepodge.
LA was first called "The City of the Future" in the 1960s for its distinctly non-European approach to placemaking. And with new approaches to environmentally-sound design that are both fun and deliberate, it remains among the premier cities shaping the vision of tomorrow.
Though LA had a huge role in the development of movements like mid-century Modernism and Googieism, the city's influence on design and architecture didn't stop in the middle of last century. No, as the decentralized megalopolis continues to re-define itself -- and in many ways is finally folding inward -- the rest of the country looks for clues on how to build their own transit-oriented developments, revitalize their own downtowns, and reorient their own urban plans.
Need to create more spaces for small businesses? At SXSW this year, Taco Bell emulated what Adams Gateway did when it opened last year, and set up stores inside reclaimed shipping containers. Want an equalizing gathering space that people will actually use downtown? Try uprooting parking lots and landscaping them into urban green spaces like at Grand Park (both Dallas and Tulsa did). Looking to find ways to bring more affordable housing into an already dense neighborhood? The future could easily be the symbolic quarter-mile-long One Santa Fe in the Arts District, which offers small apartments at cheap prices, offset by luxury lofts above and commercial space below.
When everything loose lands in LA, its architects build beautiful things out of the scraps.