Presented By

How One Family Paid Off $200,000 by Taking Their Life on the Road
The Mom Trotter teaches us the ways of RV life.
Presented By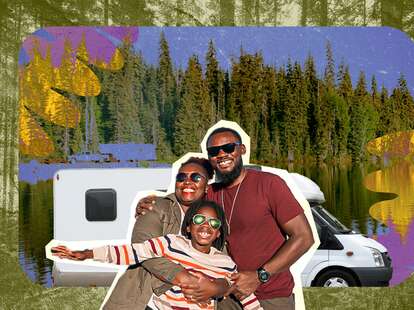 Before Kay Akpan held her newborn child, she'd never given much thought to traveling; growing up in Cameroon, it hadn't been a big part of her life. But the moment her son, Aiden, was born, it suddenly became the only thing she dreamed about. "I wanted to show him the world. I wanted him to learn about other cultures, to be accepting of them, to be respectful of them," she said.
Fast-forward to 2021, and now-8-year-old Aiden has been on more trips than the entire Thrillist travel team combined. Now working full-time from their family RV, Kay has spent the last several years documenting their journey on Instagram as both The Mom Trotter and Black Kids Do Travel, which she co-founded alongside her husband, Sylvester. And unlike the "I quit my six-figure executive gig to travel the world" types that tend to crowd up #vanlife, the Akpans are a normal family, whose budget reflects a genuinely feasible life on the go.
The beauty of a family road trip that never ends is there's no voice calling "are we there yet?" from the backseat. The answer is, at all times and forever, "Yes." We caught up with Kay to discuss what it's like to buy a camper for the first time, how to make the road feel like home, and all things RV.
Thrillist:Until early 2020, you were living in California. So how did you and your husband, Sylvester, land on buying an RV? (Great timing, by the way, considering that prices have skyrocketed since the pandemic hit.)
Kay Akpan: Well, honestly, we were in debt, we wanted to spend more time together, and Aiden had mentioned that he wanted to visit every state. So we figured the best way to combine everything would be to do it in an RV.
Then there was the generational wealth. I wanted to do something for my son. I wanted to be able to put money away for him every month. I feel like if I'd graduated from college and I didn't have all the debt and all the loans and everything, life would be so much different. We just wanted different for him. We figured the best way to do that would be to sell our home, and get an RV, and start paying off debt and then be able to save more.
How did you find the perfect ride?
Akpan: It's so interesting when people ask me that, because we didn't have the luxury to go RV shopping since we were on a very tight budget. I basically went through Craigslist and Facebook Marketplace, entered how much I could spend, and found an RV for that price. I met up with the guy, haggled a bit, he gave us a little-bitty discount, and we bought it. It took us about a month and a half to renovate it.
We let go of a lot of norms in 2020: like shaking hands, wearing pants, and (most importantly) working in an office. You're no longer tied to a commute — so why should you be tied to one place? Enter: Landing, the housing startup that's reimagining apartment living. Thanks to its network of fully-furnished (or unfurnished) apartments across the country, you can have the freedom to live (and work) practically anywhere. With perks like a 24/7 concierge service, easy lease transfers, and waived security deposits, you'll have more flexibility than ever before, too.
When your family first moved into the RV, how did you make it feel like home?
Akpan: We painted it, took out the RV couch that was in there, and put in an actual couch. We put framed pictures on the wall, artwork, things that were personal to us. We didn't really take anything [from the old house] because everything would be too big. We had to go to Target and find smaller-scale things. If you're really on a budget, check Craigslist, Facebook Marketplace, or any of the resale websites. [Just keep in mind that] you don't want clutter. The more you put in there, the more you'll have to worry about moving around every time you drive.
What challenges have you come across that new RV owners might not expect?
Akpan: The only thing I don't like is move day—but I haven't complained about it much because my husband does everything anyway! You've got to flush out the tanks; put all the slides in; roll up the mat that's outside; pack all the chairs away; make sure everything's secure, including the fridge so it doesn't open when we're driving; put away all the little things that could possibly fall, like the coffee maker.
[It gets more complicated depending] on what kind of RV you have. We had a Class C before—an RV that's attached to the back of a car—and that one I found so much easier. It was only 30 feet. Now we have a truck and a trailer that's about 42 feet, so move day is a lot more complex. So when you're getting an RV, you've got to think about all that.
Anything else to consider?
Akpan: [Remember that] in an RV, you can't do the cold—your tank will freeze and you'll have no running water. If you're going to stay in cold areas, you have to prep and winterize your RV. That's why as soon as it starts getting cold, we start heading down south toward Florida or Texas.
Also, because everybody's RVing now, RV mechanics are busier than ever. If something breaks down, getting to a mechanic may take some time, so it's worth seeing what you can learn to fix on your own. It's also important to have at least some money saved just in case anything happens, whether to get the RV repaired or get a hotel room for a night.
As the co-founder of Black Kids Do Travel, you've seen that resources geared toward Black travelers can be difficult to find. Do you have advice for Black families looking to try RV life?
Akpan: I get messages all the time from people like, "Do you feel safe out there?" The thing I love about being in an RV is that if you go somewhere and you don't feel comfortable, you can just leave. We've been to a trailer park before where we didn't feel welcome at all, and I told my husband, "We got to go." So the next day, we woke up, we packed up, and we left.
But definitely take the plunge, because you will never know if you don't try. We've had awesome experiences in most places we've been to. Once in a while, we'll have a negative experience, but most I would say have been positive.
Do you have any money-saving or budgeting tips for life on the road?
Akpan: Find affordable RV parks. We signed up for a Thousand Trails membership so that when we're in Florida over the winter, we can stay there for free. You save up so much money because you're really not spending [anything on booking a spot] versus being here in Maryland where the RV park is so expensive—$82 a night.
The state you're in matters a lot, too; we spend way less money in some states than others. You also need to budget for eating out. Unless we're in a state where there's a famous restaurant or a super place that we have to try out, we usually cook all our meals at home.
Are there any must-have apps or tools every RV owner should know about?
Akpan: There's an app for everything, but it can get really overwhelming. So honestly, when we're looking for RV parks, we literally just Google and read the reviews. Google is my favorite website for everything, really—RV park reviews, cheapest gas stations, roadmaps.
Now that we have a bigger RV, there's CoPilot GPS. It's an app for truck drivers that tells you how high or low clearance is since there are some places where we have to follow truck routes and make sure that we don't go on roads we can't turn on.
What's the best way to maintain a solid Wi-Fi connection on the road?
Akpan: We have an unlimited plan and use a lot of data between myself, Sylvester, and Aiden—a lot of data. We have Verizon phones and AT&T internet, because if we go somewhere where there's no Verizon, then at least we've got AT&T, and vice versa. So that's my tip: if you're getting a MiFi or a hotspot, get one from a different provider than your cell service provider.
Your family travels internationally pretty often. Where do you park the RV while you're abroad?
Akpan: We usually leave it at an RV park because we want to leave it plugged in; you can take your RV to storage, but you might get rats. At some RV parks, they charge you a discounted rate when you're not living in it.
What's been your favorite part of RV life?
Akpan: Our family dynamic is a hundred times better—the time together has definitely been a blessing. My husband and I have become even stronger best friends. We're all closer. I never get tired of spending time with them—we literally just love being together 24/7. Plus, being able to save. We've paid off over $200,000 of debt, and not having that amount over our shoulders anymore helps us sleep better at night.
Any final advice for those thinking about hitting the road?
Akpan: When people want to do things, the first thing they say is, "I don't know what my mom's going to think. I don't know what my family's going to think. I don't know what people are going to say." But my biggest motto is that your decisions don't need to make sense to anybody but yourself.
If you want to do something, do it. Don't wait on anybody's approval. You know what's best for you.
Tiana Attride is Thrillist's Associate Travel Editor. She'll ditch her Brooklyn apartment and buy an RV the moment the opportunity presents itself.