Presented By

Want to Be a Digital Nomad? Here's What It Really Takes to Live & Work Abroad
Annette Richmond reflects on her four years (and two suitcases) of globetrotting.
Presented By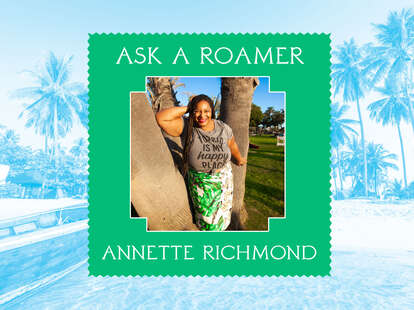 Photo courtesy of Annette Richmond, Design by Grace Han for Thrillist
Annette Richmond is an award-winning content creator, writer, fashion stylist, and advocate. A self-proclaimed digital nomad, the native Californian has lived abroad for the past four years and counting, with stints in over 20 countries including Indonesia, Thailand, and Malaysia. She currently resides in Mexico.
Richmond is also the creator of Fat Girls Traveling, a body-positive Instagram account that reaches over 35,000 followers and aims to promote fat acceptance within the travel space. The community has since grown into a travel blog, Facebook group, and event series—cultivating an inclusive space where like-bodied women share their tips, photos, and travel stories.
Richmond sat down with Thrillist to talk about her favorite destinations, the challenges of working remotely in a foreign country, and what it takes to trade the comforts of home for a life on the road.
"It was liberating to just take what my two hands could carry and hit the road."
Thrillist: Annette, we're so excited to hear about your journey as a digital nomad. When did it "click" that you wanted to do this full-time?
Richmond: When I began working remotely as a part-time fashion stylist in 2011, I was able to work from anywhere in the world as long as I had Wi-Fi. I didn't fully take advantage of that until 2014 when I started moving around the country a bit, and then on my first international solo trip to Europe. That's how I discovered I could not only work remotely, but work productively, from abroad.
In 2016 I moved out of my apartment in Atlanta and got rid of everything I owned, except for two suitcases. As a stylist and collector it was difficult to let go of my things. At the same time, it was liberating to just take what my two hands could carry and hit the road. I've been on this journey ever since.
We let go of a lot of norms in 2020: like shaking hands, wearing pants, and (most importantly) working in an office. You're no longer tied to a commute — so why should you be tied to one place? Enter: Landing, the startup that's reinventing apartment living. Thanks to its network of fully furnished (and unfurnished) apartments across the country, you can have the freedom to live (and work) practically anywhere. With perks like a 24/7 online member support, fast and easy lease transfers, and waived security deposits, you'll have more flexibility than ever before, too.
Let's back up, because the term "digital nomad" is getting tossed around a lot these days. How would you define it, and how is it different from being an expat, or a remote worker?
Richmond: The term was traditionally used for people who have the freedom to travel nomadically because of digital employment. Now that there has been a major work-life shift allowing more and more people to work from home, I think the definition will need to be updated. But I'd say the major difference between being a remote worker and a digital nomad is flexibility: Remote workers will still be stuck in that 9-5 work schedule. And I recently learned there really isn't a difference between expats, migrants, and immigrants—outside of the fact that words like migrant and immigrant are often racialized. There's a certain amount of privilege implied when the word expat is used.
Even if someone loves to travel, that doesn't necessarily mean they're cut out to be a digital nomad. Do you think it takes a certain type of person to do what you do?
Richmond: If you want to live and work from a foreign country, it's imperative you acknowledge that when you move abroad, you become an immigrant. The language, culture, and customs will be different than what you're comfortable with. But it's your responsibility and your responsibility alone to get comfortable with the change that you've intentionally made. It's not the responsibility of the locals to speak your language or cater to you in any way.
I'm currently in Mexico, and in different social-media groups for people living here, I often see other Americans asking specifically for English-speaking service professionals. When they're called out the usual response is, "it's my money, it's my preference." However, those same people will insist that people who immigrate to America learn English. The double standard is not just real, it's racist and classist.
Besides that, you need to be a self-starter. Living in a different country than the one you work in requires attention to detail and time management. If you're not a self-starter you're bound to procrastinate or get distracted. You will be bombarded with newness all the time—being curious and open is essential. Ask questions.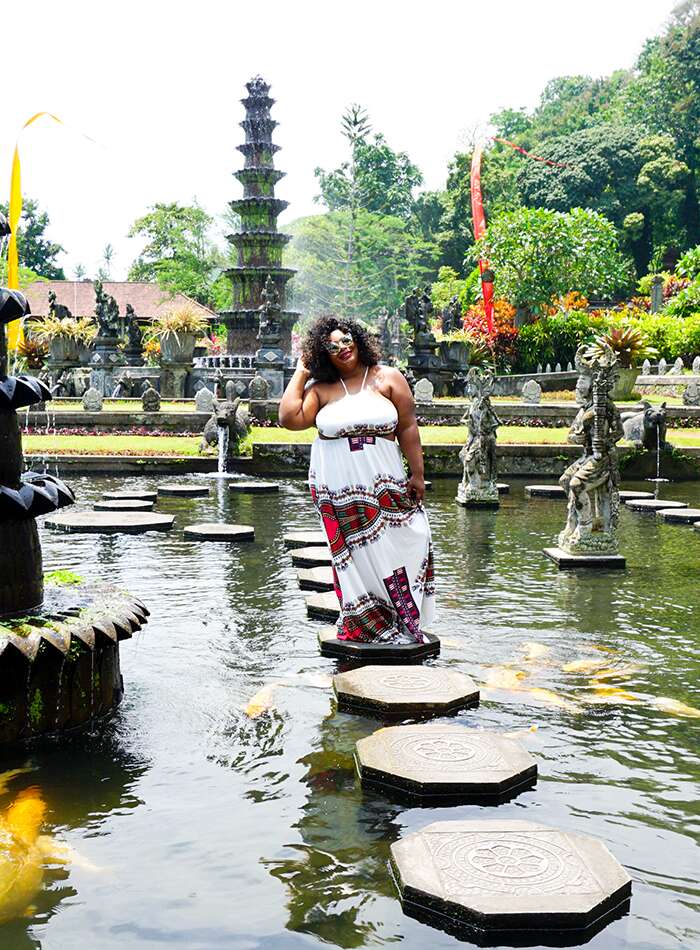 For people out there itching to travel and work from the road, what advice do you have? Where should they start?
Richmond: If you've got the wanderlust and a secure job, but aren't ready to go abroad, you can test the waters by being a tourist in your own country. Downsize your lifestyle and get comfortable being outside of your comfort zone. Short-term rentals are perfect for this. Secure a place for a month and make a plan for what you want to do while there. Then go for it!
If you're serious about moving abroad, get ready to do a lot of research, downsizing, and donating. Packing and relocating is something you perfect as a digital nomad; most countries only offer a 30-day tourist visa. I'm not sure how [visas] will look post-vaccine, but I would suggest staying the full 30 days or more, if possible. That's the best way to immerse yourself in a country.
What are some countries you would recommend?
Richmond: That's tricky to answer right now because of COVID restrictions. But if the borders are open, Thailand would be number one on my list. Transitioning from a western country to Thailand feels seamless, as English is generally understood and they have all the same technological and health advances for a fraction of the cost. Bangkok has the glitz and glamour of a big city: reliable public transit, 24-hour food and festivities, and strong Wi-Fi. But you can head to a southern island for some laid-back beach vibes, or go up north for the cool mountain air of Chiang Mai. I would settle down there in a second, but unless you work for a Thai company or marry a Thai citizen it's nearly impossible to get a resident visa. I'm on the hunt for my Thai husband!
And I love Malaysia. It has such a unique history and diverse population; the food alone is an adventure. You clearly see Chinese, Indian, and Malay influences. And like Thailand, there are many different kinds of destinations within the country—from the bustling city of Kuala Lumpur to the historic town of Penang, the island of Langkawi, and the rolling hills of the Cameron Highlands.
People tend to romanticize living abroad, especially when looking through the rose-tinted glasses of Instagram. What are some downsides that you and others in the nomad community face?
Richmond: The biggest issue I face as a nomad is not having a home base—especially during this pandemic. I had just returned to the States after five months in Asia when all of my jobs were canceled. I was at my mom's house in California when the state went into lockdown. I knew that worst-case scenario I could stay with my mom; I just didn't foresee the worst-case scenario happening so soon, and for so long.
Once I saved up enough money, I moved to Mexico. I know a few people in town, but one of the downsides is not having a large support system. There are days I wish I had a "normal" lifestyle with a stable home and a family of my own. As a nomad, I've found it difficult to maintain a stable relationship. I would love to have a pet, but it's difficult and expensive to travel full time with one. All of those things would've been extremely comforting during this pandemic.
But life on the road has equipped me with coping skills that make socially distancing easier. I'm used to spending the holiday season away from my family. So video chats and phone calls on special days haven't changed. Neither has the feeling of missing important moments.
2020 was... A Year. What other challenges, or opportunities, came up for you?
Richmond: Living in Mexico has helped improve my mental health greatly. As a Black American, I was in constant fear for my life at the beginning of the year. That coupled with the fear of coronavirus was so overwhelming, I decided to go back abroad. Like many other Black Americans I made the Blaxit—a newish term to describe Black Americans moving abroad to escape racism. Although the term is new, the sentiment isn't. It's been happening since the days of Josephine Baker and Langston Hughs
2020 was a year of deep introspection, learning, and unlearning for me. As a Black woman, it was a relief to finally hear public discussions about race, privilege, and discrimination. I've been writing and speaking publicly about my experience traveling as a marginalized person for years. Now more than ever people are willing to listen and learn from the traumatic experiences people of color face.
Any big plans or resolutions for 2021?
Richmond: I was recently listening to a guided meditation and something clicked when I heard, "surrender is the opposite of control." I think many of us have been trying so hard to keep things together and "manage" our feelings and expectations around the coronavirus. I've learned that the best thing to do is surrender and trust that things will work out for the best.
I do have a few events on the calendar this year, including meeting a few of my favorite people in Thailand. Fingers crossed the borders reopen for tourism later in the year. While I will remain hopeful and optimistic, what is meant to be will be.