Everything You Need to Know About Becoming an Airbnb Host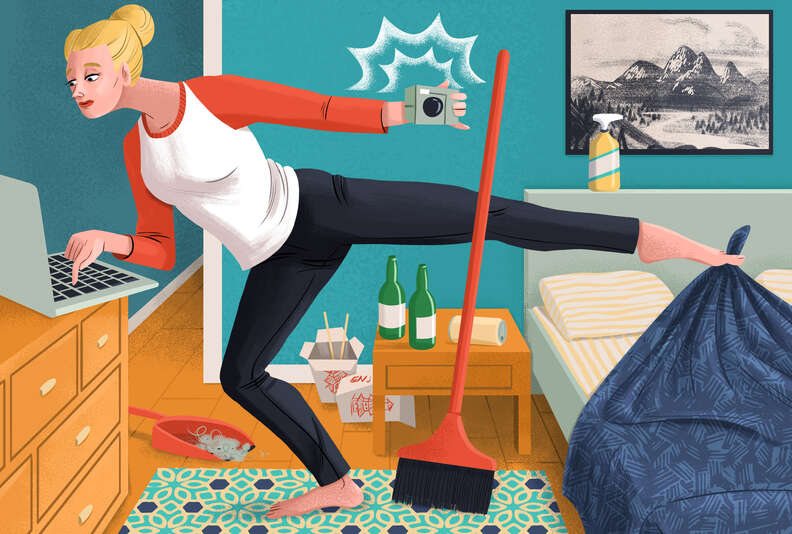 Jason Hoffman/Thrillist
Jason Hoffman/Thrillist
There's a lot of noise out there about Airbnb. You've heard the horror stories of suburban homes recast as orgy-hosting crack dens. Also the tales of unbridled success, like that smug dude who claims to run a mini real estate empire in Brooklyn (and an artisan coffee bean startup on the side). But how does Airbnb work? What does it really take to become a host? Is it safe? How do you make money? Will anyone piss in your fish tank?
Here's everything you need to know about hosting on Airbnb, including the stuff Airbnb won't tell you.
Making money with Airbnb is easy because the fee structure favors hosts
It turns out there are more people who want to stay in nice apartments in tourist hotspots than there are people willing to let strangers into their home. Funny that. To compensate, Airbnb skews the commission structure in the host's favor -- you'll only pay a 3% fee to Airbnb on each booking, while the guest has to pony up 12%. Many other property rental websites charge a flat 15% commission to hosts only, so Airbnb stands out from the crowd. (So if you charge $100 a night, you'll get $97, and the guest will pay $112.)
Take credible -- heck, gorgeous -- pictures of your space
On Airbnb, photos are everything. You can have ultrafast Wi-Fi, unlimited chocolate chip cookies, and a property description Nabokov would be proud of, but if the pictures make your place look dim or dingy, nobody will ever get to find out. At the very least, invest some effort into some proper snapshots. You're well within your rights to touch up your pictures, but go easy on the filters -- firstly, your listing will scream "cover-up" and even if you do get bookings, your guests will be disappointed when they realize your lounge isn't actually that Valencia in real life. You can also request a professional shoot by an Airbnb photographer; they'll deduct the cost from your first few bookings.
Write a detailed description
The description is your chance to show off exactly why your place tops your neighbors' places and the local hotels, too -- so don't skimp on detail. Highlight the best bits, of course (now's the time to shout about that 800-thread count Egyptian bed linen your mother-in-law gave you), but manage expectations as well.
Become a Superhost to stay at the top of the listings
Good news: New listings get 72 hours at the top of the list when someone searches your town. After that, you're on your own, buster. If you want to stay in pole position, you'll need to become a Superhost -- that means hosting at least 10 trips a year, responding to inquiries sharpish, getting 5-star reviews 80% of the time, and never canceling on people once they've booked. For your trouble, you'll get $100 Airbnb credit each year -- and your listing will be the first one tourists lay eyes on.
Give your guests little freebies and watch them rate you with love
If you can't meet the Superhost criteria, you can still give your listing a boost by scoring a ton of positive reviews. Basic cleanliness and functioning plumbing are your baselines. To sweeten the deal, throw in some lagniappe -- fresh fruit, a couple of beers, or a list of local recommendations doesn't cost you a lot, but it will get your guests on your side.
You can't game the reviews system...
After each stay, you and the guest have 14 days to review each other -- and you don't get to see what the other person wrote until you submit your own. They don't go live until both people have submitted, but if you don't complete your side, then theirs will still go live after 14 days.
… but you can game the booking system.
Airbnb doesn't release a host's email, phone number, and address until a booking is confirmed. This protects them from people dodging commission by arranging stays off-platform and protects you from accruing too many stalkers. They've even got some clever tech to stop you sharing your deets in Airbnb messages -- the system blocks out anything it recognizes as an email address or phone number. You have to be pretty determined to get around it, but there's absolutely no way they can stop you sharing your name and the company you work for -- from there, the other party can usually track you down on Google/LinkedIn. While this seems like a sneaky workaround, it also means you forfeit all your host protections -- so proceed with caution. And if Airbnb get wise to your tricks, they'll kick you out on the spot.
Cleanliness is your top priority
If you can't (or can't face) personally cleaning your place between each stay, find a good cleaner and do everything you can to hang onto them. "I pay the maid a lot, because I know the job will get done right," says Justin Woulfe, the host of a highly-rated place in DC. "The thing everyone notices is how clean a place is. Spotless is the difference between a 5-star review and a bad one."
You can get unfair reviews removed
If a guest complains about something you called out in your description, you have grounds to ask Airbnb to remove the review -- for instance, if you specified "no Wi-Fi" and then some dumbass complains about not being able to stream Netflix. Then there's the inevitable nah, really? comment. "Sometimes you get ridiculous people who say things like 'a hotel has better amenities,'" says Woulfe. Airbnb allows you to respond, and there's nothing wrong with calling people out. "I've had other people acknowledge my replies as part of the reason they booked, so there's value in replying to clarify or flag up someone being unreasonable."
Limit the damage of bad reviews
It happens, even if you think you've got a great setup. Some people don't appreciate how firm your mattress is, or the fact that your favorite country music bar is right under your bedroom window. If you get a bad review, reply politely, apologize, and reassure future guests that any solvable problems have been fixed. This approach will generally do less damage to your reputation than retorting, "That's what your mom said."
Don't get lax on tax
Firstly, make yourself familiar with the 14-day rule. It means that you don't have to pay tax on money you earn from Airbnb, as long as you don't rent it out for more than -- yep, you guessed it -- 14 days in a calendar year. If you go over that, you've got to stick down on your income tax form, but at least you can claim deductions for stuff you've bought for guests (like extra quilts, pillows, Fat Tires, etc.).
You can make more money by ignoring automatic pricing
There's a nifty feature called "auto pricing," which lets Airbnb set your prices at what it considers the market rate, based on seasonal demand and similar places in your area. But bear in mind that it's in Airbnb's interest to get a high volume of bookings (and therefore commission), and that they're not too bothered if your profit margins suffer. It's more hassle to change rates manually, but at the very least, you should monitor the auto rates and make sure you're not giving away your place too cheaply in periods you know are in high demand.
Instant Book works... mostly
You've got two options -- either you respond to each individual inquiry as it comes in, or you switch on the Instant Book feature, which allows guests to book your place without your personal say-so. If you want to vet every guest, leave Instant Book off, but be aware that you'll get fewer bookings and have more legwork to do along the way. To ease your worries about inviting a fugitive ax-murderer into your second bedroom, insist on guests with "Verified ID," which means they've passed a background check and are not on the FBI Most Wanted list, sex offender register, or flight blacklist.
Your place *probably* won't get trashed
You can set as many rules as you like, that guests have to agree to before you book -- it's totally fine if you don't want to host animals or parties, or animal parties for that matter. Almost all of the time, you'll have no problems, your guests will be respectful, and you might even end up making new friends. But there's a small minority of total fuckwits who will break the rules and damage your stuff. "Some people are real pigs," Woulfe says. "I've had to call the police a couple times, and neighbors have as well."
You will probably suffer -- financially and mentally
Wear-and-tear is inevitable when you've got a bunch of people passing through your place, especially when a lot of them treat it as a hotel rather than a home. You have to make peace with the fact they might not take their shoes off, or if they do, they might put their bare feet on your new coffee table. And you may as well accept that they'll get freaky-deeky in your bed (that's if you're lucky, and they don't like the look of your sofa, desk, or the countertop above your washing machine). "In two years I've burned through 12 sets of sheets and probably as many sets of towels," Justin Woulfe. "People love to fuck in someone else's house, it seems."
Wise up on insurance
You might have heard about the Airbnb host guarantee, which covers up to $1 million of damage to your property. What Airbnb doesn't shout quite so loudly is that this covers only structural damage, like if your guest accidentally burns the whole freaking house down. "Airbnb's damage policy/insurance kind of sucks, quite honestly," Woulfe says. "There would have to be really extensive damage for their policy to be useful."
If you're worried about your personal stuff getting damaged, stolen or otherwise-messed-with, what you need is a security deposit. You can ask for up to $5,000, but bear in mind that guests might be put off your listing if they have to put their college fund on the line to book it. The other option is just to suck it up: "I've had a lot of things broken, small stuff less than $1,000, which I've chalked up to the cost of doing business," says Woulfe.
Stay on the right side of the law
It's not illegal to rent out your property... except when it is. In New York City, for example, you can only use Airbnb to rent out a room in your own apartment -- you have to be staying there while the guest is visiting, and it has to be the one (you can only have one) you live in full-time. So anyone who claims to have a mini real estate empire of Brooklyn Airbnbs is up a creek if the authorities come knocking. Check the rules for your state, and if you decide to bend the law, be prepared to stomach a hefty fine if you get caught (up to $7,500 in NYC).
Choose your cancelation policy wisely
There are three tiers: Flexible, Moderate, and Strict. Basically, Flexible means you're a pushover (guests can cancel for a full refund just 24 hours' before a stay), and Strict is a bit of a dick move (there are heavy penalties for canceling once the 48-hour grace period after booking is over). It all depends on your personal situation though, and how quickly you can fill empty nights. And even with a Strict policy, you can always make ad hoc refunds in special situations.
Always have a stash of extra toilet paper
'Nuff said.
Sign up here for our daily Thrillist email and subscribe here for our YouTube channel to get your fix of the best in food/drink/fun.
Jonathan Melmoth is Thrillist's travel writer. Follow him on Instagram.