How to Be Extra Safe If You're Staying In An Airbnb Right Now
You still might want to pack some wipes.
Chances are, you're getting a little stir crazy right about now. Maybe you're looking to get out of the city and tuck into a secluded cabin Upstate, or find yourself at a desert artist retreat. Perhaps you just want to get out of your apartment and find a place in a different neighborhood. Regardless of your destination, chances are you're browsing Airbnb. Especially if the idea of staying at a hotel mid-pandemic gives you the heebie jeebies.
Still, just because you're in a furnished home rather than a motel doesn't mean you're not entering a room that may have recently been occupied by a stranger. So how do you ensure you're safe, and what steps is Airbnb taking to back you up? We spoke with Airbnb hosts and Dan Kim, Airbnb's director of core host operations, to learn about the extra steps the company is taking to protect guests and hosts.
MORE: Headed Upstate? These Airbnbs bring some next-level tranquility.
What is Airbnb doing to ensure we're safe?
One of Airbnb's big advantages over hotels is that they offer alternatives to crowded urban spaces or off-highway hotels. Unless you're sharing a home with a host, the lack of lobbies, elevators, and other public spaces means less risk of person-to-person contact.
That doesn't mean there's no risk. The virus can live on surfaces like keypads and furniture for hours or days, depending on the type of surface. To help hosts disinfect optimally, Airbnb has implemented the Enhanced Clean program. The global protocol shows hosts how to clean and disinfect homes to create the safest and healthiest environment for both parties.
"We decided to team up with leading medical experts and hospitality experts, as well as Vivek Murthy, the former Surgeon general under the Obama administration, to put together a comprehensive cleaning protocol that shows hosts how to clean properly," Kim said.
The protocol includes five steps that hosts can follow to properly clean their homes: prepare, clean, sanitize, check, and reset. Recommended cleaning supplies are listed in a Quick Start Guide along with a list of frequently touched surfaces should be cleaned regularly.
Hosts who are unable to commit fully to the cleaning protocol can choose to opt into a new feature called Booking Buffer, which provides a longer vacancy period between stays for cleaning. Reservations will be automatically blocked during that time frame, currently set at 72 hours in the US.
Are hosts actually required to follow the cleaning protocol?
Currently, no. Because the pandemic's impact differs from region to region, country to country, Airbnb hasn't required compliance with the protocol. But Kim points out that it's something that many hosts have been embracing.
"They want to know how to comply with what (experts) are saying," Kim said. "It's something that our hosts have been looking for."
Hosts who do commit to the protocol get a special badge on their listing.
For Jared, an Airbnb host with properties in Palm Springs and Los Angeles, the guidelines and instructions listed are the same as what the professional cleaning companies he hires already follow, though he hasn't completed the online quiz to score his badge.
"They have been doing everything that's on the protocol list even before the pandemic," Jared said. "It's nice to have the stamped seal of approval, but we were pretty much doing that stuff anyway."
Jared said he hasn't had any guests show concern over him not having the badge on his listings, but they are more concerned with what people will be coming to the property while they're staying.
"Before the pandemic, people would ask where to eat. Now they're asking if anyone has access to the home, if it's private, if it's secured, and not for any other reason than they just don't want random people showing up and infecting them," Jared said.
He even tells his guests what days and times the gardener and pool cleaner come so they are aware and plan accordingly.
MORE: Skip the tent and hit up these rentals near national parks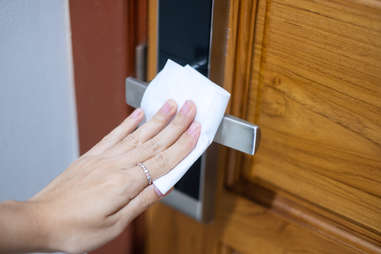 What about the hosts who aren't following the protocol?
Nate, a Portland, Oregon-based Airbnb host who rents out rooms in the home he occupies, hasn't committed to the enhanced cleaning protocol. He does, however, maintain an intensive cleaning routine on his own.
"I just clean the house extra well," said Nate. "I bleach down handles and stuff like that, and I just put a little bit more attention into it than maybe I was before... not that it was filthy."
March 11 is the day Nate said things started to change for the worse due to the pandemic, with the hospitality industry as a whole being impacted negatively.
"My Airbnb picks up around mid-March and April, and kind of rolls into the summer," Nate said. "I had pretty much all of April booked at that date, and within three days all of my bookings were gone."
Since June however, Nate said he's been slammed with bookings resembling last summer. Pre-pandemic, Nate allowed guests the option to stay on the same floor as him or rent the private upper level of the home. Now, only the top level is available, thus preventing person-to-person contact as much as possible.
MORE: These are the dreamiest rentals on Airbnb
What can guests do to protect themselves?
Before traveling anywhere, check with the local guidelines and see what health authorities are saying. Since the effects of the pandemic are at different phases around the world, it's imperative to know what you're headed into.
Communicating with the host directly is another way to take the temp on where you're landing.
"Ask the host questions, like what steps they're taking to make sure that the place is clean," Kim said. "They can look at the platform and look for homes that have adapted the enhanced cleaning protocol."
Jared said the best thing guests can do to protect themselves and others from contracting the virus is to treat the home as their destination and to limit their time spent outside of their rental (having a pool helps).
Guests can also take it upon themselves to clean the area before settling in. Most Airbnb properties have cleaning supplies on site, but it doesn't hurt to include disinfecting wipes on your list of supplies.
"It's a good idea to clean common surfaces if the person has not been assured that they've already recently been cleaned just to try to minimize the risk of getting it on your hand and touching your face and getting infected that way," said Dr. Scott Weisenburg, infectious disease specialist and director of the Travel Medicine Program at NYU Langone Health, in a previous interview regarding hotel safety.
The Centers for Disease Control also suggest cleaning frequently touched surfaces (even in your own home). You can find detailed information on recommended cleaning practices here.
Kim said 94% of all Airbnb guest reviews indicate satisfaction with cleaning, scoring it at four or five stars after their stays. But if it'll give you more peace of mind, it may be a good idea to wipe down frequently touched surfaces yourself upon arrival at your Airbnb. Focus on things like doorknobs, handles, and remotes.
MORE: These New England rentals are peak summer vacation destinations