How to spend nothing but Bitcoin on your next vacation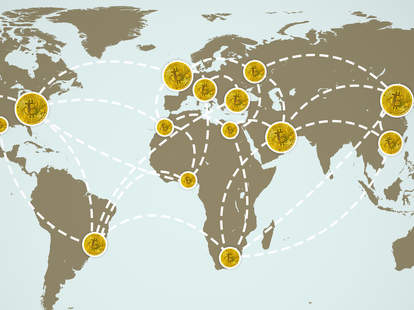 You don't need to know how Bitcoin works -- it's pretty complicated, actually – to understand that it has real-world functionality. In fact, the cryptocurrency cuts out the hassle of bank tellers, transaction fees, or currency conversions. Just think about what that means for traveling abroad: No more gouging exchange rates, no more mental math on prices, and no more worries about having your wallet full of cash stolen. Basically, Bitcoin is the techie version of traveler's checks, except it's not synonymous with fanny packs and high socks.
As Bitcoin becomes further accepted all over the world, the currency will make traveling a whole lot easier. Here's how you can spend your next vacay without ever spending a dime or dollar bill -- just good ol' Bitcoin.
Air Travel
Simply Travel -- This travel agency features more than 300,000 hotels, as well as car rentals and flights.
Travel for Coins -- We don't know what's in it for this site, but it allows you to choose any flight found on Expedia, and then simply use it as a middle man to pay in Bitcoins.
BTC Trip -- Appropriately, this site's slogan is, "flying with Bitcoins". Because you fly and pay in Bitcoins.

Train Travel
Cheap Air – The California-based travel agency was the first U.S. travel site to accept Bitcoin; use the cryptocurrency to buy flights, book hotel rooms at more than 200,000 hotels worldwide, and even purchase Amtrak Railway trips.
Private Charter Flights
Jetvizor – If your cup runneth over in Bitcoins, why not arrange for a private jet or helicopter charter?
Space Travel
Virgin Galactic – Your next to trip to space can appropriately be paid for in the currency of the future. Because Martians probably think pennies are stupid, too.
Frequent Flyer Points
PointsHound -- Earn frequent-flyer miles from 12 different providers at more than 150,000 hotels around the world.
Fancy Cars
Miami Exotic Car Rentals -- Exchange Bitcoins for a spin in anything from an Audi R8 Spyder to a Bentley. Which will probably cost you quite a few Bitcoins.
Hotel Accommodations
Expedia – The fact that this travel giant jumped on the Bitcoin bandwagon legitimized the currency as a viable travel option. However, for now you can only book hotels.
MGM Resorts International – 15 properties in Nevada, Mississippi, and Michigan are waiting for your Bitcoins.
The D Casino Hotel and Golden Gate Hotel & Casino in Las Vegas, NV -- Pay for rooms in Bitcoins directly.
The Holiday Inn in Park Slope, Brooklyn – This hotel caters to a lot of Europeans, and has begun accepting Bitcoin, claiming that if it goes well they'll roll it out across more locations. 
 
Non-Hotel Accommodations
9flats – Basically the European AirBnb, the site lets you rent from 121,607 different homes worldwide.
Travel Keys – Book any one of this site's 5,000 super luxurious villas in 75 exotic destinations.
Travel Services
Bitcoin ATM Map – This interactive map shows you where to find the closest Bitcoin ATM, which will instantly fill your digital wallet with digital money.
Bitcoin.Travel and Spend Bitcoins – These websites try to keep up with the ever-growing number of Bitcoin-friendly businesses, bringing you searchable maps of pretty much anything you're looking to pay for in Bitcoins – from restaurants and bars to bike rentals and spa treatments.
Gift Cards
eGifter – Buy gift cards with Bitcoins; brands available include American Airlines, BedandBreakfast.com, Carnival and Celebrity cruise lines, Hyatt hotels and a Global Hotel Card from Orbitz. Food and gas are also available.  
African Safaris
eTrip Africa -- Take a specialized safari or trek across Africa without ever touching a Rand.
Luggage
Tortuga Backpacks – Claiming to allow you to bring everything you need without having to check a bag, tortuga backpacks are designed "for long-term, urban travelers". Whatever that means.
Guerilla Packs – These beastly backpacks, which can fit the better part of your closet, are meant to be durable and versatile, and, most of all, super affordable.
Apparel
HAVAIII – Get decked out in super stylin', travel-inspired surf gear without having to weigh yourself down with change.
Flight Accessories
The Window Pillow -- These suction-cupped pillows attach to windows, or easily wrap around bags for maximum portability. Traditionalist? They also unzip into U-shaped neck pillows.
Gear
Mountains Plus -- Bitcoin finally forays into the outdoor gear world with Mountains Plus, the first outdoor retailer to accept the currency.   
Sophie-Claire Hoeller is Thrillist's über-efficient German associate travel editor, and doesn't reaaallly understand Bitcoin. Follow her @Sohostyle