The Best Way to Celebrate America in 2018: Eat at an Immigrant's Restaurant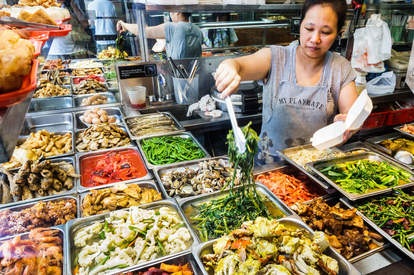 A few weeks ago, I went to Jackson Heights, Queens to watch the World Cup. My friends and I packed into a booth at Pollos A La Brasa Mario, one of the neighborhood's many Colombian restaurants, to see the Selección Colombia take on Poland. Everyone, myself included, was wearing a Colombia jersey -- most of them, like mine, were knockoffs. Every TV in the place was set to Telemundo. No one was speaking English.
It's hard to overstate how much restaurants like this mean to me. I spent the hour-long journey there reading about the child separation crisis at the border and the president's plans to deport as many people as possible. My mood instantly brightened once I saw the menu, which was full of food I grew up eating but never learned how to cook. The waitress addressed everyone at our table in Spanish, even my gringo friend who was just tagging along and had no idea what she was saying. The waitress called me "amor," even though we'd never met and it's possible we'll never cross paths again. Everyone was happy, even though Colombia was playing like shit. It was a brief respite from every terrible thing that's happening in this country. For a couple of hours there, it felt like I wasn't even in this country.
I'm not saying that I stepped into a restaurant, ate a bowl of oxtail sancocho -- a hearty stew with potatoes, plantain, and the aforementioned oxtail -- and forgot every piece of bad news the world was churning up. But for the 95-or-so minutes of the game and the time it took us to get our checks, I remembered it's still possible to feel good about the world. And I kind of felt like I was at a restaurant on the beach in Cartagena, where for less than $30 you can get a bowl of sancocho, a fried red snapper -- with the head still on it, of course -- and a basket of fried plantains.
Of course I'm going to feel transported by the food and the sounds and sport of my country of birth. As an immigrant, I try never to take that scene for granted -- certainly not at this time of year. As a journalist covering immigration, I'm aware of how dismal this national moment feels, especially to the two-thirds of Americans who oppose splitting up the migrant families arriving at the Mexican border. As birthdays go, this one could definitely be more festive.
So for this Fourth of July, if you want to support immigrant communities? Support immigrant restaurateurs, the smaller the better. Don't be like Kirstjen Nielsen and go to a Mexican restaurant owned by Todd English, of all people (also, don't be like Kirstjen Nielsen, period). Oh, and tip well. Some of that money goes to the busboys and the cooks and all the people whose work you don't see. You'll be doing more than you may realize -- and, to boot, getting a great meal out of it.
In a political time, even food is politics
Jackson Heights is more than Colombian restaurants. It's one of the most diverse neighborhoods in New York City, and thus, in the world. Nearly 60 percent of its 166,000 residents were born in another country. A 2011 report by the New York Daily News found that immigrants from 51 countries live in the three-block span from 83rd to 86th streets. Some experts estimate that people in this neighborhood speak some 167 languages.
Earlier this year, United States Citizenship and Immigration Services, the agency that handles immigrant affairs like naturalization, removed a section about fulfilling "America's promise as a nation of immigrants" from its mission statement. Even if we're no longer a nation of immigrants at the policy level, Jackson Heights still is. As immigrant communities have increasingly come under attack by the federal government, the people who call these ethnic enclaves home now find themselves at risk. In turn, local restaurants and bars, places that were once simply reminders of a country left behind, have become hubs of public life, of safety.
All over the country, immigrant restaurant owners are taking it upon themselves to stick up for immigrant communities.
Giving people a place to gather and feel like they're at home -- in a country that doesn't want them to be here, much less to feel at home -- is a political act in and of itself. Even if stepping into a Colombian restaurant makes me forget about the news for a few hours, immigrant communities can't insulate themselves from politics. All over the country, immigrant restaurant owners are taking it upon themselves to stick up for immigrant communities in whatever ways they can.
Last month, the owner of Terraza 7, a music venue in Elmhurst, Queens, campaigned for Alexandria Ocasio-Cortez, a congressional candidate whose platform includes abolishing Immigration and Customs Enforcement.
On the other coast, one of the owners of the Los Angeles-based Oaxacan restaurant La Guelaguetza, which is known for its mole, started a GoFundMe campaign to hire Mayan interpreters for Central American migrants who have been detained at the border. In 2017 the restaurant was one of many establishments across the country that shut down for a day in support of immigrants. "Our father and mother came to this country to pursue the American dream, and that dream should continue to live on in our community," the restaurant's co-owner Bricia Lopez told the San Bernardino Sun at the time. Before Bricia's mother, Soledad Lopez, opened the restaurant in 1994, she imported and sold traditional ingredients like tlayudas and chapulines -- grasshoppers, which are very good -- to the Oaxacans in LA.
Osha Thai Restaurant, San Francisco

| Justin Sullivan/getty image news
In February 2017, New York had a food-focused protest of its own, with more than 1,000 Yemeni-owned businesses shutting down in protest of the Trump administration's first travel ban, which barred people from seven Muslim-majority countries from entering the United States. Yemen Café, which is best known for its lamb stew and its huge portions, shut down both its Brooklyn locations in solidarity.
My most recent visit to Yemen Café happened to fall on Eid-al-Fitr, the last day of Ramadan -- and thus the end of a month of fasts. My friends and I were the only people in the restaurant who weren't celebrating and the only ones not speaking Arabic, yet we felt no less welcome. While we waited for a table, the waiters greeted regulars by name.
Zaid Nagi, the vice president of the Yemeni American Merchants Association, told me that the restaurant remains an important gathering place for Brooklyn's Yemeni community -- but that most customers aren't even Yemeni anymore. After the travel ban was announced last year, business at Yemen Café spiked, one restaurant worker told the New York Daily News. A food collective called Breaking Bread NYC launched a Middle Eats Food Tour, a restaurant crawl that stopped at five local restaurants including Yemen Cafe and benefitted both the restaurants and the Council on American-Islamic Relations.
Restaurants are where migrants join (and propel) the American economy
For many immigrants, working in food service is a way to get on your feet after arriving in a new country where you don't know the language. Sid Nassir, one of the current owners of Yemen Café, told Eater that Yemeni immigrants used to come to the restaurant for work. "Anybody who came from Yemen, the first thing they did was come to the restaurant," Nassir said, "and my father would help them out, get them a job -- there wasn't this big of a community back in the '80s."
When my parents immigrated to the U.S. from Colombia, my dad's friend got him a job at a local pizza place. I wouldn't call it a hub of cultural activity by any means -- the joint was so filthy that, after a week of working there, my dad told me he'd rather order Dominos than feed us anything that came out of that kitchen. My dad doesn't work in food service anymore, but he still talks about how much fun it would be to start up a Colombian restaurant of his own.
Even if your host or server isn't an immigrant, chances are your busboy or dishwasher will be.
Nina Wong, the co-owner of ChinDian Cafe (soon to be ChinDian Kitchen) in Minneapolis, immigrated to the States at the same age I did. Unlike me, her family started out and stayed in food service. Wong, whose family immigrated from Vietnam in 1979, started helping out in the family's Chinese restaurant when she was just 14 years old.
"My parents were merchants in Vietnam," Wong tells me. "They pretty much left everything behind and had to start all over again. When we came here, we had nothing. So what do you do? You have to work -- and work hard."
Wong's restaurant, which she opened in 2005 under the name East River Market, reflects both her personal story and Minneapolis' growing diversity. After meeting her husband, Thomas Gnanapragasam, who immigrated to the US from Malaysia, she changed the name to ChinDian Cafe and the menu to a medley of Chinese and Indian dishes.
"I put a little bit of Vietnamese spring rolls and noodle salads on the menu, some Chinese items, some of his Malaysian items, some of his Indian spices," Wong says. "It's not really a fusion of foods. It's a fusion of us, of who we are. And that's what makes it interesting."
About 22 percent of US food service workers are foreign-born, a 2017 study by the Pew Research Center found. Roughly half of them are undocumented. In big cities like New York or Los Angeles, that figure is even higher. Even if your host or server isn't an immigrant, chances are your busboy or dishwasher will be.
Thai Food Truck, New York

| Jean-Marc CHARLES/gamma-rapho/getty images
"In major cities, you're talking about a restaurant workforce that is maybe 75 percent foreign-born, and maybe 30 to 40 percent undocumented," Saru Jayaraman, a labor activist and the founder of the worker group Restaurant Opportunities Center United, told the Washington Post. The fact that immigrant workers pack restaurant kitchens across the country is sort of an open secret in the industry.
In a 2015 interview with SiriusXM, the late Anthony Bourdain said that "every restaurant in America would shut down" if Trump followed through on his promise to deport even a fraction of the estimated 11 million undocumented workers living in the States. Put simply, an America without immigrants -- even without just the undocumented -- would be an America that goes hungry.
If you want to celebrate the best of America today, start by remembering and noticing the workers all around you who migrate over great distances to fix your perogies or dim sum or enchiladas or udon or chicken masala or shawarma or injera or fish and chips or sancocho. When the time comes, stop by your local Colombian restaurant to watch the World Cup, or pop your head in at a Yemeni restaurant on Eid. But don't wait for a special occasion. The struggle for immigrants is ongoing. And everyone else will be needing some supper soon.
Sign up here for our daily Thrillist email and subscribe here for our YouTube channel to get your fix of the best in food/drink/fun.
Gaby Del Valle is a reporter focused on immigration. She was previously a staff writer at The Outline. Her work has appeared in The Daily Beast, VICE, Teen Vogue, and other places. She tweets too much.