How to Create a Perfectly Healthy Meal at an Airport Newsstand
We've come a long way since the 1980s, when eating at the airport generally meant grabbing something out of a snack machine or, if you were REALLY lucky, a burger from some pioneering fast-food chain with an outpost IN (whoa!) the concourse. Today's airports, however, have celebrity chefs, first-rate bars, and so much good food we ranked it to make your next trip that much easier.
But what happens if you don't have time to sit down for Wolfgang Puck's finest airport fare? Or if you're in a concourse where the best options are still stale pretzels and a lonely looking hot dog at the "snack bar?" In that case, your best move is to pick up something quick at the newsstand and/or gift shop. And there's no WAY you can make a decent meal there, right?
Not so fast. Believe it or not, it's totally possible to put together a balanced meal out of snacks sold next to I Heart South Dakota sweatshirts and this month's copy of ¡Hola!. We asked a dietitian which specific foods we should look for to do just that, and here's what she recommended.
First, what is a balanced meal?
So glad you asked… our nutritionist told us a meal should be -- for persons intending to maintain their current bodyweight -- about 600-800 calories for men and 500-700 for women. This, of course, depends on your body size, muscle mass, and other things that make us all special.
The calorie breakdown should be about 45 percent carbs, 30 percent protein, and 25 percent fat, and the meal should contain about seven grams of fiber. So, knowing all of this, here's what our expert suggested you pick up en route to your gate, with some lower-calorie alternatives thrown in for good measure.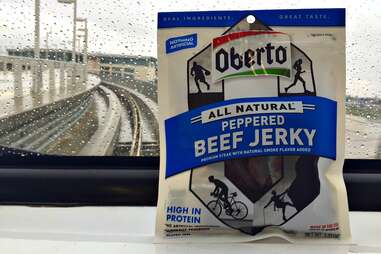 PROTEIN
Beef jerky
Price: $7.99
Calories: 240 per 3.25oz bag
Protein: 36g
Carbohydrates: 6g
Fat: 1g
"It's a good idea to eat protein first to keep you sated and not indulging in fun stuff like candy and other hi-cal snacks. Jerky is great, although it is high in salt."
OR

Hard boiled eggs
Price: $1.99
Calories: 120 for 2 eggs
Protein: 12g
Carbohydrates: 0g
Fat: 8g (3g saturated fat)
If you're a vegetarian and/or want a lower-salt option to jerky, these are a great source of protein at a cheaper price." Pair them with some high-fiber crackers to add good carbs."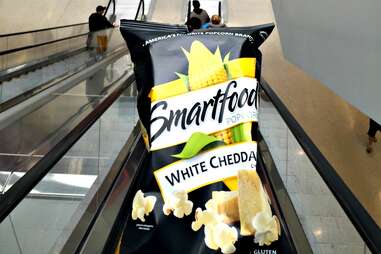 CARBS
Smartfood popcorn
Price: $2.29
Calories: 320 per package
Protein: 6g
Carbohydrates: 28g
Fat: 20g (4g saturated)
Fiber: 4g
"Research shows an inverse relationship between high fiber intake and a lower risk of major diseases. Look for snacks with at least three grams of fiber and be sure to consume 7-10 grams per meal."
OR

Pop chips
Price: $2.99
Calories: 120 per bag
Protein: 1g
Carbohydrates: 19g
Fat: 4g
Fiber: 1g
A lower-calorie, lower-carb alternative to Smartfood. Less fiber but also fewer calories.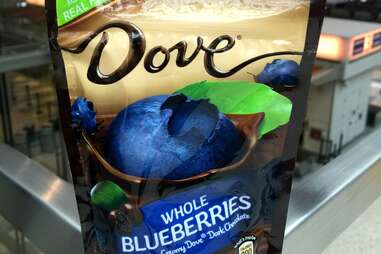 DESSERT
Banana
Price: $1.29
Calories: 105
Protein:1g
Carbohydrates: 27g
Fat: 0g
Fiber: 3g
"Bananas are available at most airport newsstands and are not only a healthier way to end your meal, but also high in potassium and other vitamins."

OR (if you MUST have something sweet)

Dove chocolate covered blueberries
Price: $6.99
Calories: 200 per serving
Protein: 2g
Carbohydrates: 28g
Fat: 10g
Fiber: 2g
"This is the best alternative to candy if you've got a sweet tooth. For the antioxidants, obviously. Kidding!"
DRINK
Bottled water
Price: $2.99
"No nutritional info for water, but a zero-calorie way to wash down all of that popcorn."
OR

Fruit juice
Price: $3.99
Calories: 250
Protein: 2g
Carbohydrates: 55g
Fat: 0g
Fiber: 0g
If you skipped the aforementioned banana, this is an excellent way to get your vitamins -- as long it's fresh juice and not made from concentrate. Pro tip: "I hate to waste food, but these things are loaded with sugar -- only drink half of it."
Putting it together
If you take our top suggestion from each (jerky, smartfood, banana, and water) your meal looks like this:
Cost: $14.56
Calories: 665
Protein: 43g
Carbohydrates: 61g
Fats: 21g
Fiber: 7g
And that breaks down to 48% carbs, 35% protein, and 17% fat. Yes, slightly higher in carbs and lower in fat than recommended but you can fix that number by adding a slice of cheese (80 calories, 7g of fat) or opting for the blueberries.
The key takeaway though is that even if you DO have time for a meal at the airport, this snack menu is probably healthier than whatever you'd order at a fast-food joint. And much more appealing than that lonely hot dog at the snack bar.
Sign up here for our daily Thrillist email, and get your fix of the best in food/drink/fun.

Matt Meltzer would like the thank security at Sacramento International Airport for not asking why he was photographing Pop Chips on a baggage carousel. Those and other outtakes are on his Instagram @meltrez1.