Fly to Europe for Half the Price
Gurgen Bakhshetsyan/Shutterstock
There are two types of people who book flights online: those who do one search and, if the price is right, buy the ticket. And others, who spend hours looking at every combination of round-trip, one-way, bizarre connection possible in order to save $37.

That second group will do an average of 40 searches when buying a ticket, according to experts. Granted, not all at once, but still, that's a ton of time and effort.

And it's why the three German mathematicians who recently launched the airfare search engine Tripdelta think they're on to something. Using a proprietary algorithm, their site searches not only traditional flights but also "hidden routes" in an attempt to save travelers both hours of searching and huge savings.

What's a hidden route?
Good question. We've talked about them here before, but essentially, a hidden route is one that involves two or more one-way flights, often on different airlines, that connect in a common (or "hidden") airport. For example, a popular flight from San Francisco to Berlin connects through London Heathrow, at a cost of about $2,400. Tripdelta routes you through Olso and Stockholm, and costs you about $600. According to Tripdelta co-founder Nikolas Langes, that's because normal search engines don't examine EVERY possible combination of flights to get you there, while their's does.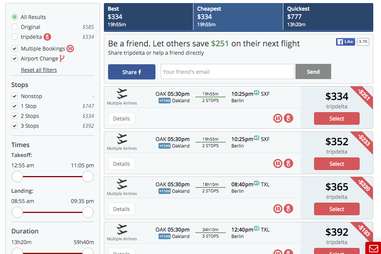 Wait, aren't all of these flights insanely long?
Some flights are long, yes. And some have long layovers and/or multiple stops. But not all of them, and if you're the type who doesn't mind killing ten hours in Stockholm then the savings may be worth it. Because the flights are often unconnected one-way bookings, Langes says that many of his customers often opt to extend those layovers and explore someplace new.

Which airlines do they search?
All of them. Like even Southwest, which is famous for not playing with online travel companies. It also scans smaller regional European carriers, and that can mean serious savings on connecting flights once you get across the pond.

Is this a European-based site or does it work here?
It works all over the world. In fact, Langes says that Sydney-Vancouver is actually one of the most popular routes they've sold, and that customers have also reported cheaper flights to Asia too. That said, don't expect dramatic savings on US domestic flights, Langes warns, as those fares are are already pretty low. It's still worth a search before your next trip though, to play it safe. Just maybe not 40 of them.
Sign up here for our daily Thrillist email, and get your fix of the best in food/drink/fun.
Matt Meltzer is a staff writer for Thrillist. Follow him on Instagram @meltrez1.