How to Get a First-Class Upgrade Without Paying for It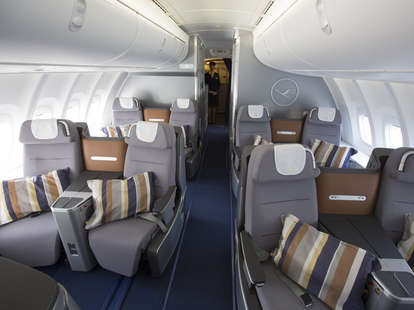 There may be no greater feeling than sitting in your cramped coach seat, when a flight attendant walks up to you with a boarding pass and says, "Excuse me, you've been upgraded." That walk up the aisle is a giant middle finger to that guy who just reclined his seat, the crying babies, and the people who should have bought two seats, as you think to yourself, "So long, SUCKERS! I'll see you on the ground in Sacramento!"
But how can you get that magical feeling without having to shell out double the cost of your ticket to sit in the front? We talked to Alex Matjanec, CEO of MyBankTracker, a company who recently conducted a survey of over 3,000 passengers who'd received free upgrades to see what methods they'd used. He combined that with observations from his bi-weekly travel schedule and gave us these nine tips for snagging a first-class upgrade without having to pay first-class prices.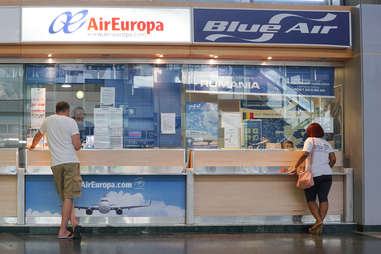 Book through the airline
KAYAK, Orbitz, and other travel booking don't charge booking fees to the traveling public, but somebody's still gotta pay that gnome, and that somebody is the airlines. Since the travel site gets a cut of every ticket they sell, the airlines prefer customers who cut out the middle man. In almost every case you can use a travel site to find the best fares, and then go to the airline's site and buy from them directly for the same price. Then, when your reservation pops up to airline agents, it'll show that you booked directly through the airline, and you'll be treated like a loyal customer rather than a bargain-hunting Internet stalker. Even if you totally are.
Check your emails
Another reason to book through the airline: promotional emails. They'll be clutter 90% of the time, but when a flight is overbooked, airlines will email people who booked through them with some pretty aggressive discounts for First Class upgrades. Check your "promotions" folder (or mark the airline's emails as non-promotional) regularly to see if your flight is among those offering them.
Be loyal to one airline
Much as we like to treat airlines with the same soulless disregard they treat us, having some brand loyalty can actually go a long way towards snagging upgrades. Fly enough with one airline and you'll find yourself smack in the middle of their elite flier groups, aka the people you see on those "upgrade wait lists" at the gate. On flights that aren't completely booked, you'll get bumped up without even having to request it.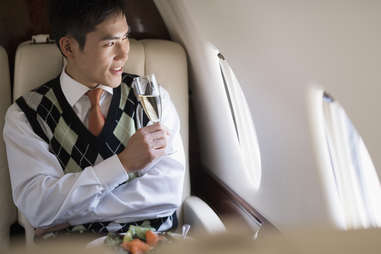 Dress up
Think of first class as a really, really small version of a trendy nightclub. They've got an image to maintain, so showing up in your Denver Nuggets throwback jersey and cargo shorts isn't helping your case. That's not saying decking yourself out in haute couture is going to land you in the front of the plane, either. But looking the part -- whether it's putting on a suit or just not wearing gym clothes -- could help your chances.
Volunteer to go on later flights
If you're the type of person who doesn't mind killing a few hours at the pre-security Dunkin' Donuts (or, more accurately, the airport bar) volunteering to go on a later flight when yours is overbooked will often land you in first class. Though most airlines will compensate you with a voucher for future travel, a few will go above and beyond and put you in first class on your later flight. Just be sure to take it easy on those $2 airport doubles, and above all else act like you belong there.
Fly on your birthday, or with a cast
Believe it or not, having a physical impairment that can be made a little better by bigger seats and free drinks can get you a sympathy upgrade. So can flying on your birthday. Just don't lie about either. First because you had to enter your birthdate when you bought your ticket, so they know when you're lying. And second, faking an injury to fly in first class officially makes you the worst person on the plane. Even if you don't recline your seat.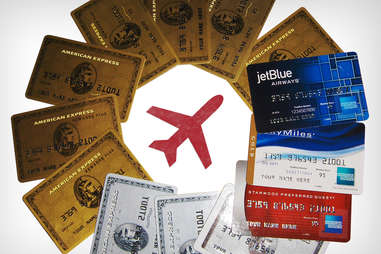 Use a travel rewards card
We all have that friend who posts pictures from Jamaica every weekend and brags about paying for it all with "points." And how does a guy who only flies for free rack up so many frequent flier miles? Travel rewards credit cards, of course! Where for a small annual fee, you'll get frequent flier miles for every dollar you spend, hotel you stay at, and airline ticket you book. And many offer enough bonus miles to get a free ticket as soon as you sign up.
But which one is the best? Well, here is a handy guide to the travel cards with the best perks.
Travel on off-days/seasons
So when are those flights that don't begin with the dreaded "we are completely full" announcement? Typically Tuesday, Wednesday, and Saturday. Also, flights that leave at dawn or just after work (5-6pm), and red-eyes.
The best times of year to fly if you want to maximize your chances of an upgrade are:
The month between Thanksgiving and Christmas
The week after New Years
Late-August
Mid-March to Mid-May
Get to the airport really early, or really late
If you're the kind of person who enjoys a good game of "Race the TSA Line" show up at the airport with just enough time to get to your gate (and check your bag, if you're human). This greatly increases the chance that you'll not have an assigned seat on perpetually overbooked flights. You may then be moved to a later flight, where you can request a first class seat for the inconvenience.
On the other hand, if the stress of an almost-missed flight is just a little too much excitement for you, show up crazy early and chat up the gate agents. The more rapport you have the better chance they'll remember you when there are a couple extra seats in the front of the plane.

Sign up here for our daily Thrillist email, and get your fix of the best in food/drink/fun.
Matt Meltzer is a staff writer with Thrillist. Follow him on Instagram @meltrez1.