Well, it's June. And hey look at that, the Cavs and Warriors are in the Finals, whodathunk. Though a half-bright third grader could predict the end of the NBA season, predicting airfares is a bit harder. Especially when trying to plan where to go this summer.
But you know who CAN predict airfares? Hopper, an app that amalgamates Elias Sports Bureau-quantities of data to forecast airfare behavior with admirable 95% accuracy. Or just better than Steph Curry's three-point percentage. While airfares overall trend upward this summer, some select destinations -- both domestic and international -- are expected to drop this month.
On the domestic side, Minneapolis -- one of America's next great travel destinations and a low-key awesome place to be in the summer -- tops Hopper's list of cities with big price drops, swooping 23% down to an average of $231 round trip. If you're hoping for another parade in Cleveland, average airfares there are also expected to drop 20%, to $217. Miami and Orlando will also see huge price drops, if you can handle Florida in the summer. And even that bastion of premium airfares Orange County, California, is expected to drop 20% to $212.
Looking to get out of the country? Tokyo airfares should ease to a manageable $600 in June, down 35%. Montreal's a great winter city that gets even better in the summer, especially when airfares are down 30% to $237. Also in the top 10 are four Caribbean destinations, including St. Martin and its sketchy "dear lord are we really going to land on all those people????" airport runway.
Here's the complete list, with discounts and average ticket prices:
DOMESTIC
1. Minneapolis 23% ($231)
2. Baltimore 22% ($222)
3. New York City 21% ($284)
4. Dallas 21% ($229)
5. Orlando 21% ($189)
6. Los Angeles 20% ($239)
7. Miami 20% ($232)
8. Cleveland 20% ($217)
9. Seattle 20% ($215)
10. Orange County, California 20% ($212)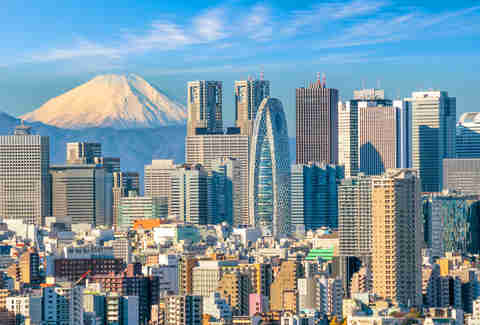 INTERNATIONAL
1. Tokyo, Japan 35% ($600)
2. Guadalajara, Mexico 35% ($281)
3. Montreal, Canada 30% ($327)
4. Liberia, Costa Rica 29% ($561)
5. St. Martin 29% ($596)
6. San Jose del Cabo, Mexico 29% ($309)
7. Athens, Greece 27% ($728)
8. St. Thomas, US Virgin Islands 27% ($483)
9. Hamilton, Bermuda 27% ($337)
10. San Juan, Puerto Rico 26% ($356)
If you want to take advantage of these price drops, you can make checking airfares part of your morning routine along with your 3-mile run and cup of fair trade coffee. Or you can download the Hopper app, enter your desired destination and dates, and wait for them to alert you when prices are dropping. Just depends on how much of a morning person you are.
Much like a 3-1 series lead, nothing about any of these fares is guaranteed. And you may end up dropping a ton of cash if you had your heart set on watching planes take off from the beach in St. Martin. But you might as well keep watching, since the law of averages say some of these picks must be dead-on.
Sign up here for our daily Thrillist email and subscribe here for our YouTube channel to get your fix of the best in food/drink/fun.