Oh, hey there, summer vacation. You just creeped up on everyone while we were watching the NBA Playoffs and totally not even thinking about the fact that coats are obsolete and beach bodies are a thing again, almost. Time to start thinking about where to join the Knicks on vacation.
Airlines know you're itching to travel, so average ticket prices are still expected to rise over the next couple of months. But some choice destinations are actually going to see fares DROP during the month of May. And now's your chance to start watching them to make sure you get in while the getting's good.
Helping you along the way is Hopper, an app that takes more data than any reasonable human being would care to crunch, crunches it, and predicts airfare behavior based on historic data with a purported 95% accuracy. Before you ask, no, it doesn't also have an app for the Kentucky Derby.
The big news for May? Flights to Nashville, one of the best American cities to visit for a weekend -- or any length of time, truly -- are expected to drop nearly 27% in May. Denver is still dirt-cheap too, with a current average ticket price of $151 expected to drop another 26% in May.
If you want to get out of the country, the Caribbean is your spot: Half of the 10 biggest decreases are going to Caribbean destinations, led by Barbados where fares will almost be cut in half. Madrid, London, and Paris are also expected to get a lot cheaper.
Your complete lists (with ties broken by the most expensive airfare):
DOMESTIC
1. Indianapolis, Indiana (27%)
2. Nashville, Tennessee (27%)
3. Denver, Colorado (26%)
4. Boston, Massachusetts (25%)
5. Oakland, California (25%)
6. Wilmington, North Carolina (25%)
7. Baltimore, Maryland (23%)
8. New Orleans, Louisiana (23%)
9. Ft. Lauderdale, Florida (22%)
10. Dallas, Texas (22%)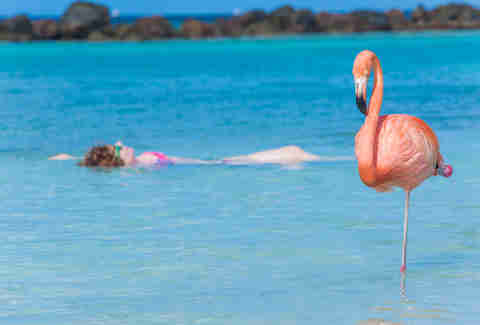 INTERNATIONAL
1. Barbados (45%)
2. Cancun, Mexico (38%)
3. Aruba (35%)
4. Liberia, Costa Rica (34%)
5. Antigua (34%)
6. Puerto Vallarta, Mexico (34%)
7. Punta Cana, Dominican Republic (31%)
8. Madrid, Spain (30%)
9. Paris, France (30%)
10. London, England (30%)
So how do you catch these great fares while they're falling? If you love to procrastinate you can run a search on them every day when you should be doing work, and try and catch them at rock bottom. You can also download the Hopper app and enter your desired destination and date, and it'll alert you when prices begin to decrease. Whatever's clever.
Of course, none of these fares is as assured as LeBron James in the NBA Finals, and you could still spend the month waiting for a great fare that never drops quite far enough. But stay tuned and keep watching, because you might end up on a trip you didn't think you could afford.
Sign up here for our daily Thrillist email and subscribe here for our YouTube channel to get your fix of the best in food/drink/fun.