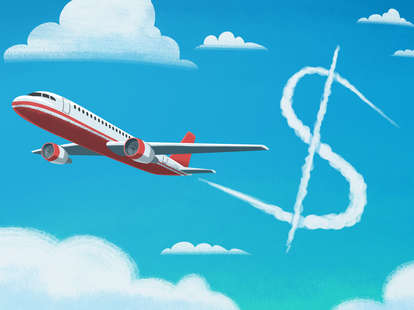 Image by Jason Hoffman for Thrillist
Image by Jason Hoffman for Thrillist
Bargain-bin airfares in 2020 made it difficult to resist travel during Pandemic Stage 1—and, fortunately or unfortunately, those discount days seem to be largely over. According to Nerdwallet, 2021 airfares were about 20% higher than 2020, and prices are predicted to grow and grow through 2022 (like everything else).
But deals are still out there, though not necessarily through your big-name search engines. Once you see that Orbitz, Kayak, and Expedia all come up dry, turn to one of these nine frugal finders to nab that budget getaway to brag about.Note: We asked our network of globe-trotting airfare hounds—including professional travel bloggers Elona Karafin and Stephanie Be—for the deepest discount intel. We got some dang good recs to help you find your next mega-cheap flight.
Coolest feature: The "everywhere" feature, where you can literally pick the entire world as your destination and search for the cheapest fares worldwide. You can even browse their interactive map to see different destination prices; it's like a modern (and more savvy) way of spinning a globe and seeing where your finger lands. For travelers who want to get out of town and don't know how far their budget can take them, this feature is invaluable.
"Skyscanner is my number one go-to," Karafin says. Not only is it lauded for showing people everywhere they can go for their budget, the app will also send you alerts when prices for a specific itinerary start to drop. You can also see at-a-glance prices for an entire month, so it's easy to book on the cheapest days if your dates are flexible. "This is why I always suggest you choose your vacation dates before requesting time off," Be says. "Get the best rate, then travel on the best date."
Coolest feature: Layover requests. If you want to see another city for a day on your way to your final destination, you can search for flights with layovers in specific places.
"Say you want to fly to Thailand, with a layover in Hong Kong," Karafin says. "Sometimes it's cheaper to layover in, say Singapore, and you don't know that. But The Flight Deal will show you those kinds of deals exist." It's one of the few search engines that allows you to pick where you want to layover, and allows you to compare layovers in different cities if you don't have your heart set on a specific place. The site also has a newsletter customized to your home airport that sends the best deals.
Coolest feature: Flex watch, which allows you to be as vague (or specific) in your flight search as you want. For example, if you're super flexible with dates and destinations, type in "anytime, anywhere" and wait to see what pops up. Or, if you want to go see your new nephew in Brooklyn—at some point—search "New York, next few months."
We love Hopper because it gives us a heads up about which cities around the world will have dropping airfares in the coming month. It does this with maddening levels of research, analyzing price data from millions of flights to figure out what'll be cheap in the coming weeks. You can sign up for alerts for your chosen dates and destination, and Hopper lets you know when prices are dropping and whether to book now or wait longer.
Coolest feature: Finding airfare loopholes, including "hidden cities flights"—when your intended destination is actually the connection stop of a flight to somewhere else, and you just ditch the back half of that flight. In the Wonka Land that is airfare pricing, it's often cheaper.
Aktarer Zaman, who developed the technology behind Skiplagged, was actually sued by United Airlines at age 22 for exposing their ludicrous pricing schemes, where a flight from Miami to LA with a stop in Chicago was cheaper than a nonstop from MIA to O'Hare. The suit was thrown out, and the era of "hidden city" flight shopping was born. The only catch is that it can't be a roundtrip ticket; airlines have tried to get around this trick by canceling your return flight if you don't complete both legs to the official, printed destination. So you'll need to book your return separately. Airlines hate it, and if you're checking a bag or trying to rack up frequent flier miles, it won't work. But on some routes, savings can literally be hundreds of dollars
Coolest feature: The industrial-fishing-boat-sized net it casts over the world, using more than 600 sources to find flights—about triple what traditional search engines use.
Momondo is the internet's friendly local who stands on the corner directing hapless tourists, asking for nothing in return. The site actually doesn't sell anything and has no affiliation with airlines or other travel partners. Out of its altruistic heart, it searches tiny regional airlines, international budget carriers, and other small outlets the big boys don't. Then it comes up with the cheapest fares a staggering 95% of the time. You can't book through Momondo, but it does give you a handy booking link. Karafin said that, on average, she finds flights there to be $10-15 cheaper.
Coolest feature: Their money-saving coupons. "I searched 'StudentUniverse coupons' online and found coupons for $50 off airfare. And it works," Karafin said. StudentUniverse also has an app that offers coupons for specific destinations, price points, and periods of travel.
You do not need to be a student to use StudentUniverse—but you do have to be between 18 and 25 to book through the site. If you are under 25 (and yes, they do ask for ID) the deals here can't be beat—especially for travel to Europe, according to Karafin. The company buys in bulk and has flight, hotel, and tour deals that are no longer available through other outlets.
Coolest feature: Google's famous "I'm Feeling Lucky" button. Tell Google where you want to depart from, then pick a region on a map (say, South America) and Google will pick a destination for you based on your search history. Creepy? Sure. But Google offsets the creepiness by showing you when flights there will be cheapest.
To find flights, Google uses the same software as Orbitz or Kayak, but at blazing Google speed. Also, like most Google products, it's user-friendly, offering stuff like maps that show airfares to different destinations in a region and monthly calendars with prices listed on each date. It also automatically suggests other airports and travel dates that can save you money, and it has a "best deal" feature that factors in price and trip duration.
Coolest feature: Getting recommendations if you have a general idea but not a particular destination in mind. "You can select 'I want to go to the beach in May' and it'll tell you the cheapest beach destinations," Be said. "If you don't care if you're going to the Greek Islands or the Philippines, it's perfect."
For the indecisive, flexible traveler who just wants to get the hell out of dodge, there may be no better site or app than Fareness. If your only criteria are mountains, by gosh, it'll tell you the cheapest places with mountains. If you're dead set on going to Portugal but don't really care when, it'll show you flight prices for months out. And say you're sick of staring at the same four walls and need to quickly get out of the city—it'll show you the best options for a last-minute weekend trip from your hometown.
Coolest feature: You can curate which specific airports you want to be notified about for flight deals.
A few years ago, American hero Scott Keyes started tracking "mistake fares"—ridiculously cheap airfares as a result of airline booking screw-ups, some of them as dumb as missing zeros or misplaced decimal points. He started an email newsletter to share with his friends the bonkers-cheap flights he was finding, and that newsletter grew into an empire. Today, more than half a million subscribers eagerly await notice from Scott's team whenever they come across inordinately cheap flights, along with instructions about how and when to book. He's saved people more than $1 million and counting. There's a free version, as well as a Premium subscription with special offers available for $39 annually. And although this is an email newsletter, it is blessedly not a spammy one, since Scott doesn't get any commissions from the airlines and is therefore not beholden to their PR people.
Coolest feature: You can book your hotel along with your flight. The site will suggest hotels for you during your search for airline tickets, and you'll find them reliably cheaper as package deals than if you'd booked the two separately. You can book just hotels and/or rental cars through the site, too.
Yes, Hotwire is basically synonymous with the term "flight-booking site," but it's here for a reason: it's an OG that remains a juggernaut. Just choose whether you're searching for round-trip or one-way flights, plug in your departure info, and search to your heart's content. (In some cases, there might be a booking fee, so keep an eye out for that.) You can also check out the site's Hot Rate flights, where the airline and exact departure time are hidden until you buy—but they can save you an additional few bucks, so they're worth considering if your travel plans are of the flexible kind.