Everything You Need to Know About International Driver's Licenses
Where you'll need one, how to get one, when to apply, and all the gritty details.
Travelers, start your engines: You are now entering The [Scenic] Route, a rip-roaring exploration of the world's most incredible international road trips, from lush Rwandan jungles and ancient Peruvian mountains to seaside Irish villages, dreamy Japanese forests, and twisty Romanian hillsides. For more reasons to hit the pavement—plus tips, interviews, and a custom road-ready playlist—cruise over to the rest of our coverage here.
Nothing sounds more free-spirited than leaving the country, hopping in a car, and off-roading through the jungles of Costa Rica or winding through twisty roads in Romania—besides, of course, making sure it's legal to do so. But international road trip adventures, as spontaneous as they may be, come with some required paperwork. The last thing you'll want is to get pulled over in a country where you don't speak the language—and where you're far less likely to charm your way out of a pricey ticket… or worse..
But we're happy to report that getting your hands on an International Driving Permit is actually pretty painless. There are just a few things to consider: Does the country you're going to require one? How and where do you apply for one? And does it also cover motorcycles or other modes of transportation? Adding an International Driving Permit to your arsenal of travel documents—passport, US driver's license, car registration, rental agreement, and the like—will ensure that the only thing you'll need to worry about on your trip is getting a hang of that darn stick shift.
Here's everything you need to know about getting licensed to drive overseas.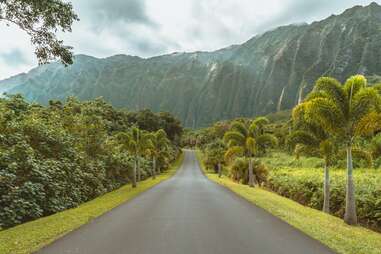 Which countries allow driving with a US state driver's license?
If you're road-tripping through Mexico or Canada, you're in luck: Your state-issued driver's license will definitely be valid here. Inter-country allowance is mainly a matter of translation, so a few English speaking countries in Europe, for example, will also recognize a US driver's license. But there are some exceptions. Ecuador, for example, permits visitors to drive with one for just 30 days at a time. So before booking your airfare and securing a rental car, it's best to treat regulations on a case-by-case basis and check in with the US embassy to determine the requirements for the country you plan to visit.
Some countries, like Hungary and Italy, accept US driver's licenses provided they're accompanied by an official translation document. But for other countries—like Japan, Thailand, South Korea, and Laos—you'll typically need to get an International Driver's Permit (IDP), especially if you're planning to rent a car.
What is an International Driver's Permit?
You'll need to obtain an International Driver's Permit if you plan to drive in a country that does not accept US driver's licenses. Recognized in 150 countries worldwide, an IDP translates your identification information into 10 different languages, so you're covered no matter where you go. If you get stopped driving without one in a country that requires it, you might have to pay some costly fines. And even if the country you're visiting doesn't require an IDP, car rental companies within that country still might for liability and insurance purposes, so it's a good way to get all your bases covered before leaving the States.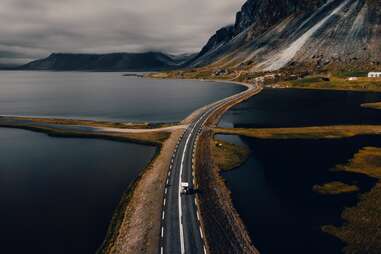 How to apply for and get an IDP
An IDP accompanying a US driver's license can only be issued inside the US. However, you can apply for one via AAA in person, or by mail if you're not able to visit your nearest branch—even if you're already abroad. You'll just need to fill out the IDP application form, then submit it along with two original passport photos, your US driver's license, and a $20 permit fee (if applying by mail, be sure to sign your passport photos and submit a photocopy of your license). If you're planning to drive to Brazil or Uruguay, make sure you check off "Inter-American Driving Permit" on that same application form, as those countries require this variation of the permit. And once you hit the road, be sure to carry both your US driver's license and IDP at all times.
Will your current car insurance policy cover you abroad if you're using an IDP?
Your US insurance policy likely only covers driving within the US or Canada, and obtaining an IDP alone won't exactly help you get coverage elsewhere. So consider signing up for a separate policy with a reputable name in travel insurance, like Allianz. When it comes to renting a car, keep in mind that many companies abroad would prefer to see an IDP—even if it's not required by the country—before handing over the keys. Be sure to research your selected car rental company's requirements before your trip, as well as any coverage you might already be privy to via credit card benefits, ahead of time.
Last but least, be upfront about your plans if you're looking to cross international borders in a rental car. If they allow for this kind of travel, many rental agencies will require you to carry multiple forms of insurance if you're planning to, say, drive from Spain to France or Northern Ireland to the Republic of Ireland.
How long does an IDP last?
Your IDP is valid for a full year following the date of issuance—that means 365 days of road trip adventures around the world. However, keep in mind that the IDP doesn't hold any special privileges of its own apart from your driver's license, so in a country like Ecuador, which allows visitors to drive with a foreign license for 30 days, your IDP will not work on its own beyond that time frame. According to AAA, "even though the IDP/IADP is valid for one year, you must adhere to all local laws. For example, in many countries if you take up residence or employment, you need to obtain a local license." As a rule of thumb, countries recognize IDPs for as long as your tourist visa remains valid.
Is an IDP useful within the US?
The IDP is not a separate driving record, and therefore isn't valid for driving in the US. So if you're caught without your license on your home turf, sadly, your IDP won't save you.
Is an IDP a valid form of ID?
An IDP is a helpful form of identification even if you don't plan on driving abroad, as it breaks barriers in the event you need to communicate your identity with foreign authorities. An extra form of photo ID that includes your personal details, it can serve as a backup if you're ever asked to surrender your passport. Whether or not you can use it to get into a bar, we're not quite sure, but always worth a shot.
What about motorcycles?
Say your ride of choice is a bike. You may think you're slick, but the same rules apply, big shot. Check off "motorcycle" on your IDP application form, present your finished IDP alongside your US motorcycle license, and you should be good to go.