How to Get Outside in a Way That Serves You
Outdoor equity activists weigh in on finding representation and community in Mother Nature.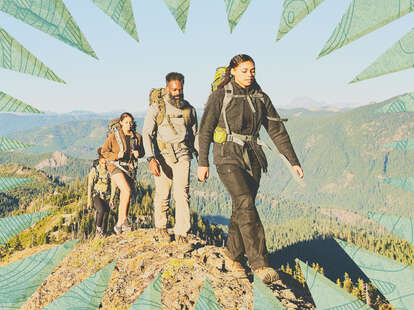 It's time to rethink who outdoors culture belongs to.

| Image by Maitane Romagosa for Thrillist
It's time to rethink who outdoors culture belongs to.

| Image by Maitane Romagosa for Thrillist
I get a special sort of feeling when I see a fellow Black person in a place I didn't expect. Sometimes, that's at a concert. Other times, it's in Nordic countries. More recently, it's been in nature—where thin, white, able-bodied, cisgender, heterosexual, male adventurers tend to prevail.
The feeling is a mixture of many things: surprise, because, despite all expectations, there we are. Safety, knowing somebody who gets it is nearby if any bullshit goes down, as it often does. There's also a fair bit of giddiness, a sense of instant connection (acknowledged via the nod). And there's a tinge of bittersweetness, knowing it's because it so rarely happens that the moment is cause for celebration.
If you're from any group that falls outside of what we typically think of as the "outdoorsy type," you almost definitely know the feeling.
As we collectively unfurl from the fetal position and crawl out of the pandemic, the Great Outdoors seems like the ideal place to seek some much-needed relief and grounding. But for marginalized communities—who have been disproportionately impacted by the past year and a half, whether by the coronavirus or the climax of the United States' long struggle with social inequalities—that reemergence comes with a litany of questions about who can comfortably enjoy and see themselves represented in outdoor culture.
Until recently, the visibility of plus-sized and queer people in the outdoors industry has been virtually non-existent. More than 25% of Americans (about one in four) live with a disability—and yet, holistic accessibility is extremely limited. And while people of color are expected to make up the majority of the US population within the next two decades, we are still noticeably absent in national parks; according to National Park Service data, just 23% of visitors identify as people of color.

Yet despite a culture of outdoorsmanship that often gatekeeps, a new generation of advocates and activists—including trailblazing (pun intended) collectives like Diversify Outdoors, Unlikely Hikers, Hello Ranger, Latinxhikers, and Disabled Hikers, among others—are uniting marginalized outdoorspeople for a common cause: spending time with Mother Nature in a way that embraces and uplifts their communities.
While it's difficult to summarize the complex needs of dozens of disenfranchised communities in as many words, there are ways to make outdoor culture more inclusive for everyone. Whether you're new to hiking and camping and don't know where to start, or you're an experienced nature-lover looking for a community of like-minded adventurers, here are a few ways to make the Great Outdoors a part of your life.
Don't feel like you have to compromise comfort and safety to get outdoors
"All the things you fear when you're going into a remote place are a sort of roadmap for your privilege," says Ambreen Tariq, founder of Brown People Camping and author of Fatima's Great Outdoors. "My biggest fear when I'm outdoors is not a snake. It is not a bear. It's not a spider in my tent. All I'm trying to avoid is a white man attacking me."
One of the most prominent limitations of marginalized outdoorspeople comes down to concerns about personal safety. Past experiences with harassment and bigotry—as well as widespread violence against marginalized people—are always in the back of Tariq's mind, even when she's trying to de-stress in nature. "There isn't, like, a gate you pass through where you can leave all your baggage," she says.
Brad and Matt Kirouac, the husband duo and co-founders of Hello Ranger, experienced similar anxieties during their years traveling the US in an RV. "We didn't hold hands as much when we were on the road because we didn't know [what to expect in] certain areas," Brad says. Negative experiences, like harassment from a group of homophobic strangers during a trip to Wyoming, only reinforced those fears.
It's shitty, but it's true: people in some places will be more accepting of marginalized identities than others. And while that's not okay, it is okay if you stick to your comfort zone in order to feel safe while you enjoy the outdoors
"The thing that gives me the most confidence and comfort in life is familiarity," Tariq shares. "The more familiar I am with a space or setting or community, the more at ease I am. So that does dictate where I end up in life. That does dictate where I go, and the types of risks I choose to take."
Know that your concerns are valid, and never be afraid to set boundaries. If the thought of a solo camping trip out in the wilderness makes you uncomfortable, start small and close to home. Many people don't realize there are plenty of alternatives in their area—state parks, national forests, and national monuments, for example—where they can enjoy nature without worrying non-stop about placing themselves in harm's way.
Matt Kirouac's advice if and when you do decide to venture into the wilds? Try not to let your fear run the show. "There's a balance of going in with mindfulness and self-awareness without suffocating yourself," he says. "[You might need to take] that kind of precaution, but don't let it deter you or make you afraid to be open to adventure and experiences in whatever way you're comfortable with, in whatever way makes you feel safe."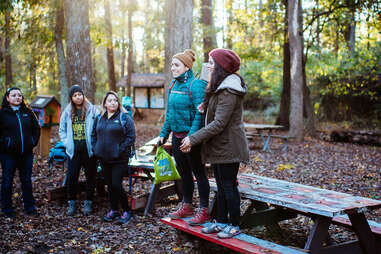 Reconsider what it means to be 'outdoorsy'
Social media and ad campaigns for outdoor gear may have us convinced that the consummate outdoorsperson should aspire to scale Mt. Kilimanjaro—but there are more realistic ways to frame "outdoorsiness" that don't make anybody feel inadequate. If you're struggling to overcome feelings of anxiety or intimidation, it may help to reframe what qualifies as "getting outdoors." Even things like an afternoon soaking up some Vitamin D in a local park or exploring a botanical garden count as enjoying what nature has to offer.
"For me, being outdoorsy is sitting outside with my family and having a carne asada barbecue by the lake," says Adriana Garcia, co-founder of Latinxhikers.
"At the beginning, I wanted to do hardcore things. I would go on a five-day trek in Machu Picchu, or do intense backpacking every now and then," adds fellow co-founder Luz Lituma. "But now, I'm like, 'I'm outside, I'm grabbing my chair, and I'm sitting and enjoying the view."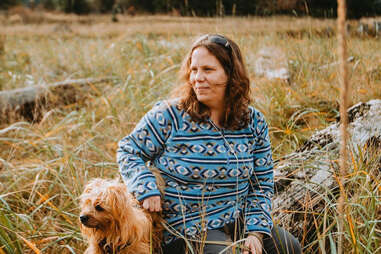 Due to their disabilities and chronic pain, Syren Nagakyrie has always had to take things slow when hiking. But that doesn't have to be a bad thing. "I can't go climb a 14k peak or go for long thru-hikes, so I have developed a skill at being able to appreciate what I can do, notice everything that's around me, pay attention to the small things that I find on an outing, and draw meaning from that."
Nagakyrie finds that one of the biggest barriers to entry for disabled outdoorspeople is a dangerous lack of information about accessibility. In fact, a related incident—in which they arrived at a trail only to encounter unexpected obstacles like steep stairs and drop-offs that left them frustrated and in pain—is what spurred them to launch Disabled Hikers.
"I've tried to talk to program managers or park rangers about my needs, and they just didn't really understand. They thought, oh, well, then you just need a wheelchair-accessible trail. And that wasn't what I was necessarily asking," Nagakyrie says. Wheelchair accessibility as a blanket remedy doesn't begin to cover the wide range of potential needs.
"[We need to focus on] developing [guides] that take into consideration the broad variety of disabilities out there," they add. Their upcoming book, The Disabled Hiker's Guidebook, will be the first resource of its kind.
Instead of worrying about pulling off feats of strength and endurance, they encourage people—disabled or not—to appreciate quality over quantity: pay less attention to the number of miles hiked or peaks reached, and more attention to the small glimpses of beauty around you that you might otherwise miss.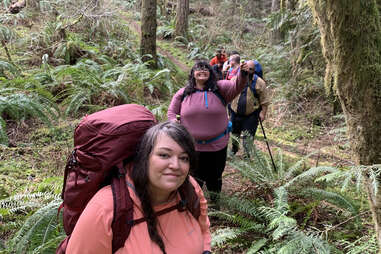 Jenny Bruso lived in Portland for eight years before she got around to visiting even the city's most iconic natural sites, all of which were a short drive down the road—all because it seemed like there was no space for people like her.
"I had a disdain and an avoidance of exercise because I just associated [getting outdoors] with diet culture," she says. "It was just always this young, cishet, white outdoor fantasy. And I really just needed to see everyday people getting outside in everyday ways."
"If you feel like you need [community], there are other people who absolutely need it, too."
As a result, Bruso ended up spearheading Unlikely Hikers—an Instagram community that has united 120k outdoorspeople and counting, all of whom were after the same need. Social media's also allowed inclusive groups like Latinxhikers, Brown People Camping, Disabled Hikers, and Hello Ranger to provide resources and support to thousands of marginalized adventurers.
While getting online might seem a little counterintuitive to getting outside, it may be just the confidence boost you need. Even if you're just exchanging tips, stories, and questions in the comments box, having a sounding board with folks from your community and increasing your exposure to outdoorspeople who look like you can go a long way in making you feel welcome in the outdoors.
Find a hiking buddy—or two, or ten—who will meet you on your level
Bruso's earliest forays into nature were demoralizing, to say the least. "I had a friend take me on a hike that was way too difficult for me. He thought that it was an easy hike, but it totally squashed my spirit and my body. So for a long time, I thought I didn't like hiking."
It wasn't until a few years later that she was able to rediscover her connection to nature alongside somebody who didn't push her beyond her limits. "I was finally invited on a hike by somebody who was fully ready to meet me where I was—someone who just wanted to take me out into nature and not, you know, get 'crushed' by the outdoors, somebody who just wanted to be reverential in nature and show me what that was like."
Now, that philosophy of meeting people where they are is the backbone of Unlikely Hikers group outings. The groups only move as fast as the slowest hiker. That way, nobody gets left behind or is made to feel bad about their skill on the trail, and everybody can instead focus on enjoying their time outside.
Bribe your friend group into a weekend camping trip, snag a close pal for a local hike or picnic, or seek out local hiking groups in your area on social media. And if there aren't any existing meetup groups in your area, Jenny Bruso suggests taking matters into your own hands. "Make the thing that you want to see, if you have the ability. And if you don't have the personal bandwidth to do it, there is somebody who does."
"Whatever community that you want, they are there," adds Bruso. "If you feel like you need it, there are other people who absolutely need it, too."
Tiana Attride is Thrillist's associate travel editor. Please invite her on your camping trip, she'll bring stuff for s'mores!