How to Make Your Flight in Coach Feel Like First Class
Air travel is an in-your-face arena of class warfare. While the elite get to fly in luxury, those of us relegated to coach are trapped in a cabin of germs, discomfort, and the constant threat of a riot. It's basically prison, except in the sky, and everyone is less friendly.
Sadly, many of us have to settle for this option. That said, there are plenty of ways to make your coach experience at least feel like first class. With the help of Reddit, we've put together a few tips and essentials to make flying a lot less miserable.
Class up your in-flight drink
We recommend: The Carry On Cocktail Kit, $24.00
A delicious cocktail can be a reliable remedy for all the travel woes you experience in coach. But a nip of cheap vodka and lukewarm Spite in a plastic cup? Not exactly luxurious. Kick it up a notch with the the Carry On Cocktail Kit, which conveniently includes all the needed ingredients for a quality Gin and Tonic, Moscow Mule, or Old Fashioned. You still have to pay for the alcohol, though. Can't have it all.

Try to book a seat in the emergency exit row
If the seat near the emergency exit isn't claimed yet, grab it while booking your flight. Granted, some airlines have started charging extra for them, but hey, it's cheaper than first class. You'll enjoy additional leg room, and maybe meet Tyler Durden.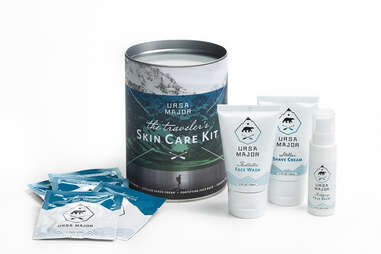 Feel less gross with an amenities kit
We recommend: Ursa Major Traveler's Skin Care Kit, $40.00
Being confined to coach feels only somewhat less disgusting than crawling through that sewage pipe in The Shawshank Redemption. The low humidity conditions of air travel, which tend to dry out your skin, don't help. You can seriously boost your comfort level with this TSA-friendly kit, which includes face wash, shave cream, face balm, and face wipes. They're even better than those weird hot towels they give out in first class.

Stake out a middle seat when you're traveling with a friend
Whether you're a window seat person or an aisle seat person, we can all agree that there is no such thing as a middle seat person. However, when traveling with a friend, one of you has to settle, right? Wrong. It's actually smarter for you to book the window and aisles seats, leaving the middle open. Best case scenario, no one ever claims it, and you have a ton more room. Worst case, you simply explain that you and your friend are together and want to sit next to each other. Works every time, probably.

Load up your tablet with movies and shows
Some flights boast an impressive catalog of movies and TV shows, but more often than not, you're stuck choosing from titles that are usually confined to the darkest recesses of Netflix. Avoid disappointment by loading up a tablet with your favorite shows, films, and books before your flight. Because, no, you won't "maybe like" Grown Ups 2.
Bring a neck pillow
We recommend: Kuhi Comfort Pillow, $39.99
The pillows doled out in economy class are about as comfortable as a sheet of fabric softener. So snag your own from an airport kiosk, or try the Kuhi Comfort Pillow, which gets very favorable reviews from both the Wall Street Journal and USA Today. It's your best bet at enjoying some shut eye without waking up with a freshmen year headache.

And an eye mask
We recommend: the Bedtime Bliss eye mask, $17.97
Okay, even with a fancy ass pillow and high quality Old Fashioned in front of you, it's hard to forget the fact that you're stuck in a tiny pressurized cabin and definitely not in first class. Block it all out with eye mask. It won't get you to your destination any faster, but it will help you care a little bit less.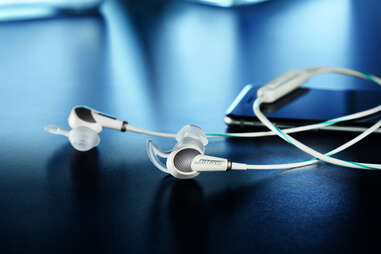 Bust out those noise-canceling headphones
We recommend: Bose QuietComfort 20 Acoustic Noise Canceling headphones, $299.95
Do babies cry in first class? Decades of scientific evidence suggests that no, they do not. So drown out the sound of wailing children with Bose QuietComfort 20 earbuds. They let you switch between canceling and "Aware" modes, so you can decide if/when to listen to the pilot's rambling announcements.

Compliment the flight attendants
While flight attendants in first class are all "Here's your cocktail, Mr. Draper" or "Please stop whatever it is you're doing, Mr. Kid Rock," we coach passengers are treated with the kind of feigned pleasure typically reserved for visiting in-laws. To get the first class treatment, frequent flyers recommend approaching the attendants' lounge a few minutes into the flight, giving them small gifts, and letting them know you appreciate their work and hope the flight isn't too stressful. They have a tough, thankless job, and they'll be more likely to treat you extra nice if you're nice to them. Maybe with free alcohol, or an actual upgrade to first class. Until then, fake it 'till you make it.
Sign up here for our daily Thrillist email, and get your fix of the best in food/drink/fun.
Joe Oliveto is a writer for Thrillist and a window seat guy, despite being terrified of that Shatner Twilight Zone episode as a kid. Follow him on Twitter.