How to Move to Canada, You Know, Just in Case
Everything you need to know about migrating north if things go south.
Photo courtesy of Destination Toronto
Photo courtesy of Destination Toronto
Back during the 2016 election, many Americans joked that they'd move north if Trump was elected. While most didn't actually make the leap, there were enough Google searches looking into moving, well, anywhere, that the Canadian Citizenship and Immigration website crashed. The beauty of wide open spaces, supremely liveable cities, and publicly funded health care are more than enough to convince us.
And for good reason. While we don't have the flexibility of moving across borders like they do in Europe, heading north is not only aspirational, it's absolutely attainable. For instance, the country recently announced a new digital nomad program—if you happen to work in tech, it'll soon become much easier to find gainful employment in the Great White North.
Perhaps you've heard about some of the more underrated metropolises like Toronto, or you're sick of being cooped up in a city and want to be surrounded by views of the Canadian Rockies. Or maybe you want to live out your inner Francophile but aren't quite ready to cross the Atlantic (or deal with France's notoriously difficult visa process). Or maybe you're looking ahead to November, 2024 with, let's say, a healthy sense of trepidation. Home to a melting pot of people from more than 200 countries, Canada's mix of urban metropolises and large swaths of natural splendor—not to mention their progressive stance on LGBTQ+ medical care, reproductive rights, gun laws, and other pressing issues—makes it a fine place to land if, you know, things happen to take a turn for the worse south of the border.
If you're ready to make the move north, here's what you'll need to get the process rolling.
I actually want to move to Canada! Where do I start?
First things first, you should have a rough idea of how long you want to live in Canada. Less than six months? More than six months but still on a temporary basis? Indefinitely but could be forever? Will you be there for work, study, or marriage? Once you have an idea of the basics, take 10 minutes or so to check your eligibility via this handy online tool. If full Canadian citizenship is your endgame, you'll still need to become a permanent resident first.
How many provinces are in Canada?
Canada has 10 provinces and three territories. Depending on why you're moving to Canada, you may already have an idea of where you're going to live once you get there. If you need a jumping off point, first decide whether you want to live in a French-speaking province like Québec. Do you already speak French? Do you want to speak French? If you can't answer either of those with an enthusiastic "oui," then you should probably live elsewhere. Québec is great, but Canada is a very, very big country.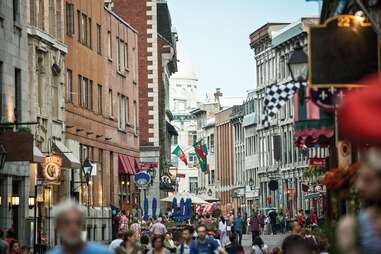 So what's required to move to Canada? Do I need to have a job first?
Not necessarily, but it sure will make things easier. It boosts your odds of being granted Express Entry, and it allows you to apply for the Provincial Nominee Program (PNP), if that's what you're after. What does any of that stuff mean? Glad you asked.
The easiest way to move to Canada (if you qualify): Express Entry
If you have more than a year of Canadian full-time work experience, there's a good chance you'll be eligible for Express Entry. Extra points if you work in STEM. The application takes place entirely online and is usually processed within six months. Other methods of immigration are pretty much guaranteed to take longer than this one, so if you qualify for Express Entry, this is definitely the best route to go. The whole process costs—in total—between $1,750 and $2,000. Express Entry is open to skilled foreign applicants (usually younger) who have taken one of the following official language tests in either English or French:
International English Language Testing System (IELTS)
Canadian English Language Proficiency Index Program (CELPIP)
French Certification Exam, or Test d'Evaluation de Français (TEF)
When you apply, you'll be assessed on a scale of points that goes up to 1,200. The first 600 come from your skills, education, work experience, and whether you have a spouse in Canada. The other 600 come from things like having Canadian degrees/diplomas/certificates (always a plus), as well as job offers, siblings with permanent Canadian residency, a nomination from a Canadian province (more on that in a sec), and proficiency in French. You can learn more about how to get your credentials assessed here.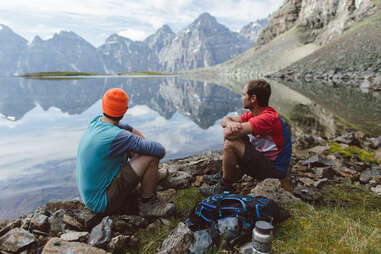 The Provincial Nominees Program (PNP)
This route is less common, but if you can demonstrate that you have the necessary education and work experience, you can try for the PNP. Certain provinces might be looking to fast-track certain "streams" of immigrants to fill specific needs, such as students or skilled workers in areas of expertise in which the province has a shortage. So, if you have a full-time offer in, say, the tech industry, you might be able to snag a nomination from British Columbia, which happens to be looking to expand that sector.
Start by checking your eligibility using that same online tool we mentioned in the beginning. Then—assuming you are indeed eligible—reach out directly to the government of the province you're hoping will nominate you.
Self-employed? That's cool too
If you're self-employed or intend to be when you move, you'll need to show you have at least two years of relevant experience in the field you want to be self-employed in. That experience needs to be pretty current—from within the five years preceding the date on which you first apply—and classified as either a cultural activity or athletics. So, if you're a freelance journalist, sports star, or musician, you're on the right track. You'll need to undergo a medical exam by a Canada-approved physician (which you can find here) and get a police certificate (more on that here).
The process in Québec is slightly different
In terms of PNPs and self-employment, Québec does its own thing independent of the Canadian federal government when it comes to selecting immigrant applicants. Rather than having a PNP, Québec uses a separate process of skilled worker selection. You apply directly to the provincial government for what's called a certificate of selection, or Certificat de sélection du Québec (CSQ). You'll need a medical exam conducted by a Québec-approved physician (whom you can find through the same link as the one under the "self-employed" section) and a police certificate (also the same link). After your application is approved (congrats!), you can then apply to Immigration, Refugees and Citizenship Canada (IRCC) for permanent resident status.
What about green card marriages?
If you have family members already living in Canada, you probably don't need us to tell you that they can sponsor you, but yes, they can sponsor your immigration into the country.
And family sponsorship includes spouse sponsorship! So, if you marry a Canadian citizen or permanent Canadian resident over the age of 18, they can sponsor you as a permanent resident. You'll just need to prove that you're very much in love and aren't using the marriage certificate as a piece of paper to get into the country.
You may not be thinking about a start-up visa, but just in case
This option may not be on the table just yet, but if you can prove that you already have a qualifying business, it's worth considering. To obtain a start-up visa, you'll need a Letter of Support confirming an investment of at least $200,000 from one of 21 venture capitalist groups or $75,000 from one of nine angel investor groups. You'll also need to be accepted into one of 30 eligible incubator programs. Here's a list of all the official organizations and groups that count toward a start-up visa.
Is cannabis legal in Canada?
OK, I'm sold. Where are the best places to live?
Most people wind up moving to one of Canada's three largest cities: Toronto (Ontario), Montréal (Québec), or Vancouver (British Columbia). But Canada has plenty of urban hubs worth considering as you narrow down your list of possible locales. Here are a few top picks:
Toronto, Ontario: Canada's largest city has everything you could ever want: jobs, a diverse selection of restaurants, a thriving art and theater scene, great music (not just Drake), and awesome beaches right along Lake Ontario. The downside? Living in Toronto doesn't come cheap. Rent for a one-bedroom apartment is around $2,400 CAD ($1,800 US)—if you're lucky.
Vancouver, British Columbia: This west coast city is just plain gorgeous, and it's only 30 minutes from the Pacific Ocean, coastal mountains, and legendary skiing. Farm-to-table and craft beer are the norm here, and you won't have to go far in Vancouver to find a legit Vietnamese banh mi sandwich. But rent is about the same (and in some cases more) as Toronto—and it keeps rising.
Montréal, Quebec: Montréal is Canada at its liveliest, with a joie de vivre you won't find in the rest of the country (or in most places in the US, for that matter). The 18th-century architecture in fortified Old Montréal is pretty spectacular, and the sprawling terraces are about as close as you can get to what you'd find in France. Montréal also has some of the cheapest rent in any major Canadian or American city. If your French isn't up to par, however, you'll struggle to find a job, and Québec bureaucracy can be a pain.
Ottawa, Ontario: The national capital isn't as sleepy as it once was, but you can still expect this government city to shut down its buzzier restaurants on the earlier side. The trade-off is year-round access to nature (think excellent biking and cross-country skiing, plus ice skating when the Rideau Canal freezes over in winter) in nearby Gatineau Park. There's even a new, 1,400-foot zipline that stretches across the water to Québec (and shows off views of Parliament Hill along the way). The city is also cheaper than Toronto and Vancouver, though the pandemic has caused housing prices to spike.
Calgary, Alberta: Known as the Texas of Canada, Alberta is nearly the same size and teeming with cattle and cowboys (plus oil money). Banff National Park's hot springs and ski resorts are less than a two-hour drive from the capital of Calgary, considered the gateway to the Rocky Mountains. And since it sits on the prairies, Calgary receives more sun than some of the country's other main cities. Recent trouble in the oil sector, as well as the pandemic, has sent rent and home prices down, so now could be a good time to give this mid-sized city a try.
Halifax, Nova Scotia: This east coast city is one of the best for beer in the country, with half of the province's breweries and brewpubs sitting within the city limits. Halifax is laid-back with a serious Irish vibe, but unless you're into fishing for work, opportunities are slim. But it's cheap, easy to get around, and there's a pretty great seafront boardwalk and seaport market, which is home to the oldest continuously operating farmers market in North America. If you're willing to live elsewhere in Nova Scotia, you can nab an entire oceanfront estate for the price of a condo in Toronto.
Québec City, Quebec: The 400-year-old city is the oldest French-speaking spot in North America, so if you don't speak French, this may not be the place for you. (Less than 2 % of the population claims English as their mother tongue.) But if you want the feel of Europe without having to leave the continent, this "small" big city, with its cobblestoned Old Town, offers up plenty of charm at a lower price point than other major cities in Canada.
Joel Balsam is a freelance journalist and travel guidebook writer whose work can be found in
National Geographic Travel, Time, The Guardian, Lonely Planet,
and
Travel + Leisure.
Follow him @joelbalsam.