How to Not Get Rejected on Airbnb, According to Airbnb Hosts
Christian Delbert/Shutterstock (edited)
We learn at a very young age about the painful sting of rejection. It starts with dodgeball and birthday parties and gets more real as life progresses toward college, and a career, and the mother of them all -- dating! Also, not qualifying for a mortgage, that can hurt, too. Rarely is there ever a way to dodge this harsh reality.
Until now.
While rejection undoubtedly runs rampant on Airbnb (and not just from the hosts), there are several tactics to almost guarantee you don't get dubbed a "persona non grata" next time you're booking a getaway. And we talked to hosts from all over the world -- Paris, Australia, Berlin, Maryland, Florida, California, New York City, and beyond! -- to find out what those tactics were.
Behold, your definitive list of DOs & DON'Ts to avoiding rejection on Airbnb. Because, remember: "It's not you, it's them." Unless, of course, it really is you.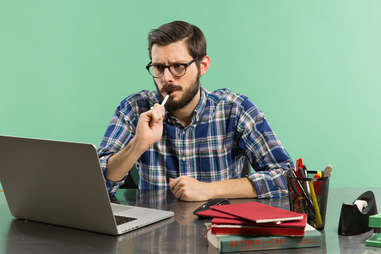 DO be a little stalkable
Everyone knows the scariest thing in the world these days is not coming up in a Google search, so it should be no surprise that a lack of online -- specifically social media profiles -- presence can (and will) be viewed as a red flag.
"I definitely looked for people I can stalk a little first -- LinkedIn, Facebook -- just trying to match their stories to their profiles. I'm sure I'm not the only one doing that. No online presence is just weird. I don't trust it."
"This is the background check of our time! Once my stalking was so good, the guy also showed up on my Tinder a couple of days later. That could have been awkward."
DO build out your Airbnb profile
"A robust profile is key -- a picture, bio, testimonials, the works. The more you have, the more I trust it, and therefore you as a guest."
"The reviews section on each guest's profile is a good and obvious resource. I always make sure their previous hosts had positive feedback for them after they left. The star rating is another indicator. If it's their first time as a guest, you'll have to trust your judgment.
DON'T get a bad review
Or if you do, try your damndest to get out of it. This, friends, is the kiss of death.
"Bad reviews on your profile means I don't even consider it. Would you buy something on eBay from a dude whose profile said was sketchy? Exactly.
DO have some damn credentials
And we don't mean your library card. Although it screams "responsible," almost everyone we interviewed stressed the importance of Airbnb's verified ID system. Use it.
"First, I always looked for the Verified ID badge. This means the guest submitted a lot of info to Airbnb to confirm their identity. Like a passport. This made me feel very comfortable. I wouldn't entertain the thought of conversing with someone about a stay without this component."
"You're renting your house with your dishes, combs, sheets, my artwork… it's daunting. And for me being a single girl living solo, renting out the spare room - almost every inquiry I got was from men. Once a guy came to look at the place, and sent me a copy of his licence as ID before he arrived, which felt much more reassuring."
DON'T book on behalf of somebody else
"I never accept if it's on behalf of someone else, i.e. 'My dad is travelling, and I'm booking for him.' Or even business travelers, for that matter. I've had their travel agent or personal assistants contact me. That always makes me feel a little suspect."
DO get a little personal with your email
"Writing a good introductory email is really important. I always accept people who throw in little about about themselves, like 'we're three friends from different countries meeting in NYC' or 'shhh, I'm proposing to my girlfriend' this weekend.' Someone really did get engaged in my apartment -- I felt like I was part of it!"
"I rejected one dude whose note was rude and lacking in basic punctuation, reading: 'I'll take this apartment thanks.'"
DO be up for some pre-stay screening
If a Tinder date without sex existed, this would pretty much be it.
"Finding a way to exchange contact details and chat in person before is ideal, but meeting is challenging, so having a way around that is handy. At the very least, they need to be up for phone/skype convo before arriving, so I can get a feel for them."
"I always try to at least do the phone call first; if we can't understand each other/ communicate, I cancel [the reservation]. I don't really want someone in my house for that long I can't have a conversation with easily."
DON'T book an awkward length of stay
"I don't like when people just want to take it for a chunk in the middle of what I have blocked off. I'm not saying you shouldn't ask, but it's less likely. A random one-two nights in the middle of a month just isn't worth it."
"You gotta look at the calendar and see how long a place is available. Since I rent monthly, I don't tend to take bookings less than about 10 days."
DO for God's sake, clean up after yourself
We would say go ahead and file this one under "duh," but according to our valued sources, this continues to be one of the leading causes of bad reviews from hosts.
"I don't expect people to go nuts and clean the whole place, just don't leave it like you just threw a 'no parents are home' high-school rager either. Take out the garbage and leave my place as close to how it was as possible. Otherwise, that's the fastest way to get a shit review from me."
"I always want to work in a cleaning appointment with my guests during their stay, because I wanted to make sure the place was cleaned while they were in it (this doesn't include cleaning after they left… which also happened before the next guest came)."
DON'T try to cover up your mistakes
Take a cue from your boy George (not to be confused with Boy George), if you chop down a cherry tree and/or cause damage to the home you're frequenting, come clean.
"I've only had one bad experience, but it actually turned out well. One guy punched a hole through my wall when he got pissed at his girlfriend. He called me immediately and fessed up to it. And he left cash on my coffee table with a note saying if it cost more to fix it, to contact him directly. I ended up giving that dude a really good review. As long as you're straight, and willing to pay for it, then we don't have a problem."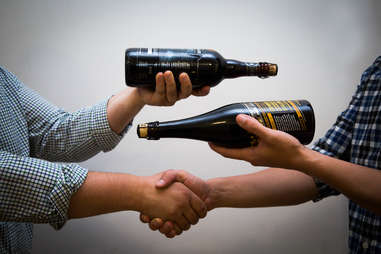 DO leave a parting gift
While not a requirement, one thing became crystal clear when researching this story: bribery will get you everywhere.
"This one girl was coming in from Bloomington, and we talked about how I went to Indiana University. She left me a six-pack of the only local beer Bloomington brews, you can't get it anywhere except there. I wanted her to move in after that, but I definitely gave her a glowing review."
"Think of this like when you meet someone's parents, it's just a nice gesture that will make you stand out. It pretty much guarantees the host will give you a good review, it's worth it."
DON'T be young
"I'd rather have an older person. Give me 50 or above. Every time."
Sign up here for our daily Thrillist email, and get your fix of the best in food/drink/fun.
Liz Newman is a freelance writer for Thrillist, and if anyone wants to Airbnb her place, she really likes burritos and Belgian beers. Follow her on Twitter and Instagram at @lizn813.