Reine, Norway

| LUKASZ JANYST/SHUTTERSTOCK
Reine, Norway

| LUKASZ JANYST/SHUTTERSTOCK
Everything I thought I knew about travel turned out to be wrong. After years of seeing commercials, listening to friends, and drooling over pictures in magazines, I thought travel was expensive. Between transportation, expensive tours and activities, hotels, and food, to go anywhere was going to cost me a lot of money.

Then, in 2006, after saving for three years, I took off to travel the world.

As I backpacked my way through Europe, consistently staying below my budget, I realized that by traveling like I lived back home -- visiting local markets, taking local transportation, avoiding overpriced tourist restaurants, and finding deals on the Internet -- I could cut my costs without cutting my good time. After all, I didn't come to Italy not to eat out!

Since then, I've been determined to show others they can do the same, because money is the number one reason people don't travel. Most people think they don't have sufficient capital to travel, but that's simply not true.
Even if you're lacking a trust fund, here's how to cut down your expenses on the road -- without living like a hobo.
Don't pay bank fees
Avoid paying a bank fee ever again by getting a no-fee credit and ATM card. Charles Schwab never charges an ATM fee, and will reimburse you for any fees other banks charge. That works anywhere in the world -- even bodegas in New York.
Capital One's Venture card is a great no-fee credit card. Bank fees can add up, and there's no reason to hand over $3 or $5 with every purchase or withdrawal you make.

Take free walking tours
Want to learn about the city, get your bearings, and see the major sights? Take a free walking tour. You'll find these tours in big cities around world. A simple Google search can give you the names of the major walking tours in your destination, or you can walk into the tourism office for more information.
Just remember not to be a cheap jerk and to tip your guides. That's how they survive!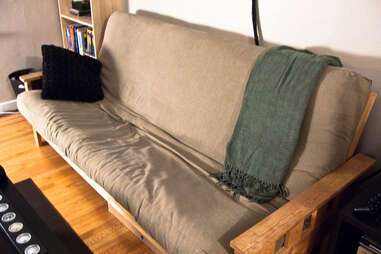 Stay for free
Hospitality networks connect travelers with locals who will let them stay for FREE. Sometimes you get a room, sometimes a couch, sometimes an air mattress, but it's always free. On top of that, you'll have a local host who will know the area and show you around. It's win-win.
And these services aren't just for young solo travelers – you'll find people of all ages willing to host couples and families, too. You can find hosts on Servas and Hospitality Club, but I like Couchsurfing the best, as it has the largest and most active community.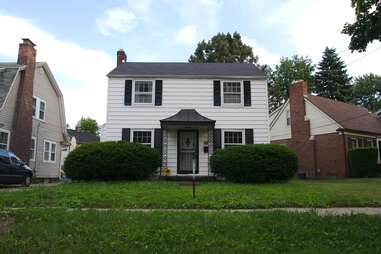 Housesit
Can't afford accommodation? Watch someone's house while they're on vacation and sleep for free -- legally.
Good sites include House Carers, Mind My House, The Caretaker Gazette. After you sign up for one of these sites, you can stay in one destination, get to know an area, and save money. Added bonus: you get a kitchen to cook your food!
Cook your own meals
This is a no-brainer. The best way to save money on food is to cook all your own meals. I recently spent $60 USD for a week's worth of groceries in Stockholm, instead of an average of $15 USD per meal eating out. That's a saving of $150 USD!
Just because you're traveling doesn't mean you need to eat out every meal. It's not as if a trip to Paris is ruined by not eating in a café for lunch one day. Local markets allow you to find out more about the local food culture than many of the restaurants in guidebooks.
Go buy some food, sit in a park, and enjoy the day.
Farm for room and board
World Wide Opportunities on Organic Farms (WWOOF) is an umbrella organization that sets up farm work opportunities. Working on a farm will get you free room and board, involve you in the local community, and allow you to commune with the great outdoors.
Use student and other discount cards
Are you a student, teacher, or under 26? Welcome to the world of 50% off attractions, tours, museums, transportation, and a multitude of other discounts. Get a student/teacher/youth card from STA Travel and save big. School IDs work too!
Use visitor discount cards
If you plan on seeing a lot of sights in a city, get a city tourism card, which offers discounted and free access to the major attractions and museums, as well as free public transportation. I saved more than $100 with the London pass, $80 with the Paris Museum card, $50 with a Helsinki card, and much more with other city tourism cards.
The cards aren't well-advertised, but I look into them in every city I visit -- if it saves you $1, it's worth it. You can purchase these cards at any tourism information booth.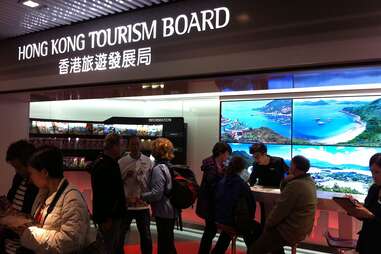 Get the lowdown from the tourism board
Local tourism information booths also know everything going on in their city. They can tell what days museums are free, what free activities, concerts, or festivals are going on now, and where to find markets and good restaurants. Use their knowledge.

Conversely, even if you aren't staying in one, walk into a hostel and ask the same questions. The staff at hostels deal with budget travelers all day, and know exactly what kinds of deals shoestring travelers are after.
Never eat in a tourist area
I have a hard and fast rule: Walk four blocks from the direction of the tourists. Anything close to a tourist attraction will be double the price and half as good. If you can see a major attraction from the restaurant window, or the menu is printed in multiple languages, keep moving.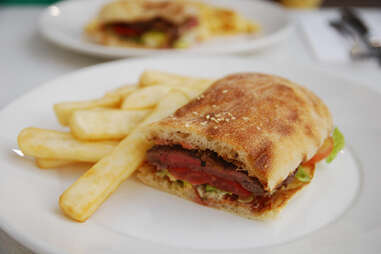 Eat at fancy restaurants during lunch
Most restaurants offer lunch specials at a fraction of the dinner menu's price, often featuring the same foods. Getting the prix fixe lunch menu (a set appetizer, entrée, and dessert) will be 50% cheaper than dinner.
Don't know where to go? Don't look in the guidebook. Ask your hostel or hotel staff where they eat.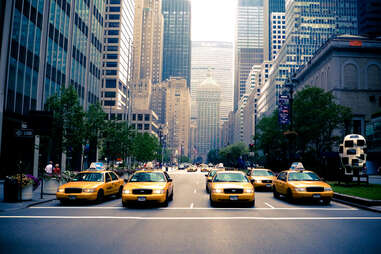 Skip the taxis
Another no-brainer tip: taxis are where budgets go to die. Use public transportation.

Get transportation passes – If you're going to be using public transportation a lot, ask the local tourism board, hotel, bus driver, or subway station officer if there are discount transportation passes available. Often times an unlimited pass, for a set amount of time, can save you a lot of money.
Share a ride
Need to get between cities? Try ridesharing companies that let you connect with people with a car going to your destination. You help pitch in for gas, and it's a lot cheaper than trains or buses as drivers set their own rates. But the goal here is to split costs and have someone to talk to. The big ones include:
Liftshare (based in the UK)
Mitfahrgelegenheit (German based)
Gumtree (UK/Australia/NZ)
Kangaride (Canada)
BlaBlaCar (Europe)
Hitchhike
This free way to get from place to place is relatively safe and quite common in many parts of the world, including Central America, Scandinavia, Eastern Europe, Australia, and New Zealand. I've hitchhiked in a handful of places around the world, and know many people who have done the same (including the United States). Don't rule it out just because of stuff you've seen in movies.

With all the previously mentioned tips, you'll be able to cut wasteful spending out of your budget and stretch your dollar as far as it can go toward enjoying your destination. But if you get low on cash and you want to recharge your bank account, there are ways to do that, too.
Teach English
Teaching positions are abundant around the world, and one of the easiest ways for travelers to get a job on the road. They pay well, have flexible hours, and many countries offer to pay relocation costs along with a completion bonus. There are a lot of online resources out there, including a guide to teaching that I wrote.
Work seasonal jobs
Move with the seasons and work in ski resorts, bars, as a camping guide, on boats – whatever's available. There are many options — wherever there's a big tourist season, you'll find a big demand for temporary labor. Hostels can often point you in the right direction.
Get a working holiday visa
If you're under the age of 30, countries like Australia, New Zealand, Canada, England, Norway, and many others offer working holiday visas that allow you to work up to a year in that country (sometimes up to two). Most of these jobs are temporary, service industry, or seasonal jobs, but they can also be well-paying office jobs too. You'd be surprised by what's out there.
Use your skills
Teach people music, dance, cut hair, help someone paint, offer business consulting, or be someone's cook. Be creative. Websites like Craigslist and Gumtree let you advertise your abilities and find work. Moreover, you can use the websites Task Rabbit and Fiverr for finding work as well as helping people move, run errands, whatever. If you're short on cash, these websites let you trade your time for cash. It's not that different from going to work everyday, in the end.
Work in hospitality
Bars need bartenders and restaurants need waitstaff. Bars and restaurants in party destinations or at hostels are great places to find jobs, as they have a high turnover and the work can be steady. In countries that have working holiday visas, these jobs often go to travelers because they have the most flexible schedule.

Travel doesn't need to break the bank, and smart travelers can find plenty of ways to stretch and replenish their funds while on the road. The uninitiated think travel is expensive because most people don't see the side of it that's accessible.
Forget what's in magazines -- head to your dream destination, and travel cheaper, better, and longer.
Sign up here for our daily Thrillist email, and get your fix of the best in food/drink/fun.
Matthew Kepnes is a travel writer and author of How to Travel the World on $50 A Day and the creative force behind Nomadic Matt, a website that provides detailed information on how to travel cheaper, better, and longer. His advice has appeared in Time, CNN, The Wall Street Journal, New York Times, Lifehacker, Buzzfeed, National Geographic, BBC, and many other publications.