How to Realistically (and Affordably) Drop Everything to Travel the World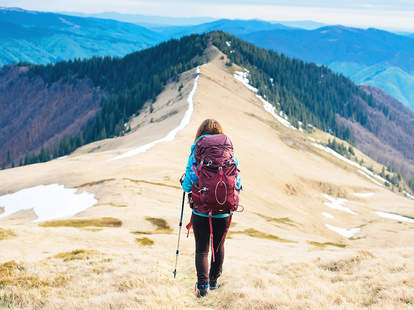 Iryna Dzvonkovska / Shutterstock
We've all imagined what it would be like to quit the daily grind, pack our bags, and jet off on a worldwide adventure. Of course, between hotels, airfare, dining, and other expenses (not to mention the lost money from not working), the traveling lifestyle can seem out of reach to those of us without a trust fund to our names.
But don't give up on your dreams of backpacking in the Himalayas or surfing along the Gold Coast of Australia just yet. Whether you're looking to truly give up your desk job for an alternative lifestyle abroad or in need of a more temporary escape, there are ways to pull off becoming a globetrotter without blowing your life savings.
By following these tips, you'll be dining on street food in Malaysia or strolling by the Seine in no time. (And you'll still have some extra change in your pocket for a rainy day in Brussels.) Don't forget to send postcards.
Stock up on camping supplies
Roughing it is always an affordable travel option, and if you're a serious explorer, you may find yourself in a remote location far away from the nearest Hilton or hostel. Consider bringing along standard camping equipment such as a small tent, water sterilizer (handy for countries where the water might not be safe for drinking), and a mini propane stove on your journey. Not only will these items save you money, but they might just save your life if you find yourself stranded without nearby food and shelter. (You aren't likely to come across a Chipotle while, say, hiking up Mt. Kilimanjaro.)
Vadim Georgiev / Shutterstock
House-sit overseas
Anyone who's seen a rom-com where Diane Lane travels around Europe eating amazing food and wearing stylish hats has dreamed of scoring a quaint house-sitting gig in a picturesque locale. Well, thanks to the robust sharing economy, house sitting (or swapping) now is an affordable way to visit a new country.
Websites like Nomador, TrustedHousesitters, and Mind My House offer house-sitting (and pet-sitting) opportunities in a variety of popular destinations. (Some sites charge a small fee for connecting you to possible gigs.) In exchange for free lodging, home owners ask their sitters to perform tasks such as caring for pets, taking out the trash, picking up mail, watering plants, and other basic household chores. So if you're willing to put in a little effort on vacation, it can be a great way to travel on the cheap while also experiencing how the locals live.
TTstudio / Shutterstock
Work on a farm… or a boat
Scoring a job overseas is the quickest ticket to seeing a new part of the world. But if your career path has grounded you in one place, you can still get a (temporary) change of scenery through one of the many work exchange programs available on
farms worldwide
.
Seasonal jobs at places such as a coffee beanery in Ecuador or a bucolic farm in rural Slovakia offer the chance to work outside, see the world, and maybe make a new friend (be they human or sheep) in the process. Gigs range in length from a few weeks to a year or more (some require a minimum stay), with lodging and meals provided in exchange for working the fields or maintaining bed & breakfasts.
If sailing the high seas is more your speed, look for a job on a yacht, cruise ship, or other vessel. And not to fear -- you don't necessarily need to know the difference between a clove hitch and a square knot. Websites like Yacrew and Workaway offer a wide variety of crew positions on boats that can involve everything from swabbing the deck to serving as the resident videographer. Jobs vary in duration depending on how long the ship is out at sea; some gigs offer salaries in addition to meals and lodging, while others provide free room and board in exchange for duties such as boat maintenance, cleaning, and cooking.
Visit during the off-season
When traveling on a budget, timing is everything. Planning your trip during non-peak months (January to March, typically) is a good way to score discounted airfare and hotel rooms to many destinations, but each country has its own timing considerations (i.e., that hotel in Thailand might be so cheap because it's monsoon season).
The website Best Time to Go breaks down weather patterns, average cost-per-day for tourists, and other helpful tips for a range of locations. You might also consider hitting popular spots (France, Italy, etc.) in the "shoulder season" (March-April and October-November), which typically marks the beginning and end of peak tourist crowds.
David M G / Shutterstock
Cook your meals
While it's tempting to indulge in the local cuisine, eating out all the time can blow your budget faster than you can say "Deux escargot, s'il vous plaît." Plan ahead and score accommodations with a kitchen or kitchenette so you'll have the option to cook meals at your home-away-from-home. You can still eat like the locals by shopping for produce, fish, and other items at area farmer's markets and shops.
Know exchange rates
Having a good
currency-converter
is handy for calculating current exchange rates of the Euro or Vietnamese Dong when you're crossing borders, but don't wait until you're overseas to use it. Hit up the
Federal Reserve website
to keep tabs on how the dollar is holding up around the world and use that info when planning your trip.
Opting for countries where the U.S. dollar is consistently strong will help prevent you from blowing your travel budget in the first few days. Peru, Mexico, Portugal, Argentina, South Africa, and Vietnam (where you can score a nice hotel room for under $100 a night) are just a few destinations where the exchange rate will likely be in your favor. Greece is another wallet-friendly pick; the country is still recovering from an economic downturn, so affordable hotels and meals are readily available.
GaudiLab / Shutterstock
Take advantage of freebies
If you're traveling on a budget, chances are your feet will be your major mode of transportation. Walking expeditions are a great alternative to a crowded, stinky bus tour full of annoying tourists, and are low-cost (or even free). Whether it's a
guided tour
of Prague's oldest neighborhoods or a
stroll through the lively Park Street thoroughfare
in Kolkata, India, you'll be able to soak up the local sights and history of places you'd be walking anyway.
If you want to get inside the attractions, consider investing in a tourist pass, which many major cities (and even some smaller ones) offer and which allow you to visit museums and historical sites at discounted rates. Passes range in price depending on their duration (and typically get more cost-effective the longer you stay). A one-day London pass will set you back £62, or about U.S. $80, but it's cheaper than paying single admissions if you plan on visiting more than three spots per day. In addition to offering free and fast-tracked entry to popular attractions, you can also score discounted bus passes, tours, and other perks.
Keep a list of your daily spending
This last one sounds obvious, but budgeting on the road shouldn't be any different than budgeting at home. Keeping track of your expenses in a spreadsheet (or even with good ol' fashioned pen and paper) will help you stretch your budget and help curb impulse purchases in the name of "When in Rome..." Seeing what you spent in, say, Madrid will help you plan for how much you'll have to spend once you hit the beach in Ibiza.