Shutterstock
Shutterstock
OK, so 2015 is here. Maybe you made resolutions -- eat more bacon, quit smoking, whatever -- but traveling more is one you can definitely keep. Most people don't because they think they're too busy, or it's too expensive. Well, what if I told you saving money when you travel is simple? In fact, traveling on a budget is easier than ever -- and I've made a living out of doing it. Here are 10 ways you can save money when you travel this year.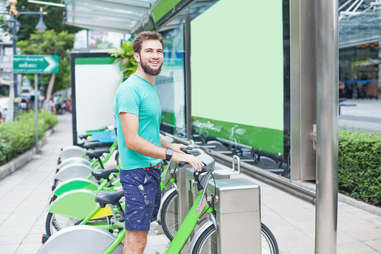 1. Use the sharing economy
Back in the day, you had to book flights at the airport, find hotels in the yellow pages, and plan everything weeks, if not months, in advance. Thankfully, it's not 1987 anymore. The sharing economy gives you options -- and competition means savings. While many sharing economy websites have existed for years, they keep growing all the time -- Airbnb had 550,000 listings in 2013, and now it has more than a million! Put the sharing economy to work for just about anything, from your transportation, to guided tours, meals, and where you sleep. Some favorites include:
2. Stay for free
World Wide Opportunities on Organic Farms (WWOOF) has a long name and a weird acronym, but it sets travelers up with room and board in exchange for work on a farm. Is farming for everyone? No. But it doesn't always involve milking cows – most of the time it's just cleaning duty. Being part of a community and doing something constructive will add to your experience, too. If you're thinking about going to Australia and New Zealand, WWOOF has tons of options -- but it also reaches into Europe and South America as well.
Even if you're not into farm work, other hospitality networks connect travelers with locals who will let them stay for FREE. Aside from a place to stay, you also get to meet people and see what living in that place is really like, which you don't get in a hotel. These services aren't just for young solo travelers, either -- you'll find people of all ages willing to host couples and families, too. Recommended sites include:
3. Fly on new budget airlines
OK, so gas is at its cheapest price in five years. But guess what? Regular airlines aren't lowering their fares. If anything, they're squeezing in more seats to make more money. Thankfully, a host of budget airlines like Norwegian Air, WOW, and Air Asia fly cheaply from the US to Europe and Asia. They do the same thing as other carriers -- getting you between continents -- just at lower costs, and with no frills. Norwegian Air flies from both US coasts to Europe for as little as $150 one way, and from Europe to Asia for as little as $200 one way. In Asia, Air Asia has flights for $20 one-way around the region and $150 one-way onward to Australia.
4. Finally spend your points and miles
OK, so it's kinda wonky, but chances are you've got airline miles sitting around somewhere. Now's the time to cash them in. While travel loyalty programs have gotten more restrictive, it's also pretty easy to get a big miles bump: A number of travel-branded credit cards offer sign-up bonuses as high as 50,000 points, which can equal a round trip to Europe. Shopping portals often give bonuses for every dollar you spend, and loyalty programs constantly offer promotions and deals. Travel hacking (the use of points and miles for free travel) has become more widespread and has made it easier to get points. Sites like FlyerTalk and /r/churning can guide you through the best ways to use your miles.
This is a no-brainer. A weekend at a four-star hotel in Paris is gonna cost you more than the same trip to, say, Lisbon. Take advantage of countries with great exchange rates or down economies. Greece is still Greece (re: bad economy), and Japan, Russia, Australia, and India have all seen their currencies drop compared to the dollar, making them WAY more affordable. While the prices in these places haven't fallen, they have become cheaper thanks to the fall in currencies.
6. Buy tourism cards
City tourism cards get you into many attractions for one price, and stretch your sightseeing dollars. Typically, a pass costs as much as two or three museum entrances, but includes access to dozens of attractions. I've saved more than $100 in London by using them, $80 in Paris, and $30 in Oslo. Best of all, you can get them at the local tourism office and, as an added bonus, they come with free public transportation.
As an example, say you go to London for three days. The London Pass costs $122 (£81). If you combine the cost for seeing the Globe Theatre, Westminster Abbey, Windsor Castle, and The Tower of London, and an Oyster card (for the Tube), you've already got it paid for.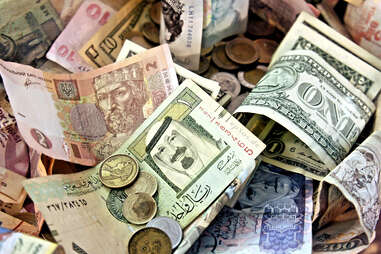 7. Stop paying bank fees
There's no reason to spend $3 every time you take out cash, or to pay 3% when you buy stuff abroad. You know, unless you like wasting money. Get a no-fee debit card and credit card. The Charles Schwab ATM card reimburses all ATM fees, and the Capital One Venture credit card doesn't charge foreign transaction fees. You can sign up for those online -- but check with your local bank to see if it offers any no-fee cards, too.
8. Use last-minute deal apps for flights and hotels
Travel-related apps are revolutionizing how people book, and how much they're paying. App stores are awash with tools that will save you on flights (On the Fly), hotels, (HotelTonight), and airport lounges (Loungebuddy). But they'll also show you what credits airlines offer for delays (Air Help), and how to manage your points and miles (TPG to Go).
9. Book cheap cruises and tours
It might seem risky, but book cruises and group tours at the last minute when cruise companies desperately try to fill unsold spots. By waiting until within a few weeks of departure, you can get upwards of 50% off the list price. With cruises, you can also find deals if you book a year in advance when companies sell the cheapest cabins. Try using Cruise Sheet for cruises, and for tours, look at the last minute specials of your preferred tour operator (mine is Intrepid Travel).
10. Take a road trip
For the first time in five years, it costs less than $3 for a gallon of gas -- even in places like Los Angeles. Now's the time to hit the road and see your country. You don't have to go overseas to experience something amazing -- and to put my money where my writing is, I'm spending the next four months driving across the US on an epic budget travel book tour!
Finding travel deals is easier than ever. And because so much has developed in just a few years, I've updated and expanded my book, How to Travel the World on $50 a Day, with 100 new pages of content. While travel changes at a lightning pace, that change has made it cheaper, better, and more longer-lasting than ever. Don't wait until next year to go to the places you've always wanted to go.