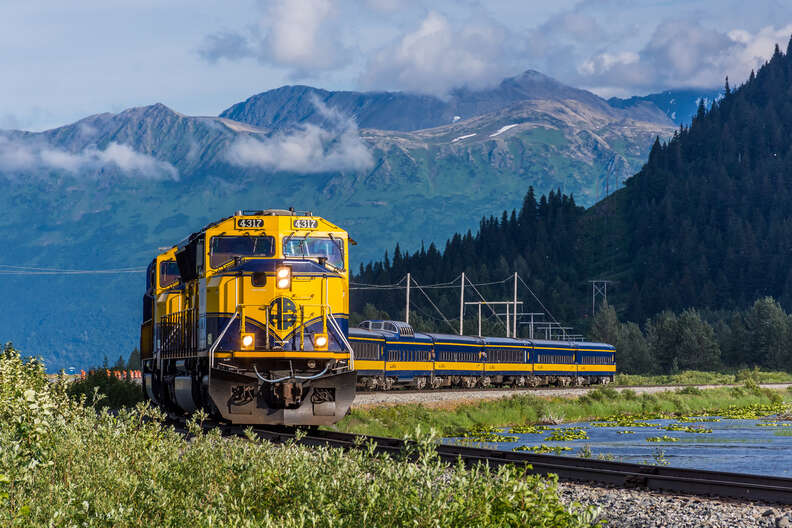 There's a comfortable way to see the Last Frontier.

| Alaska Railroad
There's a comfortable way to see the Last Frontier.

| Alaska Railroad
Alaskan winters are something most Americans might find interest in, but may never appreciate in full for a variety of reasons: the potential for frozen digits, bear encounters, et cetera. That said, lower 48ers might be much more convinced to enjoy long nights in the Land of the Midnight Sun if they could do so from a warm and comfortable train.
The Aurora Winter Train runs mid-September to mid-May, so the term "winter" is being applied generously here. (As a heads up, March is usually the last full month to catch the northern lights in Alaska, so plan accordingly!) The railroad offers packages that allow you to fly one direction and take the train back.
An adult one-way ticket will run you between $67 and $223, depending on where you're getting on and off. Prices for children and seniors are about half the price for adults, and tickets drop a couple of bucks during the train's shoulder seasons (September-November and April-May). It's a 12-hour journey between the route's endpoints, Anchorage and Fairbanks, with five other stops in between, should you care to jump off.
From a cozy locomotive complete with big windows and comfy seats, you can get views of bald eagles, moose, and Denali National Park, plus enjoy solid dining options and explore train cars at will during the journey. And most importantly, you can do it all without risk of frostbite. Here's where you'll stop on this train ride through the Last Frontier.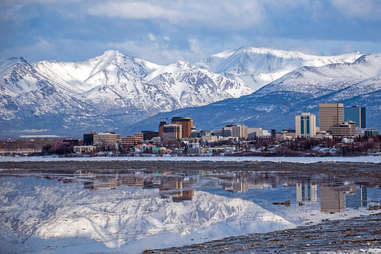 Wasilla
Wasilla is still within the broader Anchorage metropolitan area, but you won't get confused and think you're still in the big city. Not typically considered a tourist destination and known predominantly for being the political birthplace of Sarah Palin, Wasilla is the headquarters for the Iditarod dog sled races and a base for exploring the sublime Hatcher Pass.
Talkeetna
Year-round, Talkeetna is one of the most popular stop-offs along the route. The small town offers every outdoor activity conceivable, alongside a historic downtown and a lot of opportunities to shop from local vendors. The Aurora Winter Train sells roundtrip packages that include the Talkeetna Getaway ($265): two days and one night between Anchorage and Talkeetna with plenty of time to hop off for activities like snowshoeing and cozying up by a fire.
Hurricane
North of Talkeetna, the Hurricane Flagstop Area is pure backcountry. This stop is only accessible by train (Alaska Railroad's Hurricane Turn Train is the only transportation serving this area most of the time), and the train won't stop unless someone who needs to get on or off waves a flag. If you're bold enough, the views of Denali and the Indian River Valley are matchless; alternatively, you can just stay aboard and watch them go by from your window.
Healy
Healy is another quiet one, but you should definitely not overlook it if you're interested in visiting Denali National Park—it's the closest community to the entrance, sitting just 11 miles or so to the north. For that reason, tourism is pretty big in this small town; you'll find opportunities for flightseeing tours, backcountry hiking, and, for Into the Wild fans, the chance to see the bus that was once the home (and final resting place) of Chris McCandless.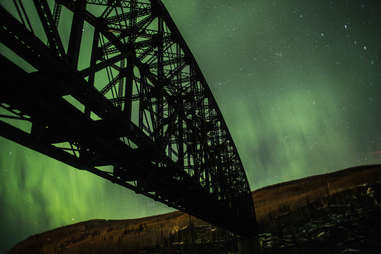 Nenana
Nenana is possibly the lowest-profile stop on this route as far as being considered a tourist destination goes. Still, the former railroad construction camp features a number of attractions including the Alaska Railroad Museum and kennels and training grounds for Iditarod mushers. If you're there on the summer Denali Star Train, you can take advantage of the seasonally-open heritage center.
Fairbanks
The final stop on the route (assuming you're been going north) is Fairbanks. You can choose from a number of potential excursions to add on to your ticket here, same as Anchorage. Definitely don't miss your chance to bathe in the natural thermal waters of Chena Hot Springs—you might even be able to catch the northern lights while you're in there. In the summer, you can also take day trips that include river rafting, flightseeing, and Iditarod champion Jeff King's beloved Husky Homestead Tour.