Catch the Northern Lights On this Gorgeous Alaskan Train Journey
We know COVID-19 is impacting travel plans right now. For a little inspiration, we'll continue to share stories from our favorite places around the world so you can keep daydreaming about your next adventure.
Alaska winters are something most Americans will never get to appreciate in full, but might be much more inclined to look upon if they could do so from a warm and comfortable train. March is usually the last full month to catch the northern lights in Alaska, and that -- coupled with the warming weather and lengthening days -- means a train ride through the frontier makes doing so considerably easier.
The Aurora Winter Train runs mid-September to mid-May, so the term "winter" is being applied generously here. (There's also a summer counterpart, the Denali Star Train, which runs mid-May to mid-September.) You have the chance to catch views of bald eagles, moose, and Denali, all without risk of exhaustion or frostbite. This is train travel the way we want train travel to be: big windows, comfy seats, and a dining car that does not suck. You're also free to move about the cabin, so you can explore the entire train rather than remaining confined to your car. So while you're working from home and practicing good #socialdistancing, let us help spark your imagination for next year's trips.
The railroad offers packages that allow you to fly one direction and take the train back. Prices vary depending on where you're getting on and off, but adult one-way tickets start at $65 (for travel between Healy and Fairbanks) and go up to $216 (for travel between Anchorage/Wasilla and Fairbanks). Prices for children and seniors are about half the price for adults. Tickets drop a couple of bucks during the train's relative shoulder seasons (September-November and April-May). It's a 12-hour journey between the route's endpoints, Anchorage and Fairbanks, with five other stops in between, should you care to jump off. Let's see what's out there.
MORE: This Aurora Train package is a week-long adventure under the northern lights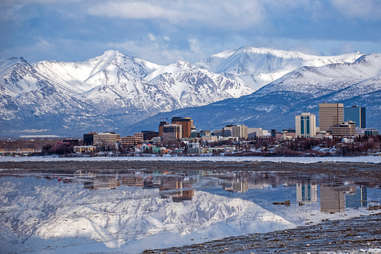 Anchorage
Anchorage serves as the hub for Alaska Railroad service, and is informally the hub for out-of-staters who want to explore The Last Great Frontier, too. You can add Anchorage-based excursions onto your ticket a la carte, including one that takes you bear-spotting in a seaplane. Anchorage is a particularly popular destination in early March, when the Last Great Race on Earth comes to town.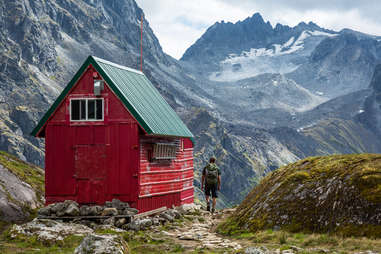 Wasilla
Wasilla is still within the broader Anchorage metropolitan area, but you won't get confused and think you're still in the big city. Not typically considered a tourist destination and known predominantly for being the political birthplace of Sarah Palin, Wasilla is the headquarters for the Iditarod, a base for exploring the sublime Hatcher Pass, and home to one of the best Italian subs in existence.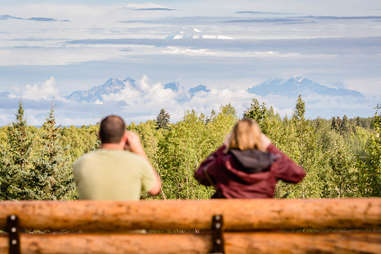 Talkeetna
Yearround, Talkeetna is one of the most popular stop-offs along this route. The small town offers every outdoor activity conceivable, alongside a historic downtown and a lot of opportunities to shop from local vendors. The Aurora Winter Train sells roundtrip packages that include the Talkeetna Getaway: two days and one night between Anchorage and Talkeetna with plenty of time to hop off for activities. ($259). Though perhaps you'd prefer Talkeetna Pie Making ($289), which involves staying overnight at local legend Talkeetna Roadhouse and get into the kitchen (to make pie) with some of the best. You will be provided a take-home pie from the Roadhouse itself, should your efforts prove less than fruitful.
Hurricane
North of Talkeetna, the Hurricane Flagstop Area is pure backcountry. This stop is only accessible by train (Alaska Railroad's Hurricane Turn Train is the only transportation serving this area most of the time), and the train won't stop unless someone who needs to get on or off waves a flag. If you're bold enough, the views of Denali and the Indian River Valley are matchless; alternatively, you can just stay aboard and watch them go by from your window.
Healy
Healy is another quiet one, but you should definitely not overlook it if you're interested in visiting Denali National Park -- it's the closest community to the entrance, sitting just 11 miles or so to the north. For that reason, tourism is pretty big in this small town; you'll find opportunities for flightseeing tours, backcountry hiking, and, for Into the Wild fans, the chance to see the bus that was once the home (and place of death) of Chris McCandless.
Nenana
Nenana is possibly the lowest-profile stop on this route, in terms of being considered a tourist destination, but features a number of attractions including the Alaska Railroad Museum and kennels and training grounds for Iditarod mushers. If you're there on that Denali summertime train, you can take advantage of the seasonally open heritage center.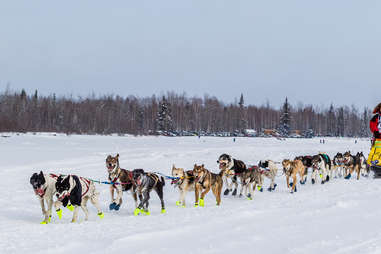 Fairbanks
The final stop on the route, assuming you're been going north, is Fairbanks. You can choose from a number of potential excursions to add on to your ticket here, same as Anchorage. Definitely don't miss your chance to bathe in the natural thermal waters of Chena Hot Springs -- you might even be able to catch the northern lights while you're in there. In the summer, you can also take day trips that include river rafting, flightseeing, and Iditarod champion Jeff King's beloved Husky Homestead Tour.