Traveling is kind of like running: People say they love to do it, but really they love HAVING done it. Once you've reached your destination you feel totally pumped, but the actual act of getting there can be a chore. A big reason why? Lines. Lines to get to the airport, lines to check in, lines for security. Lines to get off the plane. Lines to get on more lines. Even the bathrooms at some airports require a wait.
But nearly all of those lines are avoidable. Sure, security might occasionally take you a few minutes, and there are really no socially acceptable ways to hack bathroom lines. But checking a bag, renting a car, and even getting food can be completely line-free experiences. Here's how to beat nine of the most unpleasant lines at the airport. Bathroom not included.
Bag-check lines
The obvious hack here is simple: Don't check bags. Longer version, if you're flying home for Christmas and stuffing 14 of your closest cousins' presents and your winter sweaters into a carry-on, you're going to become a delay yourself when that bag doesn't fit in the overhead bin. But checking a bag doesn't have to require a wait behind people who think "bag drop" means "Haggle for a first-class upgrade or a reroute through Paris." At the curb you'll find lovely gentlemen with nice hats and flatbed carts. Those are skycaps. For a small gratuity (roughly $5 a bag) they will check you in and ensure your bag is checked to your final destination. They largely work for tips. Let 'em know they're worth it.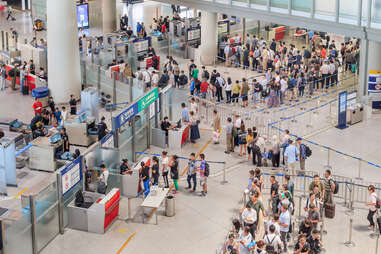 Security lines
Unless you want to fly private jets, there's no way around security lines. Signing up for TSA PreCheck is the most obvious way to streamline the process, and the most worth your time and $85. If you aren't eligible for it, or have just procrastinated signing up, plan your flights for slower times, like between 10am and 2pm, and after 10pm. And if you don't fly much, familiarize yourself with TSA guidelines before you go, so you can breeze through as much as the mob will permit.

Rental car lines
For some reason, every single person in front of you at a car rental counter needs the concept of a collision damage waiver explained 14 times. Assuming you don't, the process can be amazingly fast.
Rewards programs are the big time-saver here. They allow you to enter your driver's license and credit card info once. Then, every time you reserve a car, it's waiting for you to drive away. Hertz Gold Plus Rewards, for example, has a big board with members' name on it that directs you to your car, no line required. Avis has an app that allows you to not only rent your car, but also change it on site, unlock it, and return it without assistance. Alamo has automated kiosks for its members. These aren't always your cheapest options, but if time is money, the inverse is also true.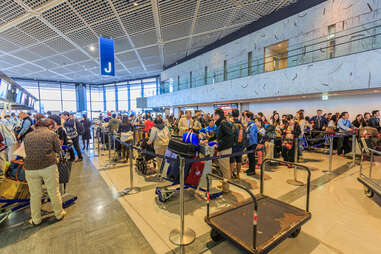 Check-in lines
Most airports now have self-check-in kiosks that have cut wait times considerably. But during high-traffic times -- e.g., the holidays -- waits to use them can be interminable, especially when half of the machines are mysteriously down. Most airlines allow you to check in online and put your boarding pass on your phone. So if you're only carrying on, you're all set. But even if you're checking bags, the skycap and a few bucks will get you past the herd.
Boarding lines
Avoiding this line is strictly a matter of choice. For some reason only stand-up comedians understand, people crowd around boarding gates as soon as the gate agent picks up the PA system, as if their seat will be snapped up if they're not first on the plane. Then they mope down the jetway while people try to figure out where 24C is. Some people do this because they fear the plane will run out of bin space, and they'll have to check their bag. Even if that does happen, though, the bag fee is waived. So, really, you have no good reason to suffer through this.
Your best move here is to just sit back, nurse your beer at the airport bar, finish charging your phone, and board the plane dead last. Or just enjoy the Airport Channel until it looks like everyone else is on board, ensuring you get there before the gate closes. If that's just too anxiety-provoking for you, many airlines offer credit cards with perks that include advance boarding. And if you're a frequent flyer, elite-level program members board first as well.
Food lines
Not that you'd ever miss your flight because Pizza Hut Express needed to whip up a new batch of Personal Pan Supremes. During busy season, though, mealtime lines at airport restaurants are no joke. You can, however, avoid 'em. Same strategy works at finer airport eateries as ordering takeout from your favorite restaurant instead of waiting for a table. Research the restaurants at your home or destination airport, pick your favorite, and get its phone number. As soon as you arrive, call it and order food to go. By the time you get off the plane or through security, your food is ready and you can enjoy it in the boarding lounge (or on the plane, if you don't mind being "that guy"). This won't quite work at fast-food outlets (sorry, Starbucks addicts), and some fast-casuals. But at sit-down restaurants it's a great way to make sure you get fed without having to resort to eating at Hudson News.
Customs lines
Global Entry is the easiest, fastest method to bypass pretty much every customs line in the US, and can literally save you hours if you're in a country where you clear customs at the airport of departure. But it's also a lot more selective than TSA PreCheck, and thus not possible for everyone. So if you can't get Global Entry, you can still make the process faster with the Mobile Passport app from US Customs and Border Protection. It allows you to fill out your paperwork and answer necessary questions while you're still on the plane (assuming it has Wi-Fi), and is accepted at 20 airports nationwide. These include SFO, JFK, DFW, Miami, Dulles, and most points of entry in the lower 48 other than LAX. Already a considerable time saver, it has plans to expand.
Rebooking lines
This is crucial if you're connecting anywhere in the middle of the country between November and February, a recipe for extended delays and cancellations. When you learn your flight is canceled -- or delayed to the point of missing a connection -- don't get in the sometimes-miles-long line at the customer service desk. Instead, call the airline's customer service number. Even if you end up holding for an hour, you can spend that time enjoying a lovely beverage or chicken dinner until the next available agent takes your call.
Airport drop-off lines
These typically aren't horrendously awful, but when it's bad -- as around rush hour, or the holidays, or holiday rush hours -- it's the absolute pits. To save yourself (and whomever is picking you up) an undue amount of driving stress, get dropped instead at a nearby hotel and hop on its airport shuttle. Or, if you're arriving, take said shuttle to an airport hotel and have your buddy meet you there. If a train goes to the airport, but not to the part of the city you're heading to, take it one stop to the nearest station and get picked up there. Crunched for time? Have your driver drop you at the less busy deck -- at arrivals, say, for your 8am departure flight -- and then jog up the escalator to join the party already in progress.
Sign up here for our daily Thrillist email, and get your fix of the best in food/drink/fun.
Matt Meltzer is a staff writer with Thrillist who managed to get to Tallahassee without ever getting on that line. See more of his airport adventures on Instagram @meltrez1.