How to Take a Good DIY Passport Photo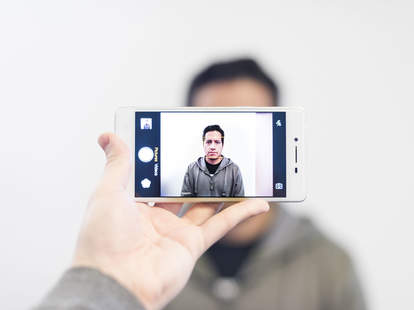 Considering you probably have hundreds of selfies stored on your smartphone right now, the idea of trudging down to the post office or drugstore to take an official passport photo seems pretty crazy, right?
Well it is, so put your $15 away. We asked professional photographer Leo Rosas to walk us through the best way to set up and take your DIY passport photo.
What you'll need
Camera & tripod OR smartphone & buddy
White wall
Indirect light source (no harsh contrasts)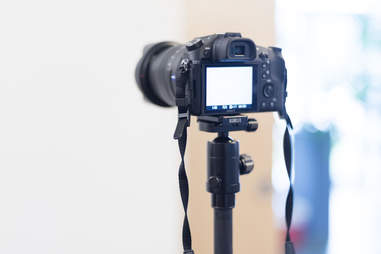 Leo Rosas/Thrilist
Choose your location
Look for a blank, white, or off-white wall without any patterns, holes, or scuff marks.

Get the lighting right
This can be the trickiest part. Try to take your photo during the daytime, as the sun is your most effective (and cheapest) light source. Ideally, your white wall would be near a north-facing window, or one that lets in indirect, natural light. If you need to diffuse the sunlight, hang a sheer curtain or a white bed sheet over the window.

The goal is to avoid harsh contrasts and shadows caused by hard lighting, so if you're seeing shadows on the wall, set a lamp on the floor behind you to illuminate it. This should eliminate the shadows.
United States Department of State
If you have to take the photo at night or are still fighting the shadows, use this three-point lighting set-up. The two front light sources should ideally be at a 45-degree angle to your face.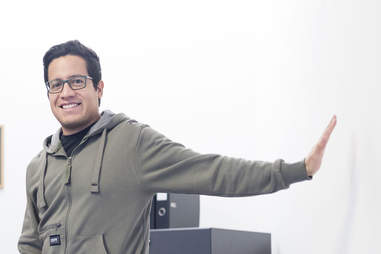 Leo Rosas/Thrilist
Decide whether to sit or stand
Position yourself at least an arm's length away from the wall so you don't cast any shadows.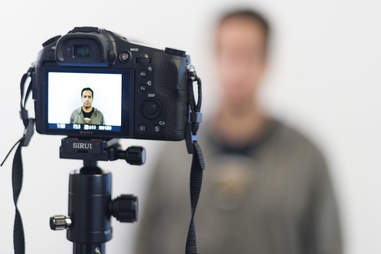 Leo Rosas/Thrilist
Position the camera
The camera should be more than 4ft away from your body and positioned at your eye level. The photo must include your upper body and the empty space above your head.

Adjust your camera settings
- Make sure the entire picture is in focus. Review photos on the rear viewing screen or in your phone's photo album; zoom in to ensure everything is crisp and clean.
- If you are comfortable navigating your camera's manual settings, boost the ISO up if needed (most important in low-light situations).
- Set the white balance to "Auto" so the white wall looks neutral without any yellow or bluish tints.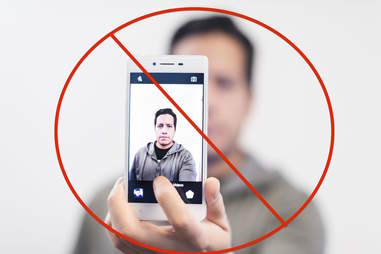 Leo Rosas/Thrilist
Save your selfies for Instagram
If you only have a smartphone, you also need a buddy. Arm-length selfies position one shoulder higher than the other and are too close, causing distorted features.
Leo Rosas/Thrilist
If you're on your own: use your camera's self-timer.

Follow the rules
Make sure you adhere to the State Department's guidelines so your photo isn't rejected during the passport approval process:
- Bright and blank background
- Face straight at the camera, not at an angle
- Take the photo in a bright room, or outside
- Blank facial expression, no smiling
- Wide-angle photo, no extreme close-ups
- No shadows
- Stand a yard from the background
- Wear darker clothes than the background
- No flash reflections from glasses
Leo Rosas/Thrilist
Crop and print
Voila! Now you have your digital image. To make sure the final dimensions are correct, upload it to (and crop using) the US State Department's handy, free online photo tool.

You can either print it out at home on high-quality photo paper and trim it yourself according to the required dimensions (square, between 600x600 pixels and 1200x1200 pixels) or take it to a drugstore/copy shop and have someone print it for you.

Happy travels!

Sign up here for our daily Thrillist email, and get your fix of the best in food/drink/fun.

Leo Rosas is a pro photographer focused on portraits, lifestyle, and sports. Follow him on Instagram and check out his website.

Erin Snell's unwavering love of beer, cheese, sausage, music, and mountains transplanted her to Salzburg, Austria, where she sings opera. She now owns two dirndls and wears them non-ironically. Follow her on Twitter & Periscope.