Krabi, Thailand

| Oleh_Slobodeniuk/Getty Images
Krabi, Thailand

| Oleh_Slobodeniuk/Getty Images
How to Travel on the Cheap When You're Broke as a Joke
Are you spending afternoons trawling Instagram for jungles, glaciers, and ancient temples, dreaming of an adventure you'll take in an all-too-distant someday? Don't believe the influencers' my-life-is-perfect hype: Most of the actual humans who take grand adventures are much broker than you'd guess.
Take it from a fellow broke person. Once I stayed three weeks in a hostel in Oruro, Bolivia, living in a sunny room and befriending the owners. We trekked the Altiplano hills with indigenous communities, sharing handfuls of corn and dried llama jerky and homemade moonshine that hit our guts like lava. We crashed village festivals where winners took home live sheep tied with ribbons, and burned coca leaves in occult rituals. And aside from my plane ticket, none of this cost a thing. In exchange for my room, I helped the hostel translate their website from Spanish to English, and added them to travel listings. Seriously. That was it.
Broke-ass travel requires bravery and dedication and passion -- but trust me, it beats daydreaming.
A month of living expenses in Brooklyn will get you on a flight and, if you do it right, cover two months' worth of adventures. Tommy Palmer, a 28-year-old New York bartender from Kansas City, traveled to 30 countries in a year and a half on less than $3,000 cash. "Be flexible and have a big heart," Tommy says. That is, be open to plopping down your bag and saying yes to unexpected opportunities. Broke-ass travel requires bravery and dedication and passion -- but trust me, it beats daydreaming.
You may have a dozen other excuses for not getting away, but if you can square the rest of your life and scratch together even a little bit of change, we're going to get you on the road for much less than you think. Here's how.
Seek cheap destinations, and don't be picky
Budget backpacking destinations are popular for a reason: Your American dollar will stretch far in places like Thailand, Nepal, India, Vietnam, and Latin America. Flights to Bangkok or Bolivia might seem steep, but once you're there, you'll be sleeping in colorful hostels that cost less than a turkey sandwich would back home, filling up on delicious meals for less than the cost of a cup of coffee. Don't write off pricier destinations, either: Europe has plenty of beautiful, affordable cities to visit. Need a starter kit? These 18 countries are totally doable on less than $50 a day.
Finding the cheapest flights means being flexible about when and where you go. I've picked travel destinations based purely on flight costs. Skyscanner and Adioso will let you search with nothing but a place to depart from. Look for unexpectedly cheap places to fly into (Iceland, Finland, Paris) and the best times to travel (right now, flights are a song for October 2018). Plan trips to expensive destinations in the off-season, when you'll get fewer crowds and find better deals for hostels. You might have to brave scorching heat or rainy seasons, but you'll still be able to find moments of respite. (In Colombia, the rainy season brings afternoon sunshowers, but mornings and evenings can be gorgeously clear.)
Travel slow
The slower you move, the cheaper it becomes. On the road, time is money. Buses, trains, and planes add up quickly. Having more time to linger from place to place means you won't have to pay more for the express option.
For instance, traveling from Beijing to Shanghai on a first class, high-speed train costs 933 RMB ($140), but a seat on a slower sleeper train is a third of the cost ($45). One of my most vivid travel memories was staying up all night in a sleeper train (tip: you can't actually sleep on it; it's just shared bench seats), cracking sunflower seeds and playing cards with small-town workers until the sun rose outside the window.
Slowing down means you get to appreciate where you are: learning the language, becoming a regular at the arepas place down the street, befriending a tour guide who will invite you to his friend's finca for a weekend for free.
Travel light
Lug only the essentials. A carry-on backpack will help avoid checked luggage fees, and means you can hop on low-cost carriers like Norwegian Air for sticker price. It's also way easier to load a single backpack under the front seat of a crowded bus, and you don't have to worry as much about where you end up when all your belongings fit on your person. Might as well get very good at packing.
Crash on the couch...
CouchSurfing pairs travelers with 400,000 hosts around the globe who offer couches, air mattresses, or even just a floor to crash on. Put in the work to become a thoughtful A+ couchsurfer: fill out your profile (think friend resume, or a totally platonic dating profile), and collect references. It helps if you can first host travelers in your hometown, or even surf locally.
Send your requests a week or two before your planned arrival date. Read host profiles, and make personal connections when you can. See what you can offer your host in return, whether it's sharing an interest or a meal (cooking for your host will win you great guest points and be better for your wallet).
Also, ask friends and friends of friends! Facebook People will let you type a specific location into the search, and show locals who share mutual friends. Start a conversation (Hey! How do you know Marco and Julia? I'm going to be in Oaxaca next month! Do you think I might be able to crash with you?) and you might just find your next hosts.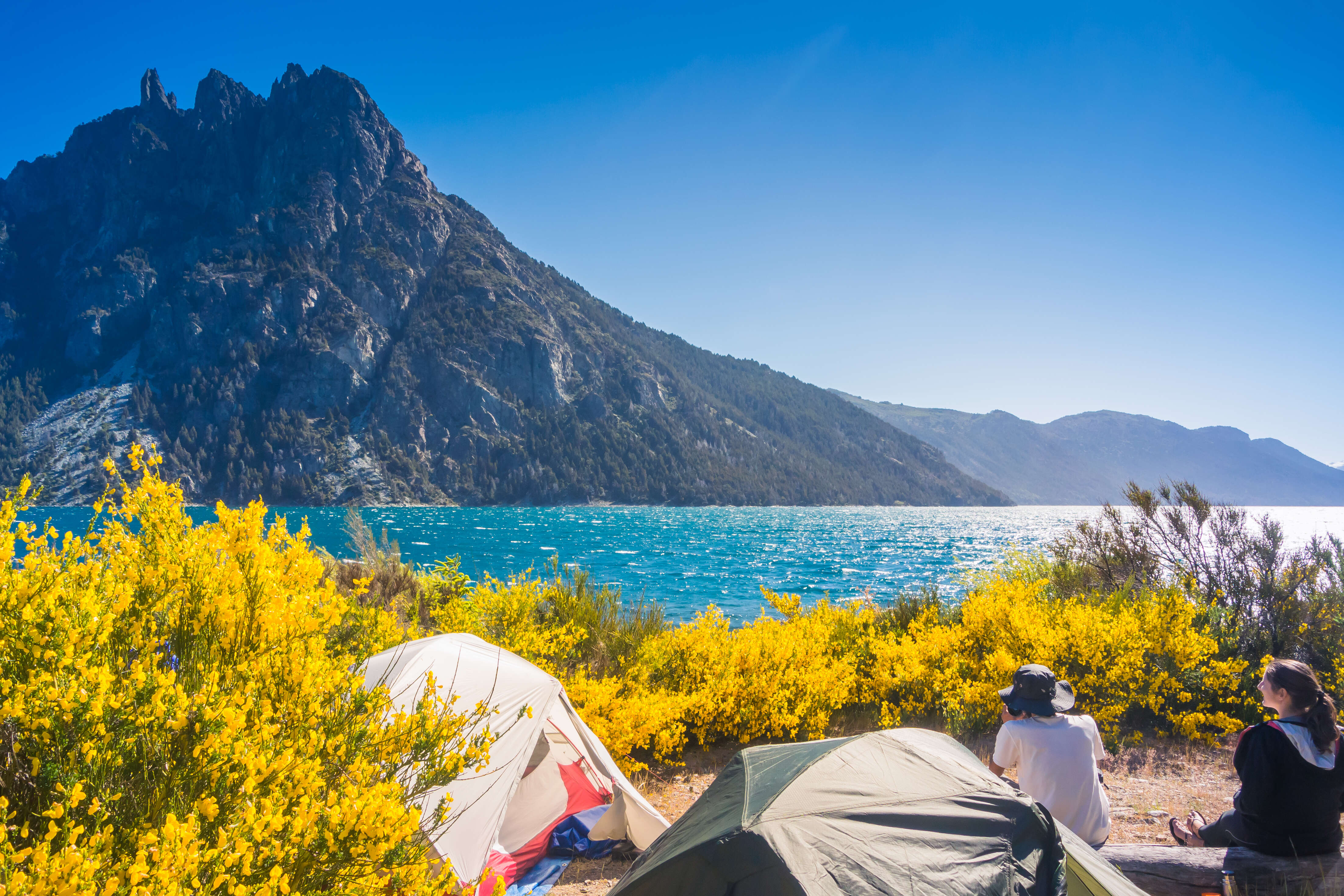 ... or just sleep in a tent
Warm weather destinations make it easier to travel with just a tent and sleeping bag. Alex, a 37-year-old bikepacker, spent seven months pedaling around Southeast Asia, from Hanoi to Bangkok. He spent $400 on gear (bike, cheap tent, sleeping bag, duffle, a few changes of clothes), and traveled by bike. "It was very cheap and liberating," he says.
His daily expenses were about $10 -- which usually included a room, food, and a drink or two. Once, he set up camp in an abandoned farm shed in Cambodia. A woman from a nearby house saw him and stopped by, baffled. The single mother of three offered him a place to stay and dinner with her family. "She showed me every degree of hospitality I could have wanted," Alex says.
Ditch your Lonely Planet guidebook and do as the locals do
Hostels, bars, restaurants, and other hotspots listed by big travel guides -- even those flagged as "off-the-beaten-track"-- aren't a secret. Anything marketed toward tourists is likely to be marked up, even if it's a designated budget spot. Instead, venture off the main tourist strips to find restaurants and cafes where locals go. Look for menus without English, or ask your rickshaw driver for his favorite spots.
Befriend local bartenders: they're usually affable and know what it's like to be broke, and can send you to neighborhood spots where you're likely to score free drinks, says Margaret Izotov, a San Diegan hospitality worker who spent much of last year bumming around the UK and Paris. For solo travelers, she says, "be your extraverted self that you know you can be, tap into survival instincts, and make some friends."
When you find yourself in a place with renowned, pricy tourist attractions, consider skipping them altogether. Instead, go to the market, load up on fruits and cheese, then sit in a sunny spot and people-watch. Strangely, the cheaper option is often the more rewarding.
Work. (Yes, really.)
Find work on the road, and you can keep traveling more or less indefinitely -- like Wile E. Coyote running past a cliff edge into mid-air. Alex the bikepacker worked the night desk at the cheapest hostel in Athens for 10 weeks. "By staying in one place, the world was coming to me," he says. He met friends (and future hosts) around the world and got invited on trips to the Philippines, Egypt, Australia, and Israel.
Websites like HelpX and Work Away will hook you up with volunteer opportunities where you can work in exchange for lodging and food. WWOOF lets you get your hands dirty on a farm (the work can get grueling, but that's what you're there for!). Practical skills travel well; repair work or a hospitality background will get you far.
Or, consider house sitting. For a one time, annual fee, you can browse listings on sites like HouseCarers and Mindmyhouse that may have you taking care of strangers' handsome pets while staying on an English estate, watering plants, and dusting the cabinets. You'll have to send out applications and earn trust, but the free (and often luxurious) accommodations may be well worth it.
To teach English abroad, an online TOEFL exam costs around $200 -- and will require some wallet-friendly but time-intensive study. Armed with a certificate, you can travel to teaching jobs in Shanghai, Hong Kong, Vietnam, Chile, Argentina, and elsewhere. In Latin America, you might make enough to break even, but in Asian countries, your salary can easily fund your travels during breaks and the flight to your next destination.
Get comfortable with discomfort, and don't forget to treat yourself
Traveling on a shoestring isn't the same as traveling on vacation. Meaning: get used to being uncomfortable. Once, in an obscure town near the border of China and Mongolia, a friend and I ended up in a tiny room with two twin beds in someone's home, with peeling concrete walls and a prominent, unnerving anti-drug sign. Swarms of mosquitoes attacked us nonstop. The room cost 20 yuan, or less than $5 USD, and was the cheapest accommodation I'd ever found in China. It was so dismal that in the middle of the night we snuck out to an actual hotel across the street.
A small, occasional nod to luxury can go a long way in refueling you for the next stage of the dirtbag journey. After a few months living off convenience store meals, when you've arrived at your next budget-friendly destination, treat yourself to dinner (with dessert), and splurge for the private room with the working air conditioner.
It's a long road, gritty and grimy, and it requires research and determination. You'll barely be getting by, but be richly rewarded: You'll be the star of a travel story that money literally can't buy.
Sign up here for our daily Thrillist email and subscribe here for our YouTube channel to get your fix of the best in food/drink/fun.
Laura Yan is a freelance writer, a sketcher artist, and hopeless wanderer. She has fended off monkeys on a Buddhist mountain, ran away from a sea lion in the Galapagos, and herded a yak on horseback in Mongolia. Her writing has appeared in Longreads,
GQ
,
Penthouse
, Jezebel, and elsewhere. She prefers the window seat.