Travel Agents' Money-Saving Travel Tips Could Be Pretttyyyy Useful Right Now
There's a decent chance you're feeling anxiety after this election season, both economic and otherwise -- which means you need a vacation, but like, a cheap one. While we already told you 101 ways to save money when you travel, we wanted to ask some serious experts. So we hit up travel agents at Travel Leaders and American Express Travel, and they gave us their top money-saving travel tips.
Skip the views
"Travelers always want a room with a view! Ocean view, mountain view, dolphin view, etc. Forego the best view and save your money for activities and dining. We only spend so much time in our rooms while traveling, and at night it's too dark to see most views. If a view is really important, go with the partial view instead. It's still a big money saver and you get the best of both worlds." -- Shay Harrington, Travel Agent, Tzell Travel Group, New York, New York
Make a checklist
"Create a checklist for packing. How often have we forgotten to pack a jacket or toothpaste because we didn't plan out what was needed before packing? Staying organized will free up spending money on food and experiences instead of things you already own that are sitting at home." -- Wally Jones, Manager, Travel Leaders, Phoenix, Arizona
Take free city tours
"Looking to save on a city tour, check to see if there are any free tours offered. Cities such as London, Paris, Venice, and Sydney all have free walking tours. (The tour is free, but you should tip your guide.)" -- Wally Jones
Plan shorter stays
"No matter how much time you have to travel, sometimes if you can find a way to shorten your vacation by one day, it's a big money saver. Of course, we want to get the max out of our vacation time, but if it's the choice between getting exactly what we want and going over budget, it's always worth considering dropping one day. Plus, it gives you time to relax at home before diving back into real life." -- Shay Harrington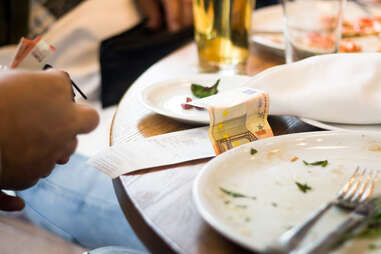 Learn how to tip
"Know the tipping etiquette where you are traveling. Americans are accustomed to tipping. I have found, many times, that they are tipping when none is expected or normal. For example, in Costa Rica, a mandatory service charge is added to all restaurant bills, so no tipping is expected." -- Annette Youngbauer, Owner, Travel Leaders, Delafield, Wisconsin
See what your credit card offers
"Look to your credit card for added perks to upgrade your getaway. For example, American Express offers a collection of nearly 900 hotels worldwide that offer American Express Platinum Card Members exclusive benefits, including early check-in, room upgrades, free Wi-Fi, food and beverage credits and special amenities, among others." – Katie Brower, American Express Travel
Go cheap one night, then go big
"I have clients who have their heart set on a particular hotel or resort. But when they see the costs, it can sometimes cause some sticker shock. One way to make it work is to stay at two different resorts, or change room categories mid-way. Start off at a different hotel, or in a lower room category. Then, switch it up and end your travel on a high note." -- Shay Harrington
Bring your own food/drinks
"Bringing an empty reusable cup or water bottle with you when you travel through an airport will save money. It's easy to refill after going through airport security. Not only are travelers who do this helping to keep the earth sustainable, but they are saving money by not purchasing an overpriced bottle of water. The same goes with bringing snacks. Packing nuts or dried fruit (or your favorite candy bar) can help travelers keep those hunger pains at bay and avoid a $14 snack run at the airport convenience store." -- Sarah Nelson Wandrey
Use the strong dollar
"Take advantage of the strong dollar by booking in local currency." -- Christine Stevens, Travel Specialist, Travel Leaders, Mendota Heights, Minnesota
"Be savvy about conversion -- keep track of fluctuating conversion rates. Succeeding recent events, we're seeing the euro and pound at their lowest conversion rates in years. Our data is showing London as a top travel destination this fall as travelers take advantage of the value of the US dollar." -- Katie Brower
Find out about tourist cards
"Research the tourist card offered. Some offer free or heavily discounted rates on attractions, museums, tours, dining, and some even incorporate use of their public transportation. However, not all tourist cards are created equally, so be sure to carefully look at what's included." -- Wally Jones
Travel at off-times
"Be flexible with your travel dates. This might be as simple as traveling on a Tuesday instead of Sunday. Also, planning travel around the 'shoulder' season of the destination could make thousands of dollars of a difference, depending on the destination. For example, going early or late in the season for Alaska cruises or river cruises might require some extra layers, but the crowds are smaller -- as is the price tag." -- Sarah Nelson Wandrey
Enlist a travel agent
"Travel agents, themselves, are money savers for clients, because we save the traveler time in research. And time is money. For a small planning fee, we get them access and amenities they would have to pay so much more to get on their own, including preferred seat assignments on domestic and international carriers, the ability to upgrade for a nominal up-charge to business or first class, amenities at hotels -- including daily breakfast, upgrades, resort credits and late check-outs, to name a few." -- Vikram Seshadri, Luxury Travel Agent, Protravel International, Beverly Hills, California
Sign up here for our daily Thrillist email, and get your fix of the best in food/drink/fun.
Matt Meltzer is a staff writer at Thrillist who thinks every story about spending money wisely should start with a quote from Big Meech. Follow him on Instagram @meltrez1.