All aboard, y'all! It's
Trains Week
at Thrillist, which means we're celebrating our obsession with trains—fast trains, slow trains, wine trains, even snow trains. Throughout the week, you'll find off-the-rails stories and handy locomotive guides to help you plan your next great adventure. In the meantime, we'll see you in the bar car!
We get it: Planning a multi-city trip anywhere outside of America can be a little bit daunting. Many of us are used to jumping in a car and hitting the wide-open road when it comes to towns within a one-state radius. It's a fabulous excuse to load up on road trip snacks. But when it comes to overseas travel there are a bunch of add-ons to consider, even for an area of land smaller than Texas: passports, languages, and gulp, public transit. In Europe, public transit is totally the norm, and many go without cars in their daily lives. So how do the masses travel short distances, between Paris and London, or Brussels and Amsterdam, without flying or taking a ferry? They take the train—Eurostar, to be specific.
Eurostar is the most frequented high-speed train service in the region and the only one that directly links the UK to France, Belgium, and the Netherlands via the Channel Tunnel. It's wildly popular, but if you haven't heard of it before, fear not. Here, we present everything you need to know about the Eurostar, so that you can hop countries like a pro.
What is Eurostar?
Eurostar is a high-speed train service and both the fastest and most convenient way to get between the UK and France, Belgium, and the Netherlands. It zooms right into the heart of each destination city and has been doing so since it was launched in 1994 by Queen Elizabeth II and then French President François Mitterrand. Think Amtrak—only faster, smoother, nicer, and it can travel under the sea.
The undersea aspect might have you expecting some kind of submarine vessel, but Eurostar is an ordinary train. It travels underwater via the Channel Tunnel, aka the longest undersea tunnel in the world, which runs from Folkestone, UK to Calais, France. It doesn't take long to traverse by train; you travel between 100 and 186 miles per hour, so you have time for just a small cup of coffee before you're back on land.
Where does the Eurostar go?
The most popular route is London to Paris, traveling between St Pancras International and Gare du Nord in just over two hours. The service also operates direct routes to Brussels (less than two hours from London), Lille in France (around an hour and a half), and both Rotterdam and Amsterdam in the Netherlands (less than four hours). Disneyland Paris visitors will need to take a connecting train from Lille or Paris to the House of Mouse.
If you wish to take the Eurostar to other areas of Europe, you can make connections to go further afield. For example, those heading from London to Geneva will need to change in Paris and purchase a new ticket from another provider. Those traveling to Cologne, Germany can connect to a Thalys train in Brussels to complete their journey. You're spoiled for choice!
How do you buy Eurostar tickets?
There are a number of ways to purchase a Eurostar ticket, but the best way is direct, via the Eurostar website. Tickets are available to purchase at stations, but you might find prices get steep if you wait till you're in Europe and buy them in person at the last minute.
To that point, we can't stress enough that it's key to book early if you want a good deal on tickets. Like, three months early. Prices almost always increase as you get closer to the departure date. Tickets are also cheaper if you book less popular dates (by which we mean you should skip holidays and weekends). If you're smart, you'll be able to snag seats to Paris for $52 each way.
One final hint: Be sure to download the Eurostar app for updates, deals, and your tickets.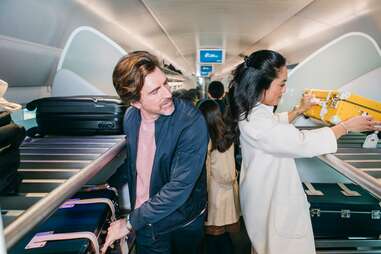 What's it like on board?
Price isn't your only consideration when booking tickets. Eurostar provides three different classes to select from: Standard, Standard Premier, and Business Premier. All of these classes permit you to bring ample luggage at no extra cost, plus allow for unlimited ticket exchanges. Standard Premier seats are roomier and guests are offered a light meal and drinks, like croissants, fruit, and coffee, while Business Premier customers get to nosh on a three-course meal designed by Michelin-awarded French chef Raymond Blanc. Naturally, bubbles are included to wash down the cheese, duck, and cake. There's also a nice wine selection on the trolley.
The seats are surprisingly good for all classes, even if you're traveling in Standard. You'll find outlets to charge your devices, as well as free Wi-Fi, which can be a little patchy at times (this is a moving vehicle, after all). The desk in front of you fits a standard laptop, so download your docs and work away. Decently clean restrooms are located in every coach, and there's at least one cafe-bar available for when you want to stretch your legs and grab some grub.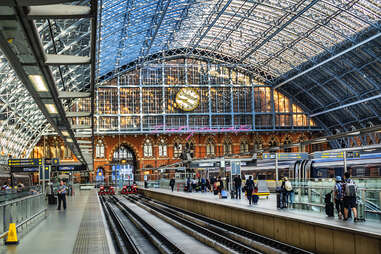 What's it like at the train station?
Traveling with Eurostar isn't plane travel, but you'll still want to allow around an hour and a half to get through security and ensure there aren't any issues. For security, you'll need to put your bags and yourself through scanners, removing laptops and liquids. Thankfully, there's no restriction on liquids, so you can pack a full-sized bottle of perfume or even wine. The immigration process happens before departure, so get your travel documents ready. At the end of your trip you'll walk through customs, and so long as you aren't smuggling entire suitcases of tobacco, it's a breeze.
The waiting areas for Eurostar trains are usually very adequate, with plenty of seating, free restrooms (note, in Europe many public areas charge), and cafes. In most city center stations, you'll find tons of amenities, so arrive early to make the most of them—no need to pack a sandwich. If you're traveling in the Business Premier class, you'll have access to exclusive Eurostar lounges in London, Paris, and Brussels, plus access to NS International lounges in Amsterdam and Rotterdam. Lounges offer snacks, beverages, and free glossy magazines.
Ready to travel with Eurostar? Book your tickets, hit the train station, and prepare to climb aboard—whatever your destination, it's sure to be an adventure.