Paid Content For
How to Visit Florida Like a Local
Paid Content For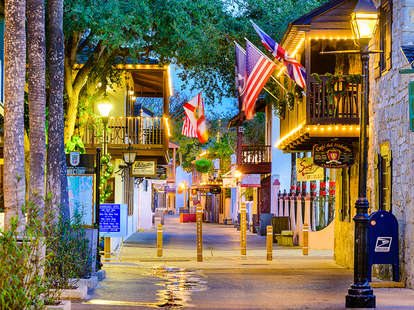 Sure, you've heard of some of the thrills and adventure Florida has to offer, but that's really only half the story. For a peek at a side of Florida that its 21 million-plus residents love, discover these Sunshine State gems. From a real-life chocolate factory to a comedy club tied to Whose Line Is It Anyway? here are some hidden Florida treasures worth checking out.
St. George Street
St. Augustine
Walk down St. George Street, and you'll immediately feel like you've been transported to Spain. Making up the heart of the Historic District of the nation's oldest city, this pedestrian-only cobblestone street is a serious throwback. Running between the Old City Gates (built to protect the city in 1808) and South Street, it's flanked by Spanish Renaissance Revival-style buildings and breaks off into quaint alleyways with the same European charm. Join the locals strolling the street and you'll find award-winning restaurants, rustic bars, and colorful, cubbyhole-like storefronts housing local boutiques, art galleries, historical sites, and more. Try the New York-style pizza at cash-only Pizza Time, sangria at Michael's, the famous "1905 Salad" at Columbia, and an empanada at the Spanish Bakery & Cafe. For happy hour, there's no better place than Scarlett O'Hara's, where beer, sangria, and vodka drinks are $3 or less all day, every day. Yep, you read that correctly.
Chihuly Collection
Tampa/St. Petersburg
People must have thought Dale Chihuly was crazy when he told them he was going to blow glass for a living, but what he's done with his craft since first experimenting with the art form in 1965 is incredible. His award-winning sculptures have been featured in 200-plus museums around the world (including the Louvre), he's earned 12 honorary doctorate degrees, he's had two fellowships from the National Endowment for the Arts, and his large architectural installations have gained global acclaim (he even did a temporary one at Fairchild Tropical Botanic Garden, mentioned below). In 2010, the first permanent collection of Chihuly's iconic glassblowing was presented in the form of Chihuly Collection, an 11,000 square-foot art gallery filled with his works in downtown St. Petersburg. Admission is $20/adult, and you'll know you're in the right place when you see the 20-foot glass "rock candy" sculpture out front. Follow your visit with a trip to the nearby Morean Glass Studio, which has glass blowing demonstrations and classes.
Fairchild Tropical Botanic Garden
Miami
Head south to posh Coral Gables and spend the day at Fairchild Tropical Botanic Garden. Around since 1938, it has 83 acres of exotic plants, tropical fruit trees, palms, orchids, a conservatory, and science & arts buildings where the public can attend lectures or take classes to learn more about plants. Before you go, check the website to see what special events are on the calendar. This gorgeous garden hosts a variety of events, including weekly concerts, outdoor movie nights, the International Mango Festival, garden festivals in the spring and fall, and yes, even an annual chocolate festival. Last winter, Miami's first-ever NightGarden took over Fairchild and filled it with talking trees, orb lights, glowing plants, fairies, a multi-sensory flower installation, a life-size maze, and thousands of string lights. Yes, it was as trippy-cool as it sounds -- and it's coming back again this November.
SAK Comedy Lab
Orlando
If you've ever seen the popular TV show Whose Line Is It Anyway? then you know how fun improv can be. Luckily for Floridians, Orlando's SAK Comedy Lab has some of the best. (Speaking of Whose Line, SAK is actually where Wayne Brady got his start.) A fixture in downtown Orlando for over 40 years, SAK has nightly shows Tuesday through Saturday where professional comedians use ideas from the audience to make up stories, songs, and characters right on the spot. So if you don't like the spotlight, try not to draw too much attention to yourself -- some audience members are pulled onstage and made part of the fun. If you do like it, consider signing up for classes at SAK; it's actually one of the largest improv training centers in America.
No Name Pub
Big Pine Key (Florida Keys)
Next time you're making your way down to Key West, stop at this nondescript watering hole a few keys before the end. Big Pine Key is best known for two things: the National Key Deer Refuge and No Name Pub, the latter of which opened in 1931 as a general store/bait and tackle shop, but now operates as a bar and restaurant. Set in a tiny, pale-yellow shack surrounded by tables with matching umbrellas and a sign that declares "You found it," go here for a cold beer, fun conversation, and comfort-food favorites like fried green beans, homemade smoked fish dip, Kentucky bourbon "stacked" pub burgers, and nine versions of the pub's 50-year-old pizza recipe. As tempting as it is, don't take the dollar bills hanging on the walls. They've been there since the 1970s, when No Name Pub was a haven for illegal gambling.
Alhambra Theatre & Dining
Jacksonville
Dinner theater may have hit its heyday in the 1960s, '70s, and '80s, but that doesn't mean today's theater lovers don't still love it. Jacksonville, of all places, is home to the oldest continuously-running equity dinner theater in the US, Alhambra Theatre & Dining. For a different kind of night out on the town, go there to see hit productions of Mamma Mia!, Brighton Beach Memoirs, Elf the Musical, and Jekyll & Hyde while you stuff your face with a three-course dinner that matches whatever you're watching. Case in point: a Greek chicken and rice soup starter and baklava dessert for Mamma Mia!, and a pierogi shepherd's pie entrée for Brighton Beach Memoirs.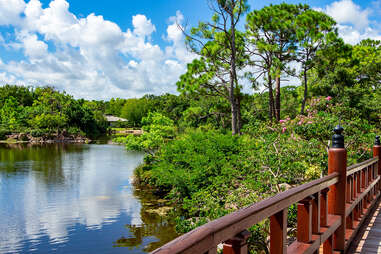 Morikami Museum & Japanese Gardens
Delray Beach
If you didn't know that this area of Palm Beach County used to be one giant pineapple plantation cared for by 35 Japanese farmers… then you're like most of us. And you're also part of the reason Morikami Museum and Japanese Gardens exists. The cultural attraction was created to celebrate Japan's influence on South Florida's past. Spanning 200 acres, Morikami has an expansive bonsai garden, koi ponds, bamboo groves, a turtle island, a Japanese tea house, a museum with 7,000-plus pieces of Japanese art and artifacts, nature trails, and more.
Barrique Kitchen & Wine Bar
Jacksonville
When you want a good meal in Jacksonville that isn't seafood, check out Barrique. Named for the small oak barrels that old-school French, Italian, and Spanish winemakers used to make wine, the restaurant serves artisanal cheeses, cured meats, thin-crust pizzas, pan-pressed sandwiches, and weird combinations of food that actually work, like pineapple guacamole, truffle deviled eggs on top of buttermilk fried oysters, and bacon-topped cauliflower and brie baked in a pretzel. There are more than 200 wines on the menu, none over $100, and most less than $30. (The restaurant will open any bottle on the list and sell it by the glass if you promise to order at least two.) Don't leave without trying the apple pie! A local favorite, it's served in a Mason jar, so the house-made caramel sauce, sautéed apples, crème anglaise, and whipped cream meld together in all their sweet, sweet glory.
Whetstone Chocolates
St. Augustine
If you like chocolate, Whetstone is for you. (If you don't… what?) Started as a small, family-run chocolate store in 1967, Whetstone is now a St. Augustine icon. Take a tour of the factory to taste your way through its history, or pop into one of its store locations and go crazy on the chocolate truffles, flavored chocolate "seashells," chocolate-covered pretzels or popcorn, creamy fudge, chocolate-covered frozen bananas, dessert wine sauces, and more. If you can leave with only one, get the very Florida Key-esque lime fudge. Or the mint chocolate fudge. Or the peanut butter chocolate chip fudge. Who are we kidding? This is not the time to have boundaries.

Want more local favorites? Check out www.VISITFLORIDA.com/LocalSunshine for more